The Cast Of Friends Breaks Hearts Everywhere With Matthew Perry Tribute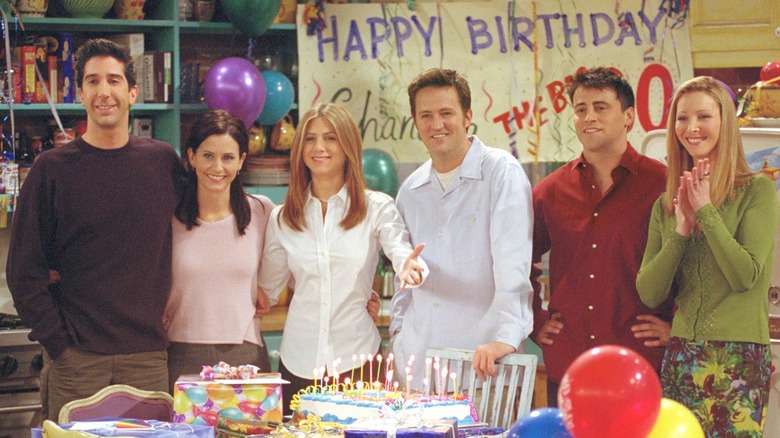 Getty Images/Getty Images
The following article includes mentions of substance abuse and addiction.
Matthew Perry's "Friends" co-stars are speaking out for the first time since his unexpected death on October 28. Since the tragic news of his passing surfaced, fans have been waiting with bated breath to hear from the people he always considered as family. The remaining core cast members — David Schwimmer, Courteney Cox, Jennifer Aniston, Lisa Kudrow, and Matt LeBlanc — initially remained radio silent in the hours after reports of Perry's apparent drowning came to light, but now the five actors have issued a joint statement to People, with the promise of sharing more in the days to come.
"We are all so utterly devastated by the loss of Matthew. We were more than just cast mates. We are a family," they told the outlet. "There is so much to say, but right now we're going to take a moment to grieve and process this unfathomable loss." They added, "In time we will say more, as and when we are able. For now, our thoughts and our love are with Matty's family, his friends, and everyone who loved him around the world."
Perry's portrayal of the quick-witted Chandler Bing in the hit '90s sitcom earned him accolades and propelled him to global superstardom. Over its 10-season run from 1994 to 2004, the show and its core ensemble notably became a cultural phenomenon. But outside the fortune and the fame, the six-piece remained solid, even long after the cameras stopped rolling. Their bond withstood the test of time — even during Perry's brutal battle with addiction.
Sources say cast members are 'reeling' from Matthew Perry's death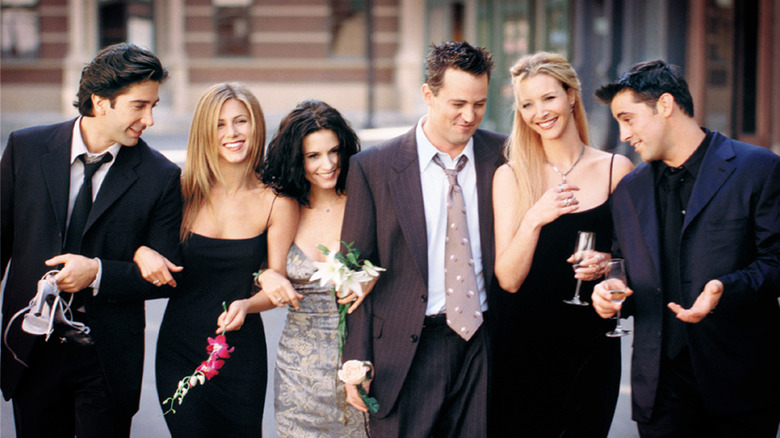 Getty Images/Getty Images
David Schwimmer, Courteney Cox, Jennifer Aniston, Lisa Kudrow, and Matt LeBlanc have reportedly been inconsolable since learning the devastating news of Matthew Perry's death. According to sources close to the group, they are having a hard time grappling with the death of their friend. "The cast is reeling from the loss of their brother, because that's what Matty was — their brother," an insider told Page Six. "It's just devastating."
In the nearly two decades since "Friends" ended, the famous cast has maintained an unwavering bond, with Perry sharing in the 2021 reunion special that even if they don't talk everyday, they are practically attached at the hip when they cross each other's paths. "The best way that I can describe it is after the show was over, at a party or any kind of social gathering, if one of us bumped into each other, that was it. That was the end of the night. You just sat with the person all night long and that was it," he said. "You apologized to the people you were with, but they had to understand you had met somebody special to you and you were going to talk to that person for the rest of the night. And that's the way it worked."
Out of all the cast members, Perry noted that it was Aniston who often got in touch to see how he was doing. "She was the one that reached out the most. You know, I'm really grateful to her for that," he told Diane Sawyer during the press tour for his memoir, "Friends, Lovers, and the Big Terrible Thing." Meanwhile, Kudrow shared with The New York Times that their friendship is basically the embodiment of their show's theme song. "I love Matthew a lot. We're part of a family. I'm basically ending this with 'I'll be there for you,' but it's true. I'll always be there for him."
Inside the Friends' cast unbreakable bond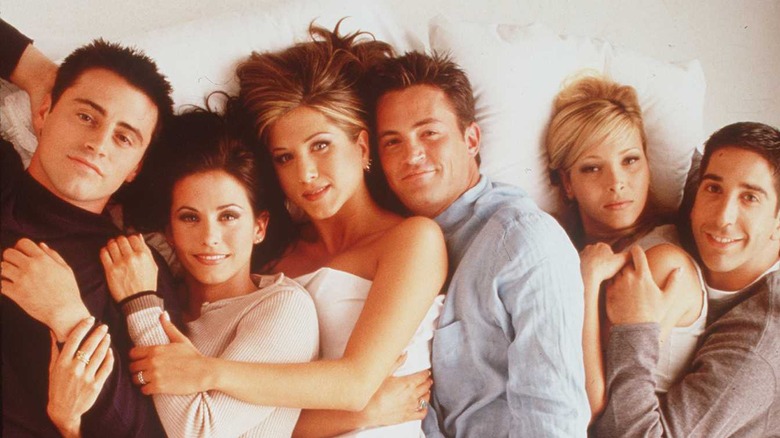 Getty Images/Getty Images
Before his death, Matthew Perry expressed his gratitude toward his "Friends" cast mates for being thoroughly supportive during the darkest moments of his life. Speaking with People, the late actor shared that David Schwimmer, Courteney Cox, Jennifer Aniston, Lisa Kudrow, and Matt LeBlanc were a pillar of strength for him when he was battling addiction. "It's like penguins. Penguins, in nature, when one is sick, or when one is very injured, the other penguins surround it and prop it up," he said. "They walk around it until that penguin can walk on its own. That's kind of what the cast did for me."
According to Kudrow, the cast had really made an effort to become close in the early years. "I think it was sort of unspoken, but we instinctively felt like, we need to be friends, we need to get along, we need to connect," she shared in "Must See TV: An All-Star Tribute to James Burrows" in 2016 (via Harper's Bazaar). Aniston also chimed in, "We really just wanted to hang out with each other. We really just fell in love and adored each other instantly, and would hang out at each other's houses and watch the show together."
And while Perry admitted that he wasn't his best self during the production of the series, "Friends" changed his life for the better, all thanks to his friends turned family. "It changed my life in every way. I got the show when I was a 24-year-old man; the show ended when I was 34," he told People. "It formed my life. And it was the time of my life."
If you or anyone you know needs help with addiction issues, help is available. Visit the Substance Abuse and Mental Health Services Administration website or contact SAMHSA's National Helpline at 1-800-662-HELP (4357).