A Look At Bruce Willis And Matthew Perry's Decades-Long Friendship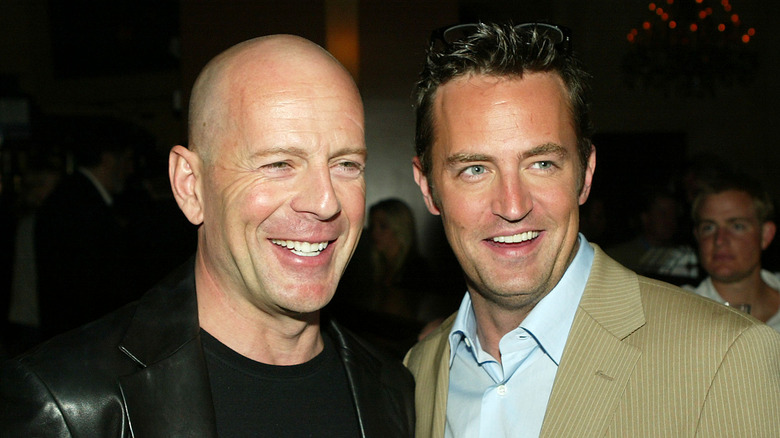 Kevin Winter/Getty Images
Bruce Willis and Matthew Perry first met while filming 2000's "The Whole Nine Yards." While they sustained a friendship for years, it didn't last much longer than the film's 2004 sequel, "The Whole Ten Yards." Regardless, Willis and Perry shared abundant comedic chemistry, both on and off the screen. In 2004, while promoting "The Whole Ten Yards" on "The View," the hosts chided Willis for his then-age-gap romance with actor Brooke Burns. However, Perry swooped in with a joke of his own to deflect the attention from Willis. "You know what's good for me is that I love myself," said Perry during the clip. "So I'm always the right age for me." 
The pair unleashed more jokes when speaking to Tribute.Ca that same year. While Willis and Perry both first cited their hefty paychecks as the reason they decided to film a sequel, Perry then got serious and way more sentimental as he revealed they "had a blast" during the first go around. Of course, Willis also guest-starred in multiple episodes of "Friends," where he played the dual role of Rachel Green's love interest and Ross Gellar's daughter's father. That role gave fans that iconic scene where Ross caught Willis' character singing "Love Machine." Although Willis and Perry didn't share many scenes on "Friends," they spent plenty of time doing other things.
Bruce Willis and Matthew Perry used to party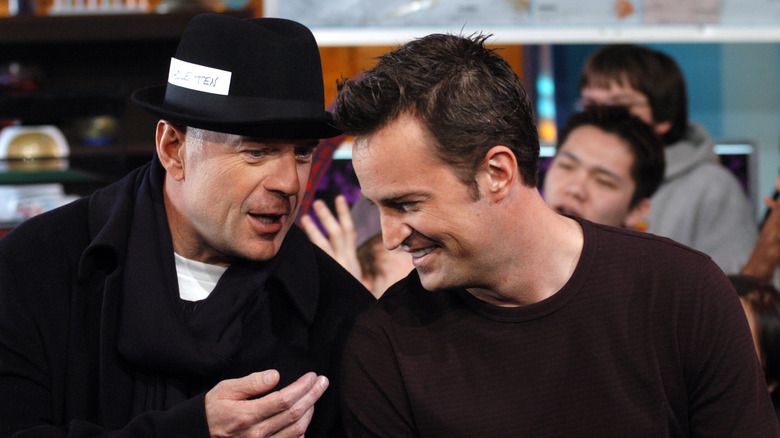 Stephen Lovekin/Getty Images
Matthew Perry's memoir, "Friends, Lovers, and the Big Terrible Thing," gave fans a deeper understanding of his past substance abuse. Interestingly, one of Perry's bouts with substance use bled over into his onscreen work with Willis. In the memoir, Perry revealed that he and Willis would party during their free time. "But there was a big difference between Bruce and me," wrote Perry. "Bruce was a partier; I was an addict. Bruce has an on-off button. He can party like crazy, then get a script like 'The Sixth Sense' and stop the partying and nail the movie sober." 
Unfortunately, Perry resorted to popping pills to balance the incessant partying with their rigorous shooting schedule. "Those hundred Xanax worked like a charm," shared Perry. "Meanwhile, Mr. A-list Willis over there looked like he could open an envelope with his chin," he continued. That said, Perry and Willis also bonded on a deeper level that wasn't connected to their extracurricular activities. "Sometimes, at the end of the night ... Bruce and I would just sit and talk," wrote Perry. Their late-night talks allowed Perry to get to know the real side of  Willis, which he found to be caring and selfless. Despite Perry's fond feelings and willingness to sustain the friendship with Willis, they eventually drifted apart sometime after filming wrapped.
Bruce Willis' wife came to Matthew Perry's defense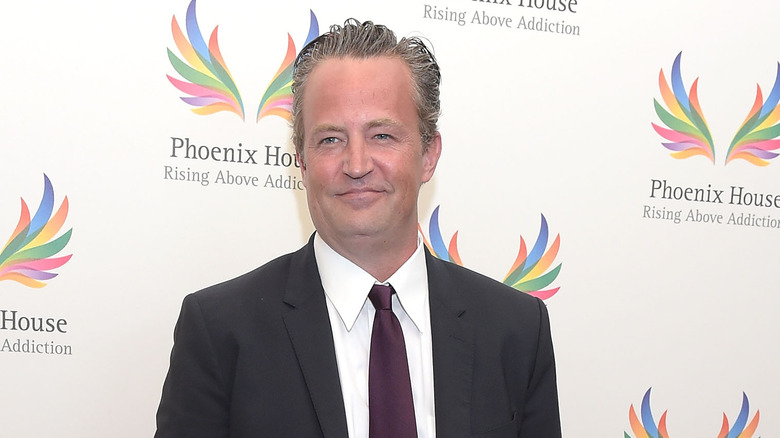 Jason Kempin/Getty Images
Even though Bruce Willis and Matthew Perry traveled down different paths, it's clear that Perry always held Bruce in high regard. "When the veil of Bruce Willis was removed, I just wanted to be his friend," Perry recalled in his memoir about their early friendship. "I didn't want to suck up to him like everybody else in the world." Perry also sent Bruce well-wishes after his aphasia diagnosis — which has since progressed into dementia — made the news. "Dear Bruce Willis, I'm so sorry to hear what you are going through, but you're still the coolest man I've met in my entire life," tweeted Perry in March 2022. "You will remain in my prayers for a long long time."
Unfortunately, Perry passed away on October 28, 2023. Willis' current health issues likely prevented him from speaking out about Perry's untimely death, but his wife, Emma Heming Willis, defended him against those attempting to invade his privacy. "I don't need to hear the 911 dispatch call," posted Emma to her Instagram Story. "I don't need to know the autopsy report. Why? Because it's absolutely none of my business." She also urged fans to allow Perry's family and friends to go through the grieving process in private.