Jason Sudeikis Pays Olivia Wilde A Ton Of Money In Child Support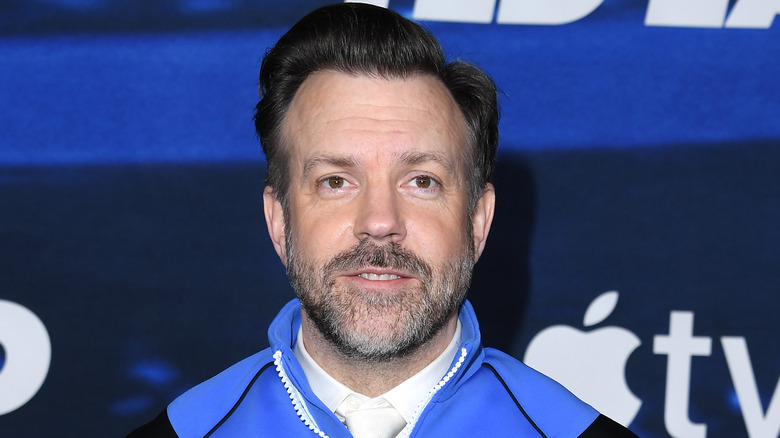 Steve Granitz/Getty Images
Jason Sudeikis and Olivia Wilde are both bringing in big bucks. But Sudeikis is the one having to fork out a ton of money for child support.
The former couple both have successful careers in the entertainment industry, with Wilde directing films like "Don't Worry Darling," and Sudeikis appearing in hit television shows like "Ted Lasso." So, it's not surprising that the two hit it off. Sudeikis and Wilde's relationship dates back to 2011, after meeting at an "SNL" wrap party, per Us Weekly. Two years later, Sudeikis popped the question to Wilde, and she said yes. However, before making it to the altar, the couple welcomed their first and second child.
Wilde announced the birth of their son, Otis Alexander, in 2014 via X, formerly known as Twitter. She wrote, "Ladies and gentlemen, Otis Alexander Sudeikis has LEFT the building! (I'm the building)." Two years passed before Sudeikis and Wilde would give birth to their second child, Daisy Josephine, per People. Wilde once again shared a photo of her newborn daughter on social media with the caption, "There goes the neighborhood. Daisy Josephine Sudeikis. Born, like a boss, on #internationaldayofthegirl." After the birth of their children, things seemed to be going well for the couple's relationship, and it seemed like only a matter of time until they tied the knot. But things changed. In 2020, the couple announced their split, and now Sudeikis has to pay Wilde a large sum of money in child support for the two children they share.
Jason Sudeikis has to pay more than $25,000 in child support to Olivia Wilde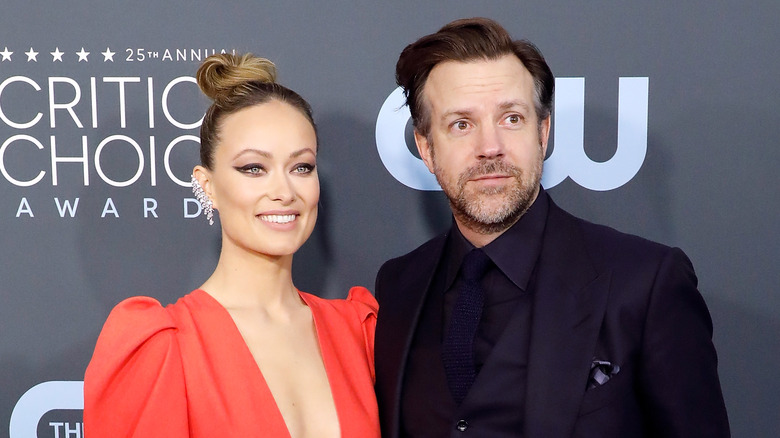 Taylor Hill/Getty Images
Jason Sudeikis will have to set aside a large sum of money every month to pay Olivia Wilde child support for their two kids, Otis and Daisy. In September 2023, Wilde and Sudeikis settled their custody drama, and a judge ordered the "Ted Lasso" actor to pay Wilde $27,500 a month, per Daily Mail. Documents read, "The parties agree that child support for the minor children in the amount of $27,500 per month is sufficient to maintain the needs of the minor children considering Jason's station in life ... " The amount Sudeikis has to pay was determined by his and Wilde's 2023 income. In 2023, the "Ted Lasso" actor made more than 20 times as much as Wilde did. His estimated income stood at $10.5 million, whereas the "BookSmart" director's income was just $500,000.
According to People, the $27,500 child support amount "comprises $10,300 for Otis and $17,200 for Daisy." And that isn't all that Sudeikis had to fork out. On top of the child support payment, the former "SNL" cast member must also pay 25% of childcare costs. Neither Wilde nor Sudeikis have commented on the agreement, but it was a long journey to get to an amicable decision.
Jason Sudeikis and Olivia Wilde's custody battle was messy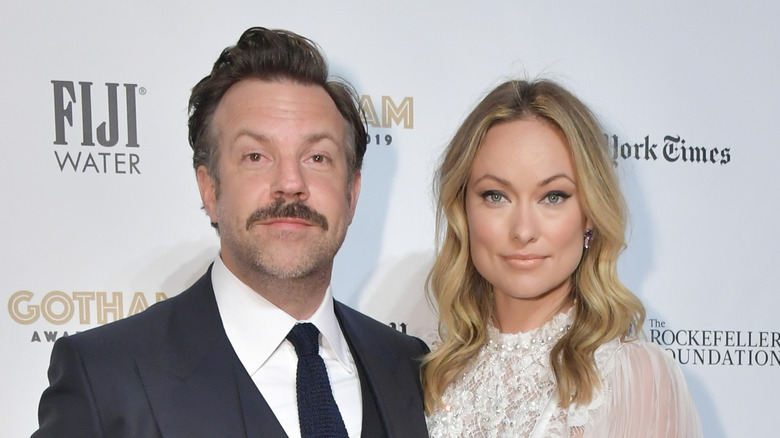 Michael Loccisano/Getty Images
When Olivia Wilde and Jason Sudeikis broke up in 2020, they wanted to co-parent their kids the best way they could. But when Wilde sparked her whirlwind romance with "Don't Worry Darling" co-star Harry Styles, things took a turn.
In April 2022, while promoting "Don't Worry Darling," Wilde was handed an envelope on stage, which she opened up before continuing to speak. Everyone was left confused, but come to find out that her ex, Sudeikis, served her custody papers. In an interview with Variety, Wilde revealed she did not appreciate her ex's bold move. She shared, "To try to sabotage that was really vicious ... But, you know, sadly, it was not something that was entirely surprising to me. I mean, there's a reason I left that relationship." Sudeikis claimed he had no idea when Wilde be served, and it wasn't his decision.
However, the couple went back and forth for months. In March 2023, Wilde alleged that Sudeikis was keeping information from her, per Us Weekly. She claimed, "Apparently he [Sudeikis] had learned that the court date for our first appearance was January 4, 2023, and purposefully did not advise me of it, nor did his lawyer advise my lawyers. Not knowing the date, neither I nor my lawyers appeared." Although the two were engaged in a lengthy custody battle, they have let bygones be bygones, as they have officially settled on joint custody over their kids and an agreed-upon child support payment.