How Leah Remini Shaded Tom Cruise And Katie Holmes' Parenting Style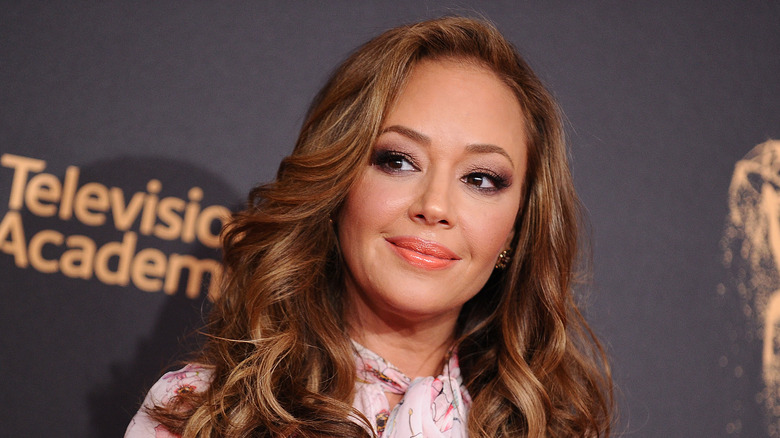 Jason Laveris/Getty Images
Since breaking away from Scientology in 2013, Leah Remini has been an outspoken critic of the controversial organization. According to Tony Ortega, the actor quit following extensive "thought modification" for questioning why David Miscavige's wife, Shelly Miscavige, who hasn't been seen since 2007, didn't attend Tom Cruise and Katie Holmes' star-studded Italian wedding in 2006. Adding to her "Suppressive Person" status, Remini has also taken aim at Tom personally, shading his and Holmes' parenting of their daughter, Suri Cruise.
According to an InStyle timeline, Tom and Holmes were first spotted together in April 2005. A month later, he was manically leaping around on Oprah's sofa and declaring his undying love for Holmes. In June, they announced their engagement. Ten months later, in April 2006, Suri, their only child, was born. "The moment the doctor handed me Suri, I was just ready. The feeling is indescribable," Holmes told Vanity Fair. "All I can say is the moment I looked in her eyes, I felt like ... Mom."
Suri was front and center when her parents said "I do" in November 2006. According to The New York Times, Scientology weddings are pretty unique. During the "traditional ceremony" that TomKat reportedly had, the officiant offered advice to the groom. "Now, Tom, girls need clothes and food and tender happiness and frills, a pan, a comb, perhaps a cat. All caprice, if you will, but still they need them." Well, forget the cat; he'd have been better suited sharing advice on good parenting instead.
Bawling bathroom baby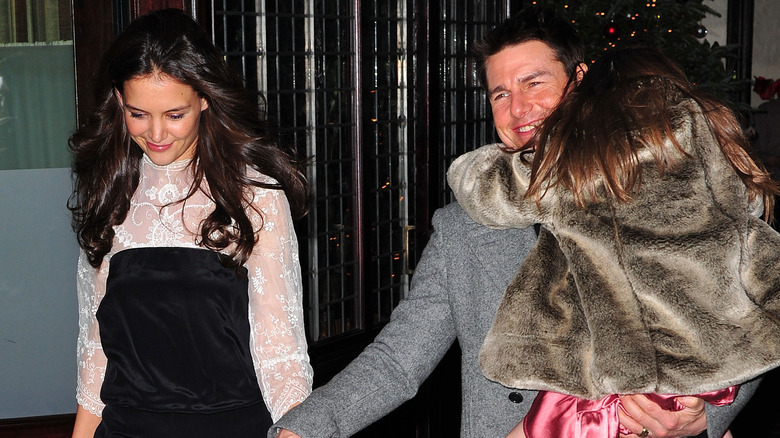 James Devaney/Getty Images
Leah Remini isn't holding back on her thoughts about Tom Cruise and Katie Holmes' parenting skills. According to Remini, it wasn't just the pan, comb, and cat vows that made the big fat TomKat wedding extravaganza off-kilter. The New York Daily News printed excerpts from Remini's tell-all "Troublemaker: Surviving Hollywood and Scientology," and her observations about Suri Cruise's treatment are eyebrow-raising, to say the least.
Remini alleges that during the wedding rehearsal dinner, Suri, who was just 7 months old, could be heard bawling by guests. She claims that everybody, including Tom and Holmes, kept calm and carried on regardless, ignoring the echoing howls from above. However, it became too much for Remini, and she went to check on Suri, who she discovered lying on a bathroom floor. Adding an extra layer of weirdness, one of Tom's three sisters, his personal assistant, and another woman stood around Suri, providing no comfort to the distressed little girl; instead, just watching her wail.
Remini claims that the trio was transfixed by the sobbing Suri, watching her like she was "L. Ron Hubbard incarnate." For anybody not in the Scientology know, ABC notes that Hubbard, a science fiction writer, founded Scientology in the 1950s and its off-shoot, the Sea Organization, in 1967. He died from a stroke in 1986, leading to David Miscavige taking over the reins. Remini explains that she eventually persuaded the Cruise three to remove Suri from the bathroom floor and feed her some warm milk.
The continuing controversy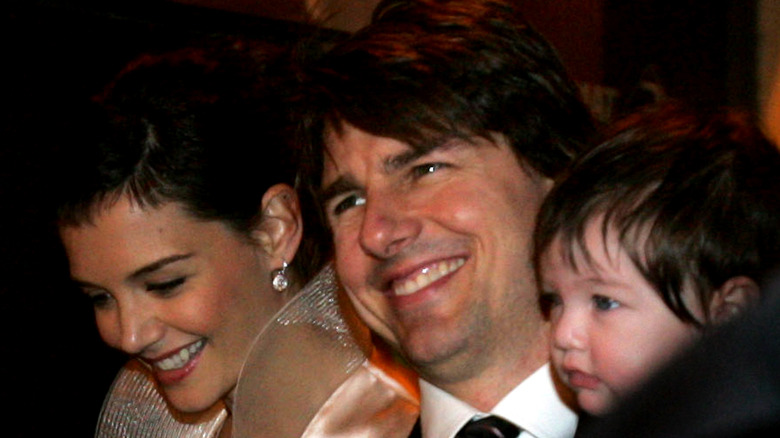 Alessandra Benedetti - Corbis/Getty Images
Tom Cruise and Katie Holmes caused controversy over their daughter, Suri Cruise before she was even born. Given Tom's devout adherence to Scientology's doctrines, it was reported that Holmes followed the organization's rule that childbearing be carried out in silence — a regulation clearly not introduced by a woman. The Guardian lists L. Ron Hubbard's Scientology-mandated birthing directive. "Maintain silence in the presence of birth to save both the sanity of the mother and the child," he decreed. "And the maintaining of silence does not mean a volley of sh's."
Meanwhile, Suri's recommended baby diet was also cause for concern. Scientology spokesperson Karin Pouw told People that Hubbard proposed infants be fed a mixture of barley water, milk, and corn syrup as "a healthy, natural alternative to store-bought formulas."
Tom and Holmes' choices over Suri's schooling were questionable, too. The Independent notes that until she was 6, Suri attended the New Village Leadership Academy in Calabasas, which uses Hubbard's "study technology" to teach kids. "[Suri] is coming to an age where she gets educated enough to get locked into the faith," former Scientologist Marty Rathbun explained. "That's why there's almost certainly truth in the consideration that schools have started coming into play in all this." Cruise's insistence that their daughter be indoctrinated in the tenets of Scientology was reportedly a significant factor in Holmes divorcing him. She flatly refused to allow Suri to continue attending the New Village Leadership Academy, instead enrolling her in a Catholic school.