Gigi Hadid Makes It Clear Taylor Swift's Inner Circle Fully Ships Travis Kelce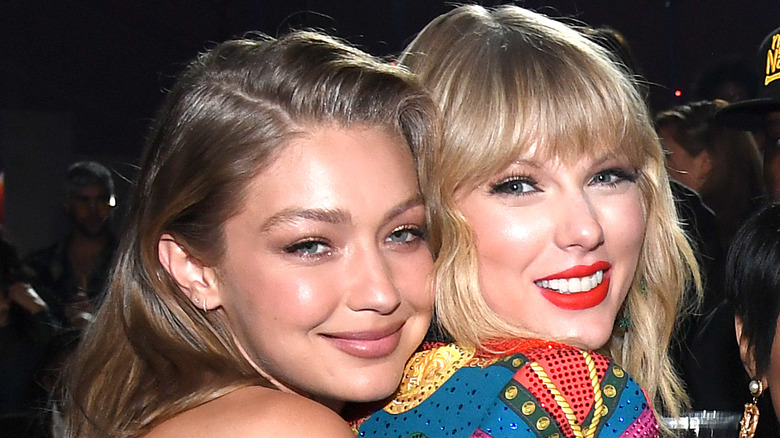 Kevin Mazur/Getty Images
If there's one relationship that's captured the American imagination in 2023, it's that of Taylor Swift and Kansas City Chiefs tight end Travis Kelce. Rumors began swirling about the power couple when Kelce publicly lamented in July that he didn't get the chance to give Swift "a bracelet I made for her" at her Eras Tour concert in Kansas City. September, however, was truly the month "Traylor" started sparking serious speculation. On September 24, Swift was seen for the first time at a Chiefs game in Kansas City, departing it side-by-side with Kelce and displaying PDA together later at an afterparty. Spotted since on numerous cozy dinner dates, Swift erased any doubt of Traylor's existence in the most Swift-esque way possible in November. With Kelce in attendance during her Argentinian Eras tour performance of "Karma," she changed one lyric to say, "Karma is the guy on the Chiefs coming straight home to me."
However, not all of Swift's friends are reportedly enamored with her new love story. An Us Weekly source claimed that supermodel and BFF Gigi Hadid thinks the "Slut!" singer is moving too fast. "One of the reasons Gigi hasn't attended any of Travis' games is because she doesn't agree with the way Taylor has been acting with [him]," the insider revealed, claiming Hadid "feels like Taylor is doing too much, too soon." 
Never afraid to speak her mind, Hadid quickly clapped back at the supposed insider's allegation.
Gigi Hadid is shaking off claims she doesn't approve of Traylor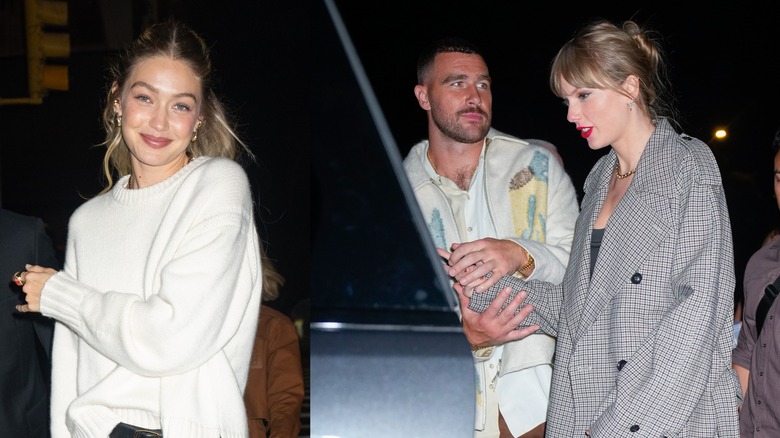 Gotham/Getty & undefined & Jackson Lee/Getty Images
Gigi Hadid harbors zero bad blood where bestie Taylor Swift and new beau Travis Kelce are concerned. The supermodel, who has been chums with Swift for a decade, didn't take fondly to reports that she, among other Swift squad members, thinks Traylor is moving too fast. 
As highlighted by Pop Base on X, formerly known as Twitter, Hadid responded to Perez Hilton's Instagram post by saying, "Didn't the press try this last week w Selena? Let it be.. we are all over the moon for our girl. Period." With Hadid referring to another notable Swift BFF, Selena Gomez, an insider previously claimed to Page Six in October that the "Calm Down" singer thought Swift's frequent attendance of Kansas City Chiefs games "and galavanting through New York immediately after just meeting Travis is... very unlike her." Clearly, Hadid is putting both these rumors to rest. 
Spotted cheering on Kelce at MetLife Stadium alongside other famous besties Blake Lively, Ryan Reynolds, Sophie Turner, and Sabrina Carpenter, Swift reportedly knows exactly how to handle her and Kelce's long-distance hurdles and hectic work schedules. As a source told Us Weekly in November, Traylor has developed "very detailed plans coming up on how to stay together while she's on tour and he has games." The insider added that "Travis and Taylor are a very real couple" and that they "actually spend a lot of one-on-one time together." Previously, another source told Us Weekly that most of Swift's inner circle believes "it's obvious" Traylor's ready for the next step.