What Ivanka Trump Has Said About Her Romance With Sean Brosnan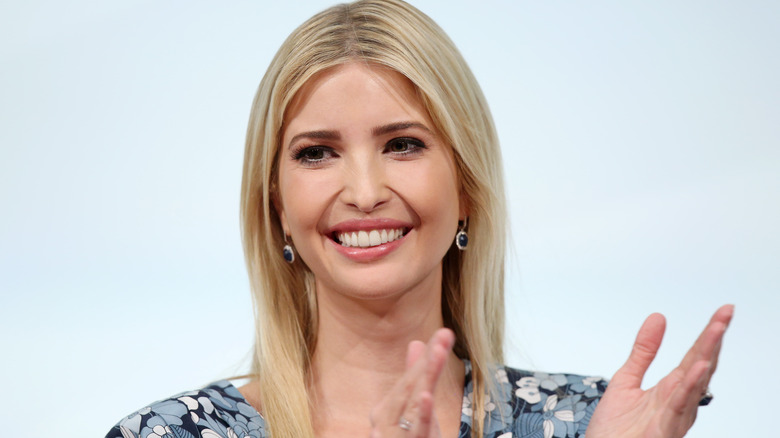 Sean Gallup/Getty Images
Considering the Trump family secrets have been laid bare in the many awkward moments during Donald Trump's trial, you'd think there'd be nothing left to expose. However, Ivanka Trump is a dark horse with a long list of unexpected exes she dated before marrying Jared Kushner. Like, who would have ever placed Ivanka and the son of nobody's favorite James Bond, Pierce Brosnan, together?
Sean Brosnan was just one of the many pre-JaVanka suitors, though. And, if Ivanka's father had his own way, there would have been even more. For instance, in his 2022 book, "Breaking History: A White House Memoir," Kushner revealed that Donald told him, "Tom Brady is a good friend of mine and had been trying to take Ivanka out." Kushner clapped back, "If I was Ivanka, I'd go with Tom Brady." Donald sniffed. "Yeah, I know," he said. Donald's obsession with Ivanka dating his athletic idol was obviously a non-starter. But, he also admitted on "The View" in 2006 that "If Ivanka weren't my daughter, then perhaps I'd be dating her." Once again, sadly for Donald, he didn't get his wish.
Still, Ivanka racked up flings with her college sweetheart, Greg Hersch, and socialite Bingo Gubelmann. "They just got to a point where we weren't making each other happy any longer," she told GQ about ending the romances. Lance Armstong was the surprise romantic wild card that followed. Topher Grace was next. Then, Ivanka got shaken, not stirred.
Short and sweet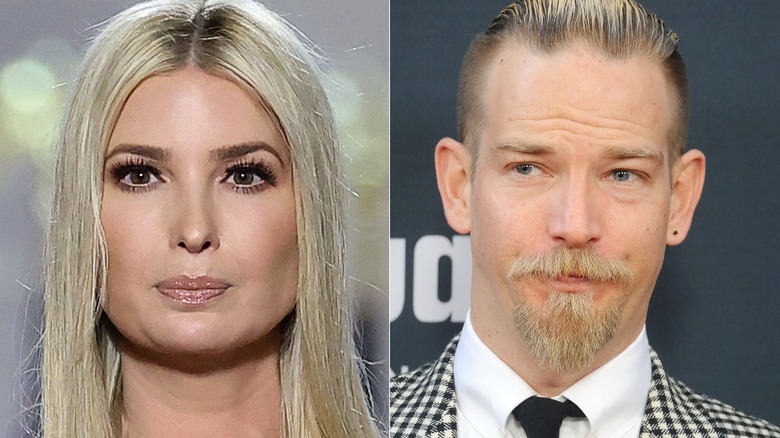 Gregg Deguire & Chip Somodevilla/Getty
When Ivanka Trump met Sean Brosnan in 2007, she was an Ivy League graduate, model, and business entrepreneur. Meanwhile, Sean, the son of 007 actor Pierce Brosnan, was an actor who had a supporting role in "Robinson Crusoe," played an uncredited boyfriend in "Laws of Attraction," starred in a short movie, "Old Dog," and appeared in two episodes of the TV series "When Evil Calls." 
Per the Daily Star, Ivanka and Sean met at the 50th Annual International Red Cross Ball in Palm Beach, Florida. They reportedly set tongues wagging after looking decidedly cozy on the red carpet. However, it was a short-lived love match, as Sean never even made it to Mar-a-Largo to meet the folks. "I was too smart to bring home a date or a boyfriend," Ivanka told CNN in 2016. "I was not going to subject boyfriends to the scrutiny of my father or mother, for that matter, unless I was absolutely sure."
"I think [my dad] can be a little bit intimidating," Ivanka admitted on "Late Night with Conan O'Brien." Somebody who definitely wasn't intimidated was Andy Dick. Ivanka had a decidedly unpleasant Dick experience on "Jimmy Kimmel Live" when she was dating Sean in 2007. Dick was compelled to feel up Ivanka's legs as she sat beside him. "Wait, did I say I'm not single and that I have a boyfriend?" she asked. "Donald Trump will kill the both of us," Kimmel said as he removed Dick's groping hand.
The American Psycho stand in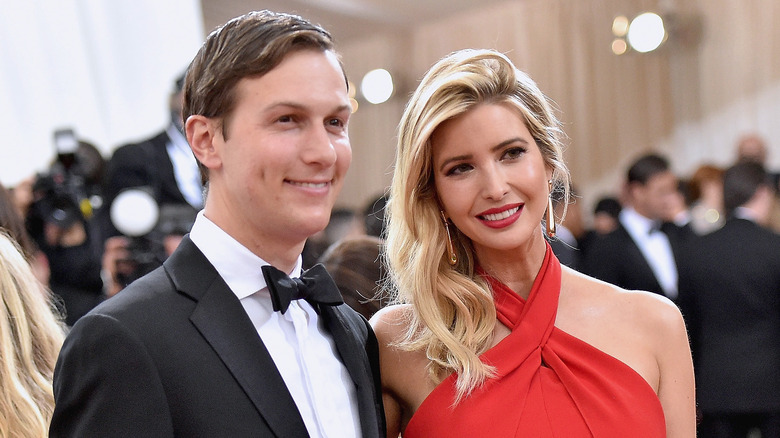 Mike Coppola/Getty Images
Proving that Ivanka Trump didn't have a type before marrying Jared Kushner, she shared her preference for "strong guys." Reporter Vanessa Grigoriadis interviewed Ivanka's friends and colleagues for her podcast "Tabloid: The Making of Ivanka Trump." She shared highlights with New York magazine. "In her 20s, [Ivanka] said her ideal man, the one she had fantasies about, was Christian Bale in 'American Psycho' playing Patrick Bateman, who is, of course, an '80s scenester just like her father was back then — suspenders, slicked-back hair, chops up women for a hobby," Grigoriadis wrote. Well, what girl doesn't hanker after a psychopathic mass murderer? Although he did have great taste in music, in fairness.
Ivanka continued with her serial killer fangirling in an interview with Marie Claire in 2007. She confessed she was attracted to stronger, older men. "Someone who knows what he wants," Ivanka said. "Aesthetically, Christian Bale is like a god — I find him to be so good-looking. I mean, he was great in 'American Psycho.' Very attractive."
Ultimately, Ivanka settled on Kushner. Per Business Insider, the couple met at a networking event in 2007. "We go to the park. We go biking together. We go to the 2nd Avenue Deli," Ivanka told New York magazine. She said that despite them both living the high life, she loved the fact that they remained grounded. Even though Kushner isn't a stronger, older man and presumably not a mass murderer, they married in 2009.