Taylor Swift Wins Video Of The Year At 2019 VMAs, Gives Powerful Speech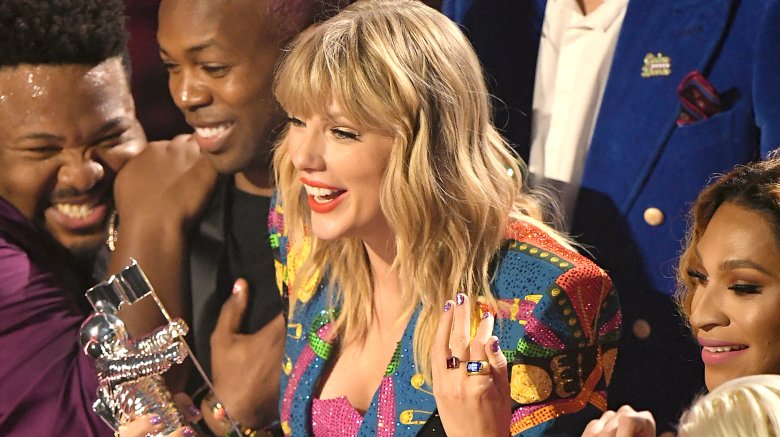 Mike Coppola/Getty Images
Does T.S. stand for Taylor Swift or Tears Shed? Both. Definitely both. 
Swift won big at the 2019 MTV Video Music Awards, taking home the coveted Moon Man statue for Video of the Year for her LGBTQ+-empowering track "You Need to Calm Down." 
The 29-year-old pop sensation, joined by her video team that includes co-producer Todrick Hall, took the stage on Monday, August 26 to accept the accolade. Addressing the thousands of people in attendance, Swift stripped back the layer of celebrity sheen to get honest with everyone listening. She highlighted importance of equality for all — something she has been advocating for more and more openly in recent years — and her desire for everyone to have the freedom and ability to live authentically.
"I first want to say thank you to the fans because, in this video, several points were made, so you voting for this video means that you want a world where we're all treated equally under the law regardless of who we love or how we identify," began Swift, who then mentioned that the "You Need to Calm Down" video ended by asking fans to sign the petition for the Equality Act. "[It] basically just says we all deserve equal rights under the law ... I want to thank everyone that signed that petition because it now has half a million signatures, which is five times the amount that it would need to warrant a response from the White House."
Swift continued, shifting focus to her video team (she gave shout-outs to Hall and co-director Drew Kirsch), to the cast of "You Need to Calm Down" that included many familiar faces, and to MTV for the honor.
"I love my cast. I am so grateful to everyone who was in this video. The ones that are here. The ones that are at home. We love you so much. Thank you for doing this with us," she said. "My cast live their lives so authentically. Thank you for being the example that you are. I love you guys so much. Thank you MTV for lifting up this point in this video. We love you."
"You Need to Calm Down," the second single off Swift's recently released seventh studio album Lover, also took home the VMA for Video for Good during the 2019 ceremony. Earlier in the evening, Swift stepped on stage to give a sassy performance of "You Need to Calm Down" and sing, for the first time live, the title track off her new album, "Lover."
While there are certain people in the world Swift and company feel need to take a chill pill, it's evident that the songstress isn't calming down when it comes to doing the right thing, speaking out against injustice, and continuing to make tracks that are uplifting and catchy as all heck. Four for you, T. Swift! Four for you.