Who Is Kylie Jenner's Best Friend Now?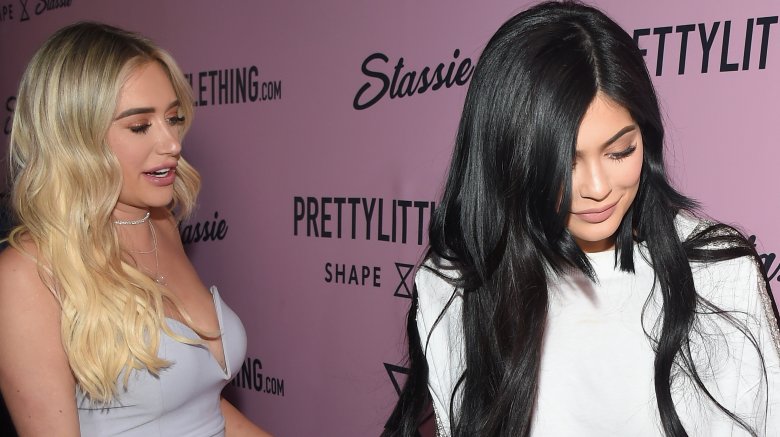 Matt Winkelmeyer/Getty Images
Kylie Jenner was thrown for a loop after her best friend Jordyn Woods was accused of hooking up with Khloe Kardashian's then-boyfriend and baby daddy, Tristan Thompson, in February 2019. After the fallout from the scandal, Khloe became a single mom, Woods was painted as a villain, and Jenner was left without a live-in BFF.
While it's unclear whether Jenner has any new roommates replacing the Woods-shaped hole in her heart, she is bonding with a new pal. In July 2019, Us Weekly reported that Kylie Jenner had been spending more time than ever with YouTuber Anastasia "Stassie" Karanikolaou. Karanikolaou has actually been a friend of Jenner for a while, but the pair grew closer after Woods fell out with the famous family. Jenner revealed in an Instagram Story (via Metro) that she met Karanikolaou when they were just 11 years old.
"It all started when I met this beautiful bomb a** blonde at Barnes and Nobles [sic]," Jenner wrote alongside a selfie with Karanikolaou. "Then soon after, you basically became another sister. Stas basically lived with me growing up and it was always the 3 of us." Since further stoking the fires of their friendship, Jenner and Karanikolaou have been rocking coordinating outfits and even hanging out with Jenner's daughter Stormi together.
Kylie Jenner told Teen Vogue that Karanikolaou has been her "most consistent and loyal friend" throughout her life since meeting at a mutual friend's house. "We used to hang out in groups," she said. "Then we realized we were in love with each other." Karanikolaou quipped, "And that we hated everyone else." Jenner admitted that without Karanikolaou, she "wouldn't be the person" she is today.
A source told People Jenner has been trying hard to expand her circle of friends after Woods' alleged betrayal, explaining, "She has been socializing more and trying to find a bigger circle of friends that she can be close with. After the Jordyn drama, she realized that relying on just one friend is not the best idea."