The Real Meaning Of Ruby Rose's Tattoos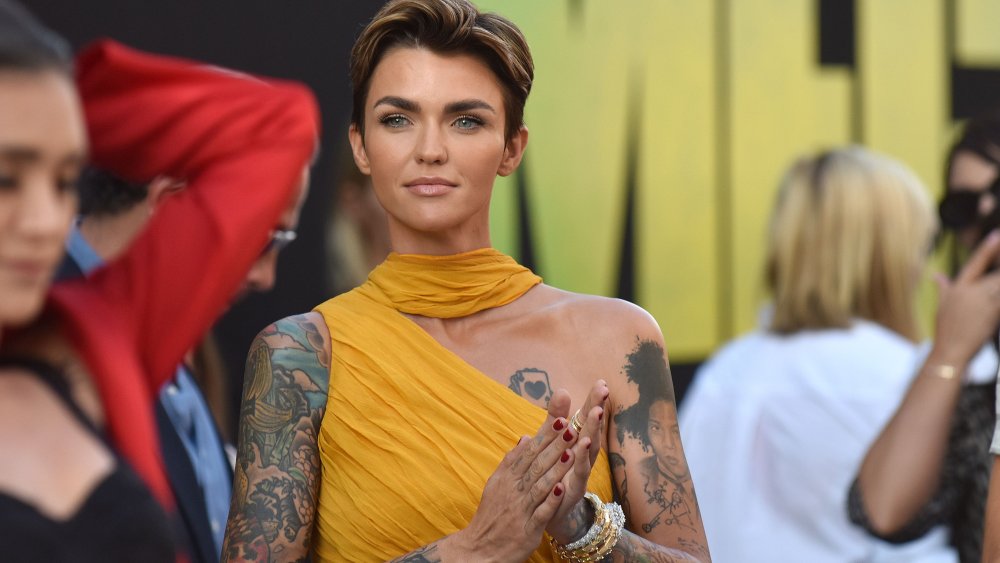 Lisa O'connor/Getty Images
Ruby Rose is an actress, model, VJ, and tattoo queen. In addition to playing Batwoman on the CW, Rose has proven that she has a high pain threshold in real life, and has a story to tell with each and every one of her tattoos. As of August 2018, the Australia native revealed she had an impressive 109 tattoos on her body, and each one means something to her.
"If you count them individually, then that's an astronomical amount. But because they are joined together, it becomes a sleeve, or it becomes a back piece," Rose told Marie Claire Malaysia in her August 2018 cover story interview. "They all have personal meanings or stories — they are there to create a memory. Some of them are more meaningful than others, but I love them all."
The Orange Is the New Black actress has body art of all sorts, including designs dedicated to her animals, her loved ones, and plenty of pop culture references. For example, she has the White Rabbit from Alice and Wonderland on her lower back, "MTV" on her knuckles for her start on MTV Australia as a VJ, and a deck of cards on her chest.
Ruby Rose's tattoos have something for everyone, including her mum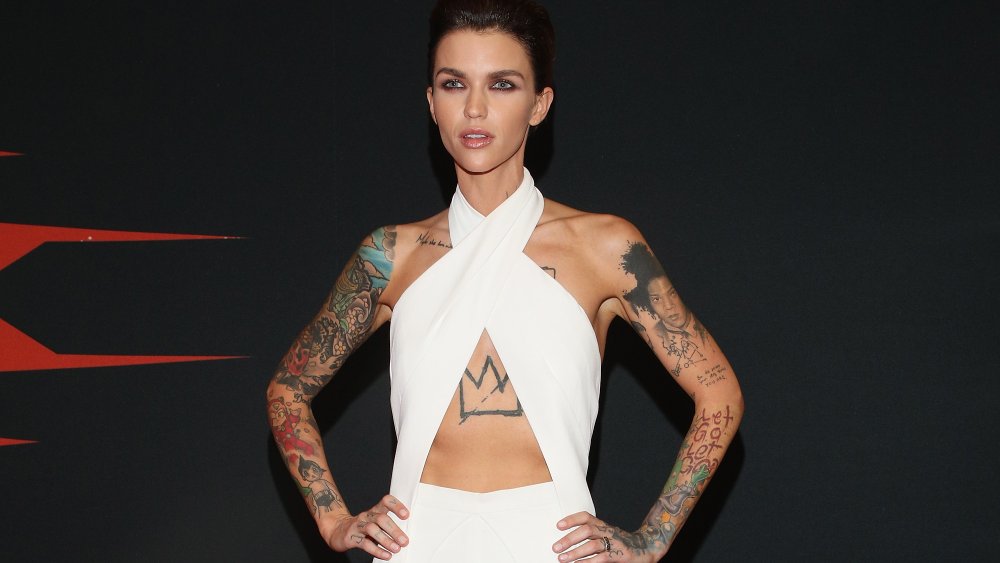 Victor Chavez/Getty Images
With so many tattoos to choose from, Ruby Rose has a hard time narrowing down her favorite. She did, however, tell Marie Claire Malaysia that she has a fond and fun story about her "mum" tattoo on her hand. "Well, I remember when I got this tattoo, thinking 'yay, my mum is going to be so happy, I'm finally getting a mummy tattoo!' But the only thing she said was "that's it? That's the smallest tattoo on your whole body!' But for me, the meaning was deep," she explained. 
She continued to say that it was special to her because it was always visible at work. "It was because I used to host a lot of TV shows in Australia, and that was my microphone hand. So naturally, you could always see 'mum' every time I'm on TV. If I put 'mum' in massive letters across my back, then no one's going to see it," she explained.
In addition to her "mum" ink, the Rose has a few others that rank high on her list of favorites. "Then I have my dog on my hand, and I have the Ninja Turtles — or one of them, Leonardo — because that was such a big part of my childhood and I always felt like we were kindred spirits," she said. "So, these tattoos were there to either remind me of certain things or to help me let go of things, and just live in the moment."
In fact, her Leonardo tattoo is a big  conversation-starter for the star, who also opened up to ELLE about it in the past. "Growing up, I had a very vivid imagination and Leonardo was like my best imaginary friend that I spoke to. When things were tough, or I was scared in an unsafe environment, I always imagined that the Ninja Turtles would come to the rescue," she revealed.
The actress has a "tramp stamp" too, and she loves it!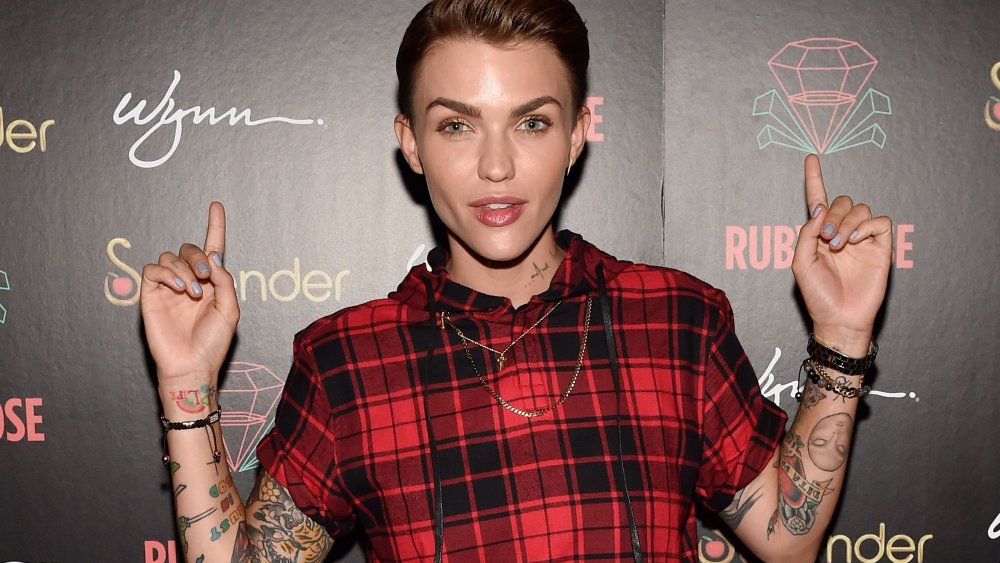 David Becker/Getty Images
Some of her older tattoos still resonate with Ruby Rose and hold a special meaning for her as well. After becoming the face of Maybelline New York in 2010, she paid tribute to her big break with an ode to their iconic slogan, "Maybe she's born with it." She had the phrase inked on her chest and shared a snap of it with her Instagram followers in 2014. 
"Four years ago @maybelline @mnyau took a big risk and chose a tattooed rock chick to be the face of their iconic brand. Through my personal successes and the few battles they had my back like a family not a brand...To many more years...Thanks for always believing in me. Also great way to freak out the office," she captioned the photo (via The Daily Mail).
More of her tattoos include: an alien on her arm, a portrait of graffiti artist Jean-Michel Basquiat on her shoulder, and a crown-design by Basquiat on her ribcage. She also has a "tramp stamp" of a rose and Celtic design she got when she was 16 that she snarkily told Cosmopolitan is "very, very classy. Classic. Iconic. Some would say revolutionary." Even though she jokes about the design now, she revealed that she will always keep it there "because it's a memory, and it's fun and I love it."