What Do Kaia Gerber's Tattoos Mean?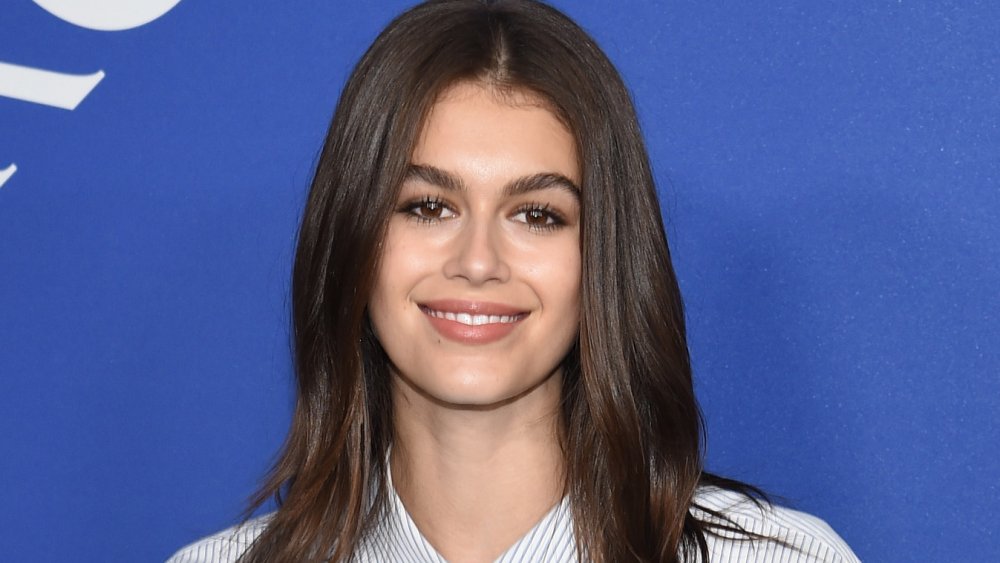 Dimitrios Kambouris/Getty Images
Kaia Gerber, daughter to international supermodel Cindy Crawford, has strutted her stuff on runways all over the world. And while you'd definitely do a double take if you saw her, seeing as she's basically her mom's doppelgänger, what you probably wouldn't notice all of her tiny tattoos. 
In the documentary Casablancas: The Man Who Loved Women, Crawford said that she would never get a tattoo because she couldn't see herself with one as she aged, but her daughter doesn't seem to have the same mentality (via Vogue Australia). Despite her young age, Gerber has racked up an impressive amount of body art (something that she and rumored beau Pete Davidson have in common). Since Gerber has a thing for minuscule, minimalistic tattoos, there's a chance that there may be some we haven't seen. While some celebs come to regret their ink, most of Gerber's seem to have a special significance to her life — but what do they mean? 
All of Kaia Gerber's tattoos tell a story
The model subtly debuted what is believed to have been her first tattoo in an Instagram selfie in October 2018. "Just coming on here to say I don't think enough people talk about the weather these days," Kaia Gerber captioned the post. Despite the unrelated caption, eagle-eyed followers noticed that she was actually showing off her brand new ink — "Jordan," her middle name, scrawled in black ink along her inner right bicep. Just days later, Gerber was seen sporting a second set of ink in the form of a tiny spaceship. By December 2018, she was back at it again, showing off a third tattoo in a shot of herself chilling poolside. On the side of her ribcage, you can see an angel's face surrounded by wings. In August 2019, the model took to her Instagram Story to share her heart with followers — debuting a drawing of an anatomical heart in red ink in the crook of her right elbow. Mind you, Gerber got all of those tattoos before the age of 18, meaning she didn't technically meet the legal requirements to get the ink. Mom Cindy Crawford and dad Rande Gerber must have approved since they would have had to sign off. 
In addition to the tattoos she's explicitly showed off, Gerber also has "I Know" with a line struck through the words on her wrist, a "lady with a bird" on her elbow, and the number "23" above her elbow. The rumored reason for the seemingly random number is that it marks the model's haute couture debut for Chanel on Jan. 23, 2018 — it also happens to be her lucky number (via Vogue).  
While we might not know exactly what each piece of ink means, Gerber holds each near and dear to her heart. "Each one is a memory and means something important to me," she told Refinery29. "I try not to take them too seriously because each one represents a time in my life that I can look back on and remember."
Gerber isn't the only top model rocking some ink, find out what Kendall Jenner's tattoos mean to her.