Where Does Andy Samberg Live And How Big Is His House?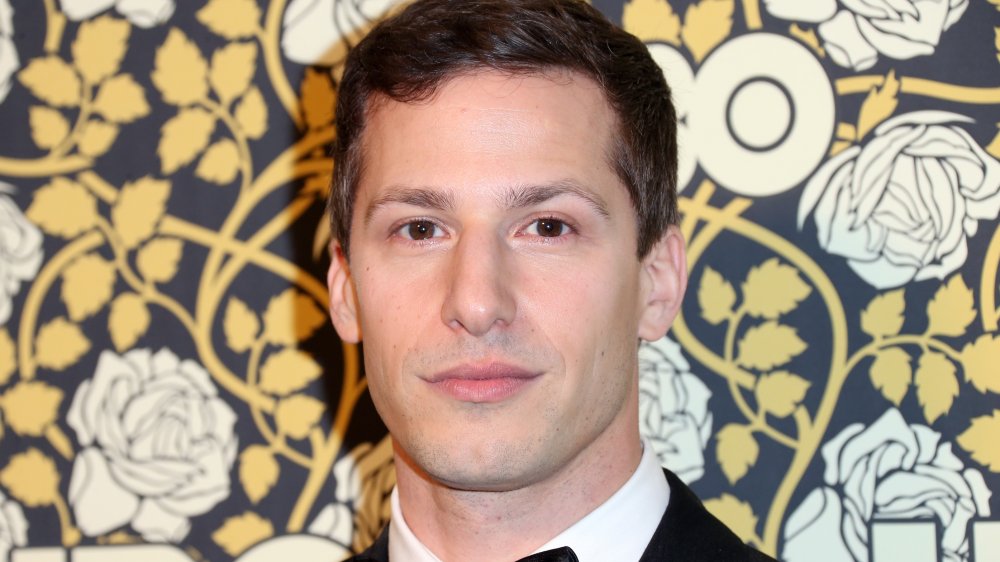 Frederick M. Brown/Getty Images
If you're interested in having famous neighbors, your best bet may be to buy a home in the Hollywood Hills area. Screen legend Al Pacino, former The Big Bang Theory star Johnny Galecki, American Idol alum Adam Lambert and Brooklyn Nine-Nine star Andy Samberg all own incredible homes there. The actor and his wife, singer-songwriter Joanna Newsom, decided to settle down in Hollywood Hills in 2014, just a few years before welcoming their first child into the world. However, they didn't buy just any house. Samberg and Newsom picked up "a slice of L.A.'s rich real estate history," according to the Los Angeles Times.
Paying $6.25 million, the pair now own a residence known as Moorcrest, a place where Charlie Chaplin and actress Mary Astor once called home. While the silent era actor merely rented the home in the early '20s, Astor lived in the house with her parents, Otto and Helen Langhanke, for almost a decade after the family snapped it up in 1925. However, their time on the property sadly ended when the house, which was valued at $210,000 at the time, was sold for just $21,500 during a foreclosure auction. The Times explains that the Langhankes "sat quietly in an upstairs room of the house when Auctioneer C. H. O'Connor pronounced the place sold." Whoever was lucky enough to score the home at such a low price certainly ended up with once fancy abode.
Moorcrest is as fancy as it sounds
If you think Moorcrest is a fancy name, then you can rest assured that it suits the home it's attached to. While the home probably wouldn't be Jake Peralta's first pick (the character who Andy Samberg plays on Brooklyn Nine-Nine) due to the level of grandeur, Samberg clearly has incredibly luxurious taste. 
Spanning over 6,400 square feet and featuring four bedrooms as well as six bathrooms, the master suite "boasts an impressive copper fireplace and custom steam shower," the Los Angeles Times notes. The interior also includes "mosaic tile floors in the Gaudí-esque kitchen, loads of slender gilded columns and hand-painted ceilings, and baseboards fashioned from copper and marble," as well as a "double-height atrium [which] has carved pilasters and a glass ceiling," according to Variety.
Beyond that, the outdoor space, which spans almost an acre, includes a patio as well as walkways that "are awash in ornate finishes and decorative touches." Of course, as you would expect from a fabulous Hollywood Hills home, there's also a pool. Additionally, there's something you might not expect but would certainly love: a roof terrace with its own fireplace. As Peralta would say, noice!