Khloe Kardashian Responds To Speculation About Dating Tristan Again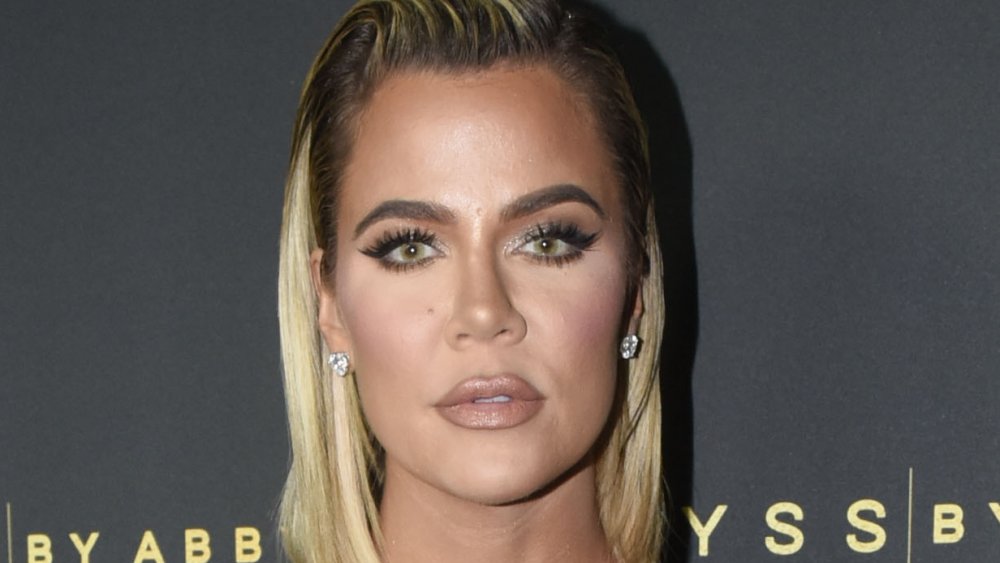 Vivien Killilea/Getty Images
The saga of Khloe Kardashian and NBA star Tristan Thompson is familiar to Keeping Up with the Kardashian fans, as their dramatic love story has played out on the popular reality series for years. To catch everyone else up, Kardashian and Thompson started dating in summer 2016, shortly before the basketball player's ex-girlfriend, Jordan Craig, gave birth to the couple's son, Prince Thompson, in December 2016. The couple happily announced their own pregnancy in December 2017, and in March 2018, it was revealed they were expecting a girl. However, Khloe's newfound bliss was interrupted in April 2018, when TMZ released footage of Thompson allegedly kissing multiple women, just days before she gave birth to their daughter, True Thompson. The footage was reportedly filmed in October 2017, and the Daily Mail also released a video of the athlete supposedly smooching a woman at a bar in NYC. Ouch.
Despite these supposed betrayals, the two appeared to work things out. But whatever reconciliation they had worked out quickly evaporated when it was revealed that Kylie Jenner's BFF, Jordyn Woods, allegedly hooked up with Thompson at a house party in February 2019. The situation was a classic case of he said, she said, as both parties gave different accounts of the evening, although it was clear Kardashian was done with her boyfriend. 
Cut to March 2020, and it's rumored that Kardashian and Thompson are back on again. The evidence? A curious caption the reality star recently shared on Instagram.
Is Khloé Kardashian giving love another shot?
Khloé Kardashian got the rumor mill churning when on March 16, 2020, she posted a cute snap of herself with baby True, captioning it, "The only thing I need you to remember is how much your daddy and I love you!" Although many assumed this was a sweet ode about co-parenting, one fan wondered if this message signified a reconciliation with Tristan Thompson. "It means her parents love her beyond measure," Kardashian responded to the curious commenter, which is a pretty cryptic answer if you ask us. Kardashian could have denied the insinuation completely, right? 
Kardashian's vague answer came shortly after her big sister, Kim Kardashian, wished Thompson happy birthday on Instagram. "Kim and the rest of the family want to send occasional olive branches because, as mad as they all were when he hurt Khloe, they all know that Tristan needs to be in True's life," a source explained to Hollywood Life about the kind gesture. They added, "To help facilitate that they choose to treat him well and support him by inviting him to dinners or watching his games. Kim is all about giving people second chances and, whether or not Khloe and Tristan get back together, she wants to make sure the father of her niece is getting respect from the family, especially if he is trying to be better himself."
We guess fans will have to wait and see how this one turns out.