The Meaning Behind Aaron Carter's Latest Face Tattoo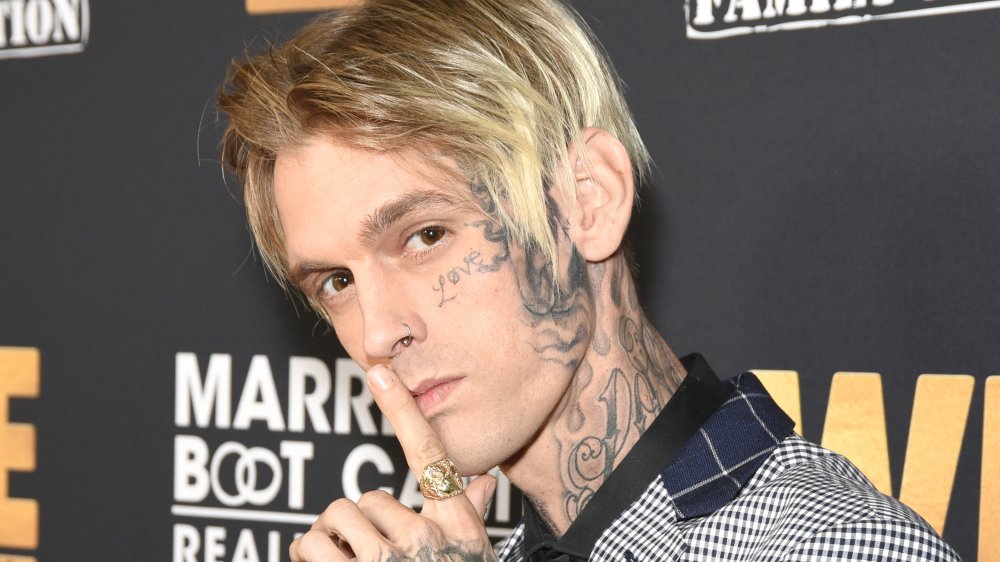 Presley Ann/Getty Images
After debuting a massive Medusa face tattoo in September 2019, Aaron Carter has revealed additional ink on his face dedicated to his current girlfriend. On March 10, 2020, Page Six reported that Carter got his girlfriend Melanie Martin's first name tattooed above his right eyebrow. At the time of this writing, the two have been dating for just over three months.
Carter's hairstylist, Brandon Peach, posted a close-up of the tattoo on his Instagram, marking the official debut of the latest ink in the singer's growing collection of tattoos.
Carter confirmed his relationship with Martin in a since-deleted Instagram post from January 2020. Additionally, he's posted many photos of the couple together, including one right after Valentine's Day that revealed his girlfriend had moved in with him (via Page Six). Martin also updates her Instagram account with photos featuring the couple kissing and hugging and captions full of heart emojis. 
The new relationship comes just a few months after Carter's Backstreet Boy brother, Nick Carter, filed a restraining order against his little brother, according to People. Nick accused his brother of threatening to kill his "pregnant wife and unborn child."
An inside look at Aaron Carter's massive Medusa face tattoo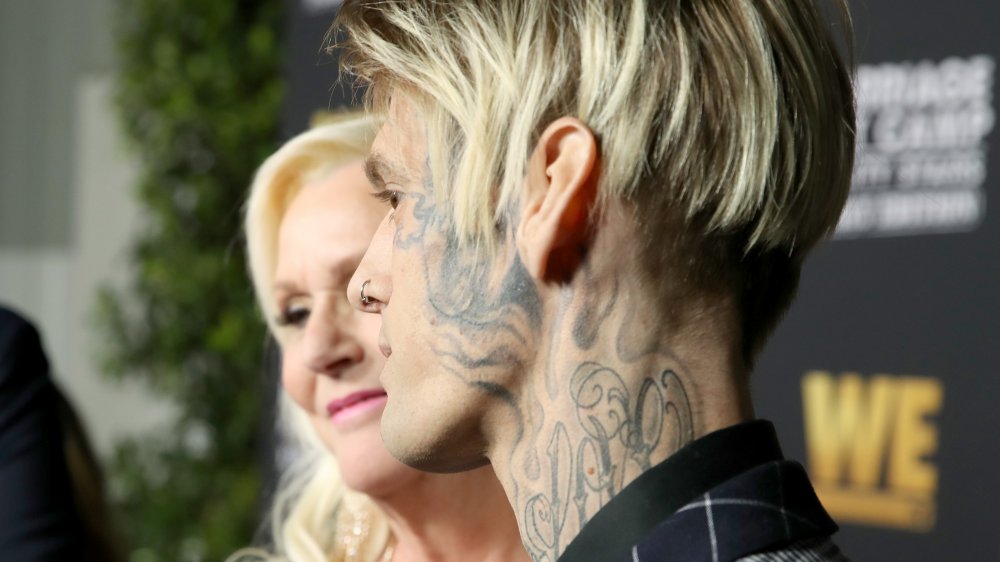 Randy Shropshire/Getty Images
On Sept. 28, 2019, Aaron Carter took to Instagram to reveal some new ink. Much to the surprise of his fans, it was a major face tattoo of Medusa, per People. The tattoo covers one entire side of his face and was inspired by a 2013 GQ cover featuring Rihanna as Medusa, according to TMZ. Herchell Carrasco, the tattoo artist who inked Carter's face, revealed other surprising information from the tattoo session.
Carrasco, known in the tattoo industry as RockRollG, told TMZ that he arrived at Carter's house prepared to add more designs to the singer's torso. However, once he arrived, Carter changed his mind and asked him to do his face. In fact, Carter asked him to do a large tattoo in the middle of his face, but Carrasco refused. Eventually, they agreed on Medusa on the side of his face.
Once the large drawing was complete, Carter reportedly kept going, asking for the word "Love" to be tattooed under his eye and a crescent moon on the other side of his face. He asked Carrasco to keep going, but the artist said he was done, telling the outlet "[Carter] wanted to keep going and I had to stop him. I couldn't cover his whole face in a tattoo. I just couldn't."
With his multiple face tattoos, Carter joins the likes of Post Malone, Amber Rose and Amanda Bynes — just to name a few celebs who love a little face ink.