Where Does JoJo Siwa Live And How Big Is Her House?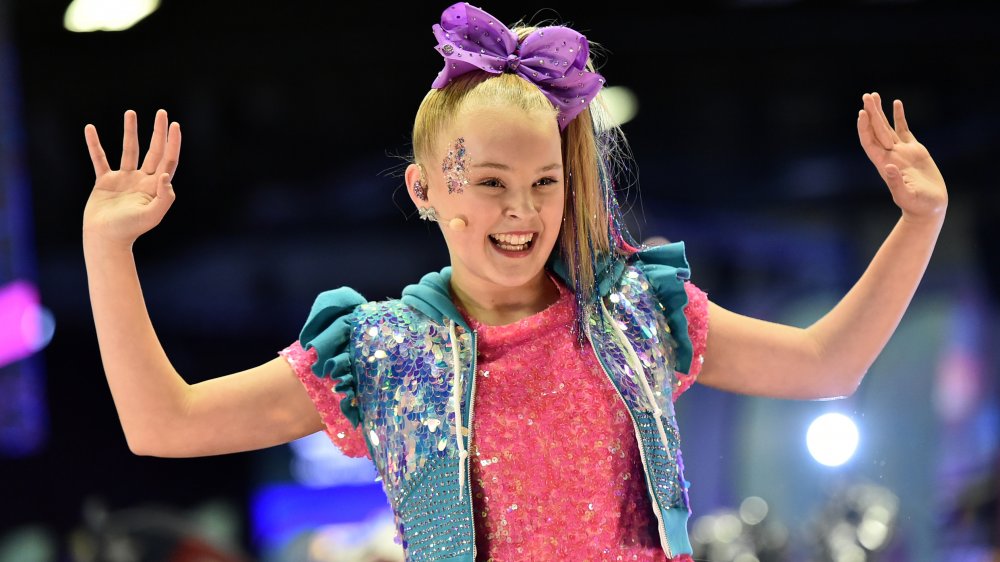 Mike Coppola/Getty Images
The world first met JoJo Siwa when she was a member of Abby Lee Miller's team on Dance Moms. Then, her fame skyrocketed thanks to her popular YouTube channel. She has a huge following — as in, 10.9 million subscribers. Those fans have supported every song Siwa releases and each product she sells, giving her a lot of money to spend. 
So, of course, Siwa bought a mansion to live in with her family. Who wouldn't with all those music royalties and hair bow profits? The Nebraska native, her parents, and her older brother Jayden currently reside in a mediterranean-style house on the west coast.
The place is unreal and truly the perfect mix of elegance and candy land. Yes, that juxtaposition is a pretty random design aesthetic, but this is JoJo Siwa after all. In the home's entryway, there's a baby grand piano and a few mannequins rocking iconic, bedazzled lewks that Siwa has worn. And of course, the walls are plastered with promotional pictures and the rooms are full of merchandise and candy — lots of candy. 
In fact, the 16-year-old even transformed a wet bar into a candy bar. How age appropriate! The house has a high-end kitchen, but that's not the only place to snack. There's a room inspired by 7-Eleven in her house, complete with a slushy machine, a popcorn maker, a pizza warmer, and more candy. Clearly, this is far from the average house. Let's take a closer look.
JoJo Siwa's house is a dream-come-true for fans
According to the listing on Compass, JoJo Siwa's $3,425,000 house is located in Tarzana, Calif. The gated mansion is 6,111 square feet and includes six candy-filled bedrooms and seven bathrooms. However, the home isn't just about the sweet treats.
In her backyard, she has trees growing tangerines, limes, and oranges, which she revealed during the YouTube house tour she posted in December 2019. In between snacking on homegrown fruits, she can shoot hoops on her basketball court, which converts to a volleyball court. Options, people! There's also an in-ground pool and a ping pong table.
While the house seems like an amazing place for the YouTuber's family to live, it's also a heaven for Siwanatorz. There's a designated merch room full of every product that she has ever produced. During her house tour, Siwa said, "There's every product under the sun... and the moon, and the stars, and the galaxy, and the whole milky way." And she's not kidding. The room has aisles filled with dolls, toys, clothing, bedding, and of course, those signature giant bows. 
There's also a "craft/rhinestoning room," which Siwa and her mom, Jessalyn, revealed during their Today appearance in March 2019. The mother-daughter duo even insisted that they bedazzle her costumes themselves, hence the need for a room dedicated to crafting.
The mansion has everything that anyone could ever need. From activities to snacks, JoJo Siwa's house is a true D.R.E.A.M.