Where Does Richard Simmons Live And How Big Is His House?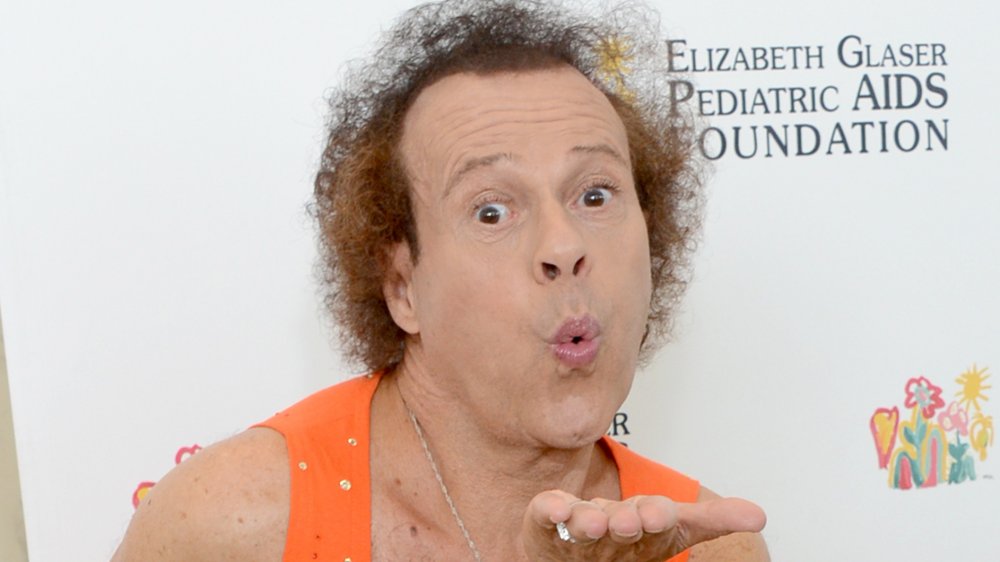 Jason Kempin/Getty Images
If there's anyone who knows about self-isolating, it's Richard Simmons, and he most certainly has the digs to stay comfortable while doing so. Simmons, who has reportedly not been seen by friends or family since 2014, recently started posting old workout videos to his YouTube channel amidst the 2020 coronavirus pandemic, renewing interest in his whereabouts. Especially about Simmons' Beverly Hills house — where he has reportedly been living with just two maids and his Dalmatians, per the popular podcast, Missing Richard Simmons. 
Simmons' house in the Hollywood Hills used to be one of the best stops on those celebrity house bus tours. Per The Washington Post, before he decided to step away from the spotlight, Simmons, 71, would regularly be outside and take pictures with tourists in his driveway.
Although Los Angeles police did a wellness check in 2017 and assured fans that Simmons was fine, apparently he hasn't come out to wave and greet the fans who pass by in years. 
Richard Simmons' house is a Beverly Hills landmark
Richard Simmons' mansion sits on Belfast Drive in the Hollywood Hills. The house was built in 1937 in the colonial style, complete with Corinthian style pillars in the front, according to the Mary Cummins Real Estate website. Per the website, Simmons purchased the home from Julie Winston in 1982 for $670,000, and according to Zillow, it's worth an estimated $6.07 million in 2020. 
The single family home is 4,119 square feet on a 24,400-square-foot lot. The two-story home has four bedrooms, five bathrooms, and a black bottom pool in the backyard. Notably, there is no buzzer, per the Washington Post, and the mailbox out front is a little miniature version of the home itself, which is a very Simmons-esque touch. 
According to the Missing Richard Simmons podcast, the fitness guru and entertainer reportedly lives there with a housekeeper. And he's possibly got a new dog named Hattie, per TMZ.
Richard Simmons may be making a comeback — sort of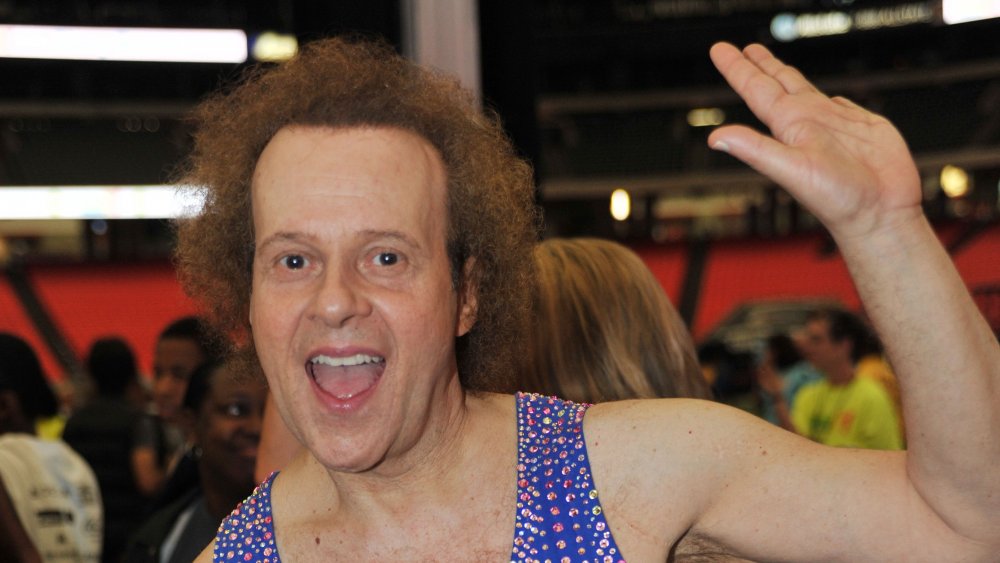 Moses Robinson/Getty Images
As previously mentioned, Richard Simmons has been a recluse ever since 2014 when he closed his famed fitness studio and shut himself up in his Los Angeles mansion. While there are various debunked rumors about the reasoning for his isolation — for example, Simmons' estate sued the National Enquirer and Radar Online for publishing stories that he was transitioning, per NBC — many close friends, who miss him, think he just needed a break. 
Billy Blanks, the Tae Bo founder and a mentee of Simmons, told USA Today in June 2019, "Richard Simmons [has] been around so long helping people. I think he needed to take time off for himself because when you get to the point where you don't see yourself anymore, then you lose yourself."
In early April 2020, Simmons' YouTube channel posted some old workout videos for the first time in six years, per the Daily Mail, causing some fans to think he was making a "comeback." However, the videos are old and there's no new footage of Simmons in them — but who knows what's to come in the future.
He also released a calendar for 2019 and runs a newsletter, so he's not entirely "missing," though he is certainly spending a lot of time in his 1937 home in the Hollywood Hills.