Scottie Pippen's Son Looks Exactly Like The NBA Legend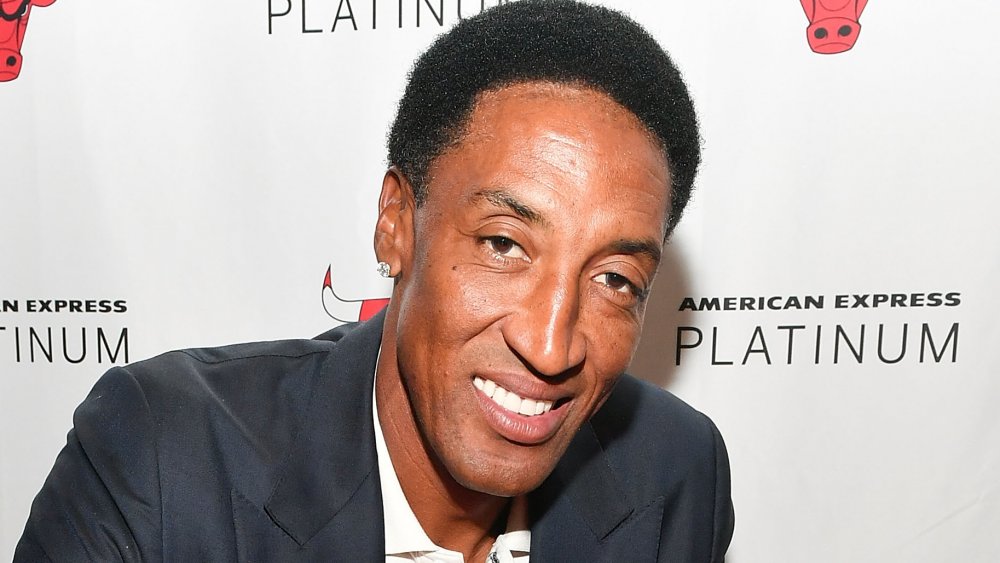 Daniel Boczarski/Getty Images
Many eyes are on Chicago Bulls legend Scottie Pippen and his family because of ESPN's The Last Dance documentary, which focuses on Michael Jordan and the 1997–98 Chicago Bulls. Pippen's son, Scotty Pippen, is following in his dad's Nike-clad footsteps in more ways than one. Obviously, there's the name. However, even though there's a difference in the spelling, Scotty is actually a junior.
In 1996, the Chicago Tribune reported that Scottie's credential for the Olympics spelled his name as "Scotty." When he was asked if it was a mistake, the Chicago Bulls player revealed, "No, that's the way it's spelled on my birth certificate." So why did he end up going by "Scottie" instead of "Scotty"? He told the newspaper, "I'm the one who can change it," but he didn't provide any further explanation. 
Obviously, Scottie passed down the original spelling when he and wife Larsa Pippen named their son. It also might prevent some confusion since the two of them go by different spellings — at least in written communication. Verbally, it's pretty likely that there are still some father/son mix-ups.
Aside from having the same (birth) name, Scottie and Scotty have some major things in common. They look so much alike and they both play basketball. That being said, seeing Scotty in a jersey may induce some déjà vu for Chicago Bulls fans. Just imagine if Scotty ends up rocking a red and white jersey of his own down the line. 
Well, it's not a far-fetched idea since he's currently playing college basketball.
Scottie Pippen's son plays basketball, too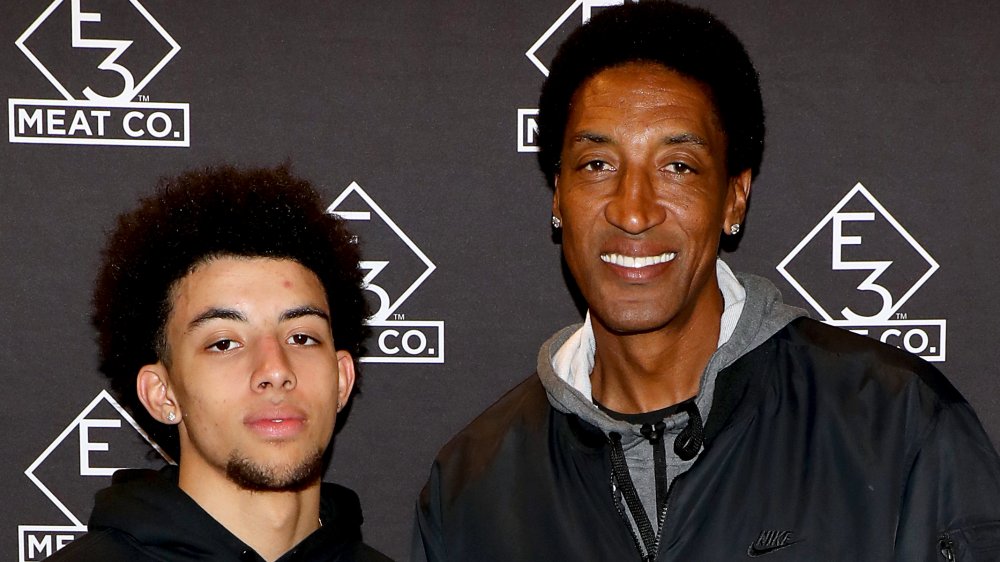 Danielle Del Valle/Getty Images
In 2019, Scotty Pippen announced his commitment to play college basketball for Vanderbilt. His father Scottie Pippen, tweeted, "Another dream accomplished, for him and for me. Congrats, son, you make me so proud every single day and I can't wait to see you play on the next level!" 
In a 2019 interview with TMZ, the NBA alum said, "You know my son's going to bring it. His eggs don't fall too far from the tree!" Mixed metaphors aside, Scottie has made it very clear that he wants his son to succeed — even if his son's star ends up shining brighter than his own. In 2018, USA Today tweeted a link to a now-deleted article where Scotty had claimed he wanted to be better than his father. In response, Scottie declared, "I want him to be better than me too #TeamPippen."
Just like dad, Scotty is making history in his own right. The 6-foot-1 point guard was the first recruit that Jerry Stackhouse signed to Vanderbilt after he accepted the head coach position. "Scotty is a dynamic point guard who has the ability and poise to make an immediate impact on our roster," Stackhouse said in a university press release (via ESPN). On his Vanderbilt Commodores player profile page, Scotty shared his "advice for young people": "Work hard if you want to be great at something."
While they look like twins, only time will tell if Scotty ends up with an NBA legacy of his own.
Scottie Pippen's other sons also enjoy spending time on the court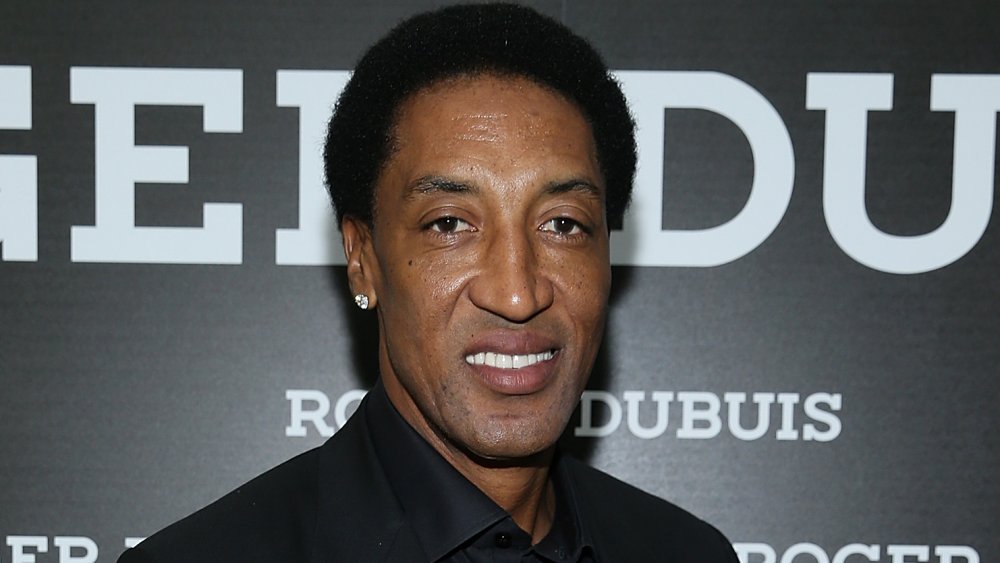 Phillip Faraone/Getty Images
Scottie and Larsa Pippen's sons Preston Pippen and Justin Pippen are also burgeoning basketball stars — and Scottie look-alikes. As of this writing, both Preston and Justin play basketball at Sierra Canyon High School in California, which is the same school that LeBron James' son, Bronny James, plays for. Dwyane Wade's son, Zaire Wade, also attended Sierra Canyon before making the decision to transfer in April 2020, per USA Today. Scotty Pippen played for the same team when he was still in high school. 
Scottie and Larsa's daughter Sophia Pippen is a volleyball player. She also competed on Dancing With the Stars Junior in Summer 2018. She even had her godmother, Kim Kardashian, visit the dance studio for some words of encouragement.
While Scottie appears to spend a lot of time with the children he has with Larsa, he also has three other kids. However, it's unclear how close he is with them and how close they are to their half-siblings. Scottie has a son named Antron Pippen with his first wife, Karen McCollum, according to Pop Culture. Not much is known about Antron's relationship with his father, but it appears that he did play basketball according to his super low key Instagram profile. He's not following Scottie or any of the kids that Scottie has with Larsa. 
Before Scottie met Larsa, he was engaged to Yvette De Leon and they had a daughter named Sierra. Scottie also has a daughter named Taylor Pippen with another ex-fiancé named Sonya Roby. Scottie does follow Taylor on Instagram.