Whatever Happened To Michael Jackson's Pet Chimp Bubbles?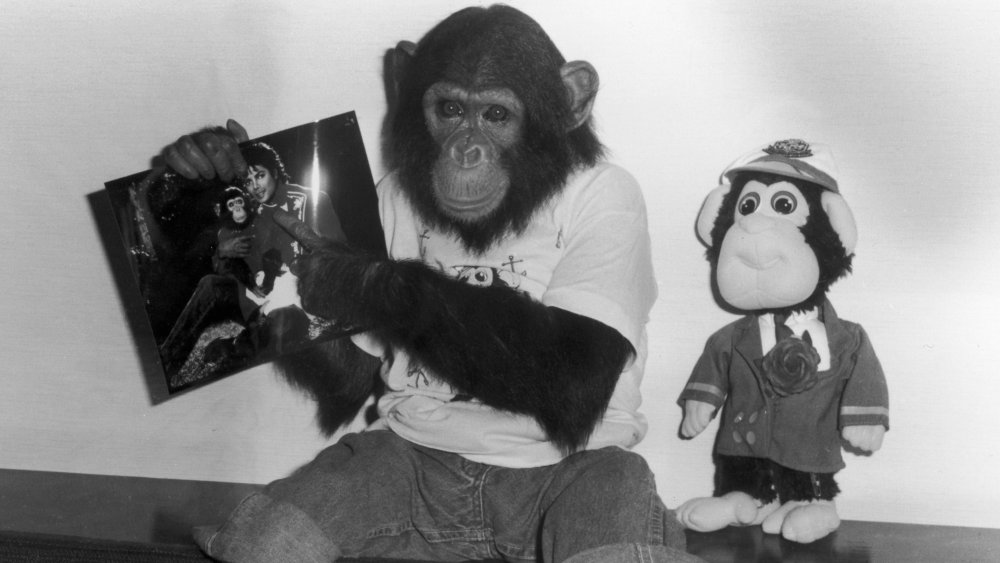 Hulton Archive/Getty Images
Ever since his death in 2009, Michael Jackson's legacy has been a polarizing one. More than 10 years later, his name continues to make headlines — the most controversial as of late stirred up by the release of the 2019 documentary Leaving Neverland, which focused on the stories of choreographer Wade Robson and former child actor James Safechuck, who both alleged Jackson sexually abused them as children. (These are claims his estate denies.)
Strangely enough, the latest reason Jackson's name popped up in the news cycle has less to do with the once-styled "King of Pop" and more with an equally eccentric figure — Joe "Exotic" Maldanado-Passage, the flamboyant, country-singing, big cat-collecting star of the Netflix docuseries Tiger King: Murder, Mayhem, and Madness, who is currently serving a 22-year prison sentence for orchestrating a murder-for-hire plot. 
In one of The Tiger King's later episodes, it's revealed that Joe Exotic purportedly owned "seven alligators and a crocodile" that once belonged to Jackson and lived on his Neverland ranch. (Unfortunately, all of them were killed in a 2015 fire at Exotic's Greater Wynnewood Exotic Animal Park, which Exotic blamed on an unidentified arsonist.)
Whether or not the alligators actually once belonged to Jackson (Exotic's ex-husband, John Finlay, claims that they were, though a spokesperson from Jackson's estate could not confirm it), it's led us to wonder about a more famous member of Jackson's extensive animal menagerie: his longtime companion, Bubbles the Chimp.
Who is Bubbles the Chimp?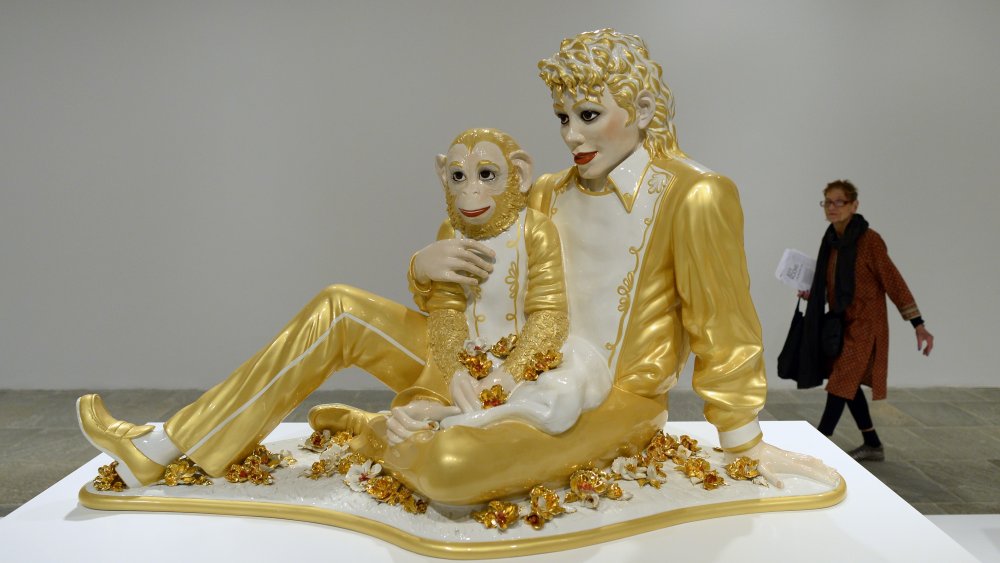 Timothy A. Clary/Getty Images
For those who were born after Michael Jackson's heyday, Bubbles was a chimpanzee that the singer famously adopted in the early 1980s. Born at a biomedical facility in Texas in 1983, Bubbles was sold to Hollywood trainer Bob Dunn as a baby, according to CNN, first moving the chimp into the Encino mansion Jackson shared with his mother, and then later to Jackson's Neverland property. During his time with Jackson, the chimpanzee purportedly slept in a crib next to the pop star's bed and ate at the dining room table, among other anthropomorphic behaviors.
Though Rolling Stone regrettably referred to Michael Jackson's homestead in Encino in 1987 as a "child's paradise," their coverage of Bubbles during the promotion of his seventh studio album Bad is a perfect encapsulation of the kind of media attention the chimp typically received. "[It] was Bubbles, not the pop star, who worked the room, truly the life of the party," the magazine reported. "He posed for photos with some of the guests, performed backflips and did his own version of Michael's moonwalk."
Bubbles was also known to accompany Jackson on tour and during press junkets; arguably, his most famous appearance took place in 1987, in which the megastar and his pet chimpanzee were filmed having tea with the mayor of Osaka during a trip to Japan (via the Michael Jackson Archives).
Unfortunately, Bubbles' reign as Jackson's favorite wouldn't last.
Here's where Michael Jackson's former pet Bubbles is today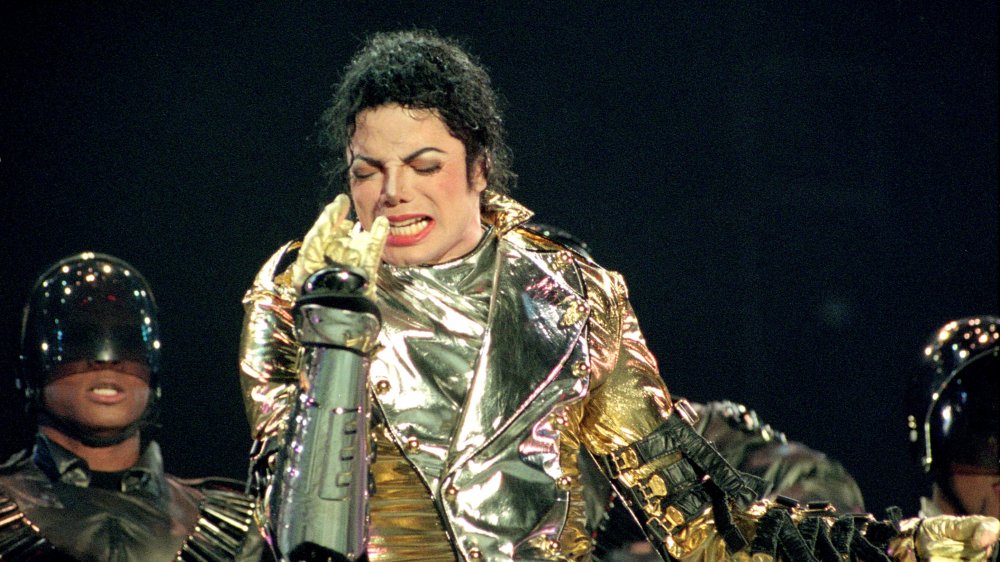 Phil Walter/Getty Images
As Bob Dunn noted in an interview with CNN, Bubbles eventually became too much for Michael Jackson to handle, displaying unruly and even hostile behavior — behavior typical of captive adult chimps who are not in suitable living environments. "When they grow up... they become very strong — 170 pounds, three times the strength of their weight," Dunn said in 2009. "It's very hard to have to retire them."
Things came to a head in 2003 when Jackson decided to donate Bubbles to the Center for Great Apes, an animal refuge in Wauchula, Fla., after becoming fearful that his pet primate could potentially harm his children.
Since then, Bubbles has enjoyed a happy, peaceful experience on the refuge's 100-acre property, as Patti Ragan, the director of the Center for Great Apes, told CNN in 2009 — one that Bubbles should have been privy to from the beginning. "This was one of the most successful and wealthy individuals at the time he had Bubbles, and it was not even appropriate for him to keep Bubbles after a certain age," she said at the time.
At the hearty age of 37, Bubbles is still going strong, according to the Center for Great Apes' website and Instagram page. Even if Michael Jackson's legacy is complicated, we're happy that at least one member of his coterie was granted a happy ending.