Armie Hammer Is Unrecognizable In Isolation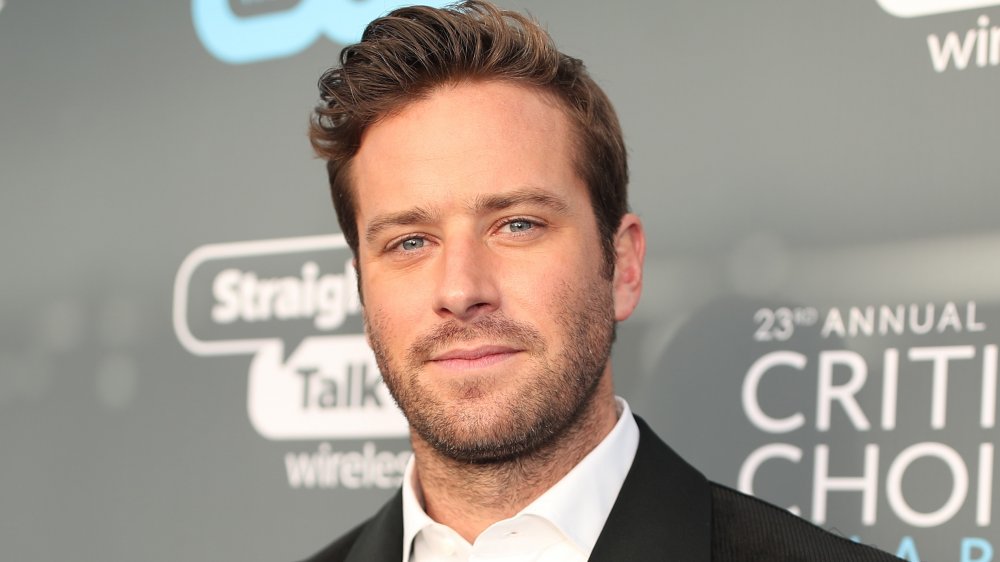 Christopher Polk/Getty Images
Armie Hammer in a tasseled crop top is truly something to see
Armie Hammer was named one of People's Sexiest Men Alive in 2017, surely due to his piercing blue eyes, his fine facial features, and his luscious locks of dirty blonde hair. However, fans of the star weren't able to appreciate any of those attractive attributes when he posted an unrecognizable selfie to Instagram on Apr. 15, 2020.
It's hard to decide what's more shocking about the photo. Is it his off-center curly mohawk hairstyle? Or maybe it's his mustache/goatee facial hair combo? It's hard to ignore the patterned shorts (or is that a swimsuit?) and the belly-baring, sleeveless, tasseled crop-top, which is definitely something that we never expected to see The Social Network actor wear while social distancing. However, the most jarring aspect of the entire image may, in fact, be the creepy expression that he's flashing the camera.
Hammer felt like he was "[k]illing the game," but his followers agree that this look is fatal. "DEAD," one fan commented along with a row of laughing emojis. "Modern-day Renaissance man" Christopher R. King, who is apparently friendly enough with Hammer to receive photos like this directly. "I died laughing when you sent me this earlier," King said. "...little did I know it would make your feed! Cheers to breaking the internet with the most iconic quarantine transformation yet!"