Fran From DodgeBall Is Surprisingly Stunning In Real Life
There are many unforgettable and hilarious scenes in the 2014 movie DodgeBall: A True Underdog Story — and one of the best is when we meet the one, the only, Fran! You remember, right?
As a quick refresher, the audience is introduced to the members of Ben Stiller's team, Globo Gym, and each one is more interesting and funny than the next. And when we reach the final player, the camera starts on the woman's boots and slowly rises, showing off a fit body, and then the camera pans to her face. SHUDDER.
Fran has big, crooked teeth; a unibrow; and some funky Princess-Leia-gone-wrong hair. She's purposefully unattractive and it's a comic thread through the film. But what's even more amusing? Fran is stunningly gorgeous in real life! And you've totally seen the actress who plays Fran, a.k.a. Missi Pyle, in other roles before — you may have just not realized it. Get ready to do a double take.
You've definitely seen the actress who played Fran before
Missi Pyle, the actress who plays the character of Fran, is unrecognizable in her DodgeBall: A True Underdog Story role. But we guarantee you know this star. According to IMDb, she has more than 170 credits to her name, including roles in some of the biggest movie blockbusters and hit TV shows.
For example, you may recognize Pyle from her movie turns in Charlie and the Chocolate Factory where she held her own against Hollywood heavyweight Johnny Depp, Gone Girl opposite Ben Affleck, or Galaxy Quest with Tim Allen.
Or maybe you've seen her face in one of her many guest star spots on TV, like when she dated Ross on Friends, starred opposite Anna Faris on Mom, or appeared on Inside Amy Schumer and The Sarah Silverman Show (via IMDb). One thing's for sure — she is stunning.
These 'DodgeBall' behind-the-scenes details will make you appreciate the movie more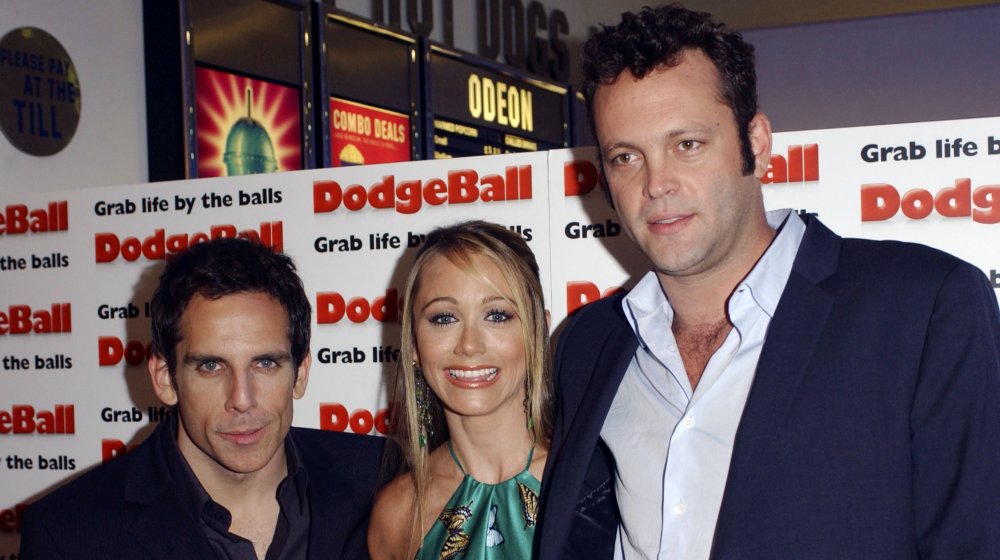 Steve Finn/Getty Images
The making of DodgeBall: A True Underdog Story is almost as entertainment as the actual film itself. The movie scored big in the box office, bringing in an estimated $168 million worldwide, according to Box Office Mojo, but the most endearing part of the story might just be about writer/director Rawson Marshall Thurber.
According to UPROXX, this was the first feature-length film Thurber wrote — and he wrote it with stars Ben Stiller and Vince Vaughn in mind for the leads. When he first shopped the movie around, studios weren't interested in the flick about a sport that's popular with elementary school-age kids. But, once Thurber landed his top pick of Stiller, Fox finally signed on to produce.
IGN reported that casting Stiller's wife, Christine Taylor, in the film was also Thurber's idea. Another quick secret? Stiller accidentally nailed his wife in the face with a dodgeball a few times during filming. "I hit her in the face a couple of times, which was not good," Stiller recalled in an interview with IGN in 2004. "Not helpful. That actually affected our relationship for like a week. There's just no way not to get upset with somebody after you've done that. It just sent us both back to eighth grade."
Such a good movie, such a good cast. So, when's the DodgeBall sequel?!