The Truth About Halsey And Yungblud's Relationship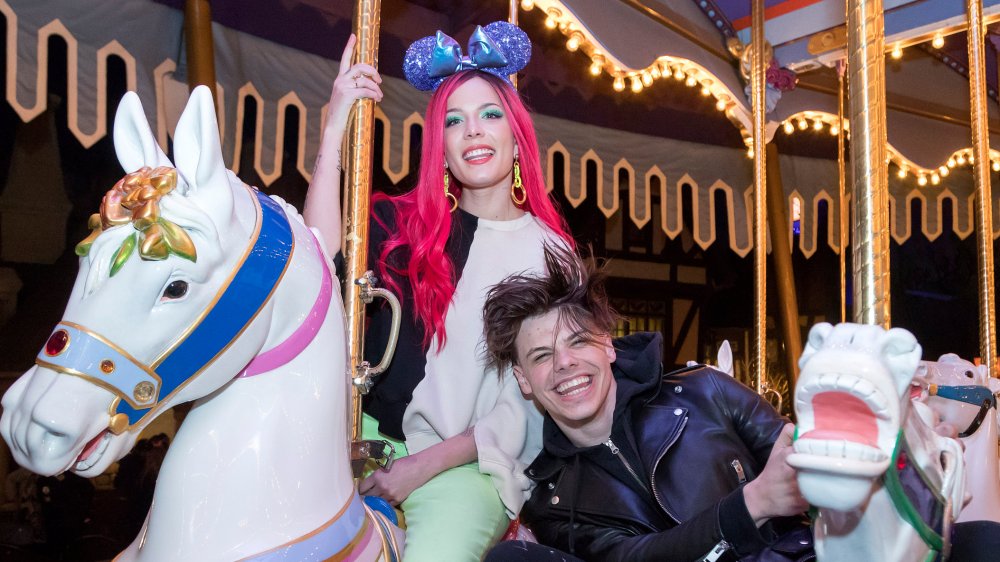 Handout/Getty Images
For diehard music fans, social media provides an outlet to show support for an artist's professional and personal pursuits. Fans of singers Halsey and Yungblud, for instance, have taken to gathering clues about their potential relationship status by analyzing their every interaction. Although the pair broke up in September 2019, and Halsey went on to date American Horror Story actor Evan Peters, observers think the "11 Minutes" collaborators may have rekindled their romance.
According to Capital FM, when Halsey posted footage dancing to Kehlani's latest track, Yungblud responded with five red, sweaty face emojis. Halsey and Yungblud added more fuel to the fire when she posted an Instagram Story documenting her "first crack at making a Sunday dinner #YorkshireCertified," which Yungblud re-posted with the caption, "Can confirm," attached.
Neither of the notoriously private singers has addressed their possible reconciliation, but when cheating rumors began to swirl after their initial split, Halsey set the record straight. While she made the first move when she slid into Yungblud's DMs, Halsey noted things simply don't always work out. "Sometimes. People just break up," Halsey wrote in a since-deleted tweet (per People). "It doesn't mean someone cheated or something bad happened or someone f**ked up. Sometimes. It just happens. Because life is constantly changing. And adults stay friends and move on."
And now, as speculation about a possible connection to Machine Gun Kelly gains traction, we don't know what the future holds for Halsey and Yungblud — but their relationship definitely left its mark.
Halsey 'stopped dating musicians' after her split from Yungblud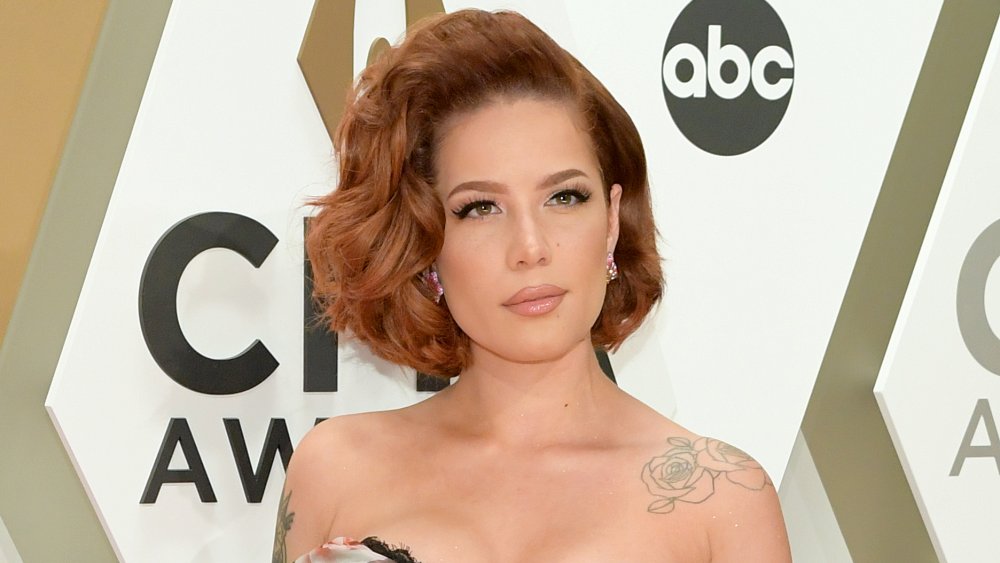 Jason Kempin/Getty Images
Failed relationships often teach people what they want or need from their next partner. For Halsey, that means avoiding fellow musicians entirely. "I stopped dating musicians which is for my own benefit," the "Bad at Love" singer told Zane Lowe in January 2020. "I want everyone to be the best version of themselves so much that I sometimes don't focus on making me the best version of myself. I do everything in my power to help them succeed... And then, at some point, I'm like where do I fit in this box. So I got a bigger box."
Halsey added that she's learned to be more discreet about her romantic pursuits than she's been in the past, as it's her desire to protect what she's got going on in the moment and "not wanting anybody else to be a part of it because it's mine and it's special."
She also channeled that attitude into her music. "It's helped me with this album [Manic] especially because I put my foot down and was like, 'Here's what we're not going to do,'" the singer said, "'We're not going to make all this music about me and whoever I'm dating. This album's about me. I don't want you to know what my romantic relationships are like because it shouldn't matter.'" We love an independent woman who wants to be defined by who she is, not who she loves!
Halsey wrote her first-ever love song about Yungblud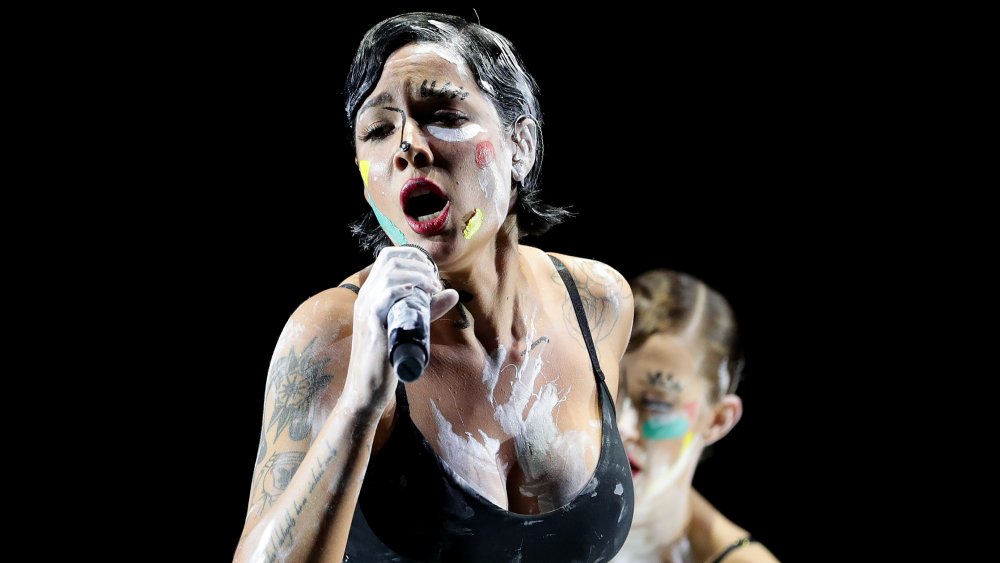 Mark Metcalfe/Getty Images
Despite their split, Halsey included the love song she wrote about her time with Yungblud — "Finally // beautiful stranger"— on her album, Manic. "I was really happy. I was really happy with my life," the 25-year-old told Zane Lowe for Apple Music. "I was thinking about the night that he and I met because I had told the story so many times."
"I wrote it at home," she added. "I wrote it in my living room at 2 a.m. I was dating Dom [Yungblud, born Dominic Richard Harrison]. I was really happy. I was thinking about the night that we met. I needed to tell this romantic story. I'd not written a love song before, not one without a punchline... It's just a nice song. It's about feeling safe and feeling like you can trust love."
Halsey "loved it so much and I had to get it out," she said. "I really just wrote it for him. He loves it. I'm happy that I have it, too. Dom and I are just friends now. People sometimes justifiably—sometimes not— swarm someone's ex and develop all these narratives about them. And he's just a really awesome guy." But, of course, such talk only makes fans even more hopeful that these two will reunite. Either way, we're just happy this former couple has set an example for how friendly exes can truly be.
Yungblud confessed they 'weren't ready' to 'be together all the time'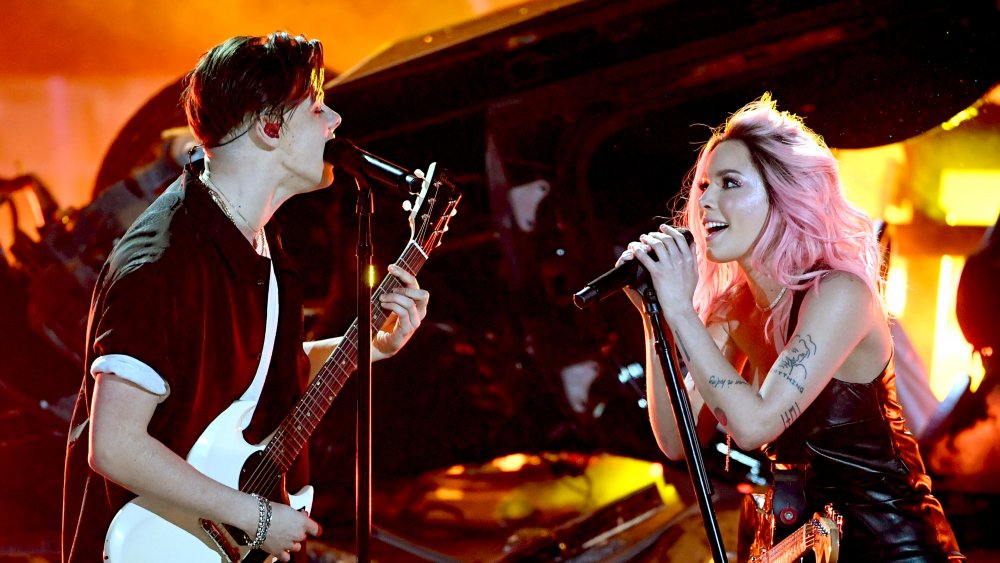 Kevin Winter/Getty Images
Although Yungblud doesn't typically share the details of his private life, the 22-year-old opened up about his "very public relationship" with Halsey and the experience of "kind of getting my heart broken" in an interview with the Evening Standard. "Well, we were together when we could be together," he said in February 2020. "I think that's why things ended. We have our own goals and ambitions. We weren't ready to... be together all the time."
Yungblud admitted that some of the issues came from his distaste for Halsey's home in Los Angeles. "It wasn't real there. I found it very suffocating," he said.
An insider confirmed these underlying issues when they told E! News that Halsey began to spend more time away because she preferred to focus on her music career. "It was sort of abrupt and it was Halsey's decision to end the relationship. Halsey has been very busy with her work commitments and traveling a lot recently," the source revealed. "She's been very busy and focused on her career, which took more of a priority."
While it's unfortunate that the two couldn't make it work, as they broke up less than one year after they started dating, it's refreshing to find two people who are honest about their top priorities in life.
Yungblud wrote a breakup song about his split from Halsey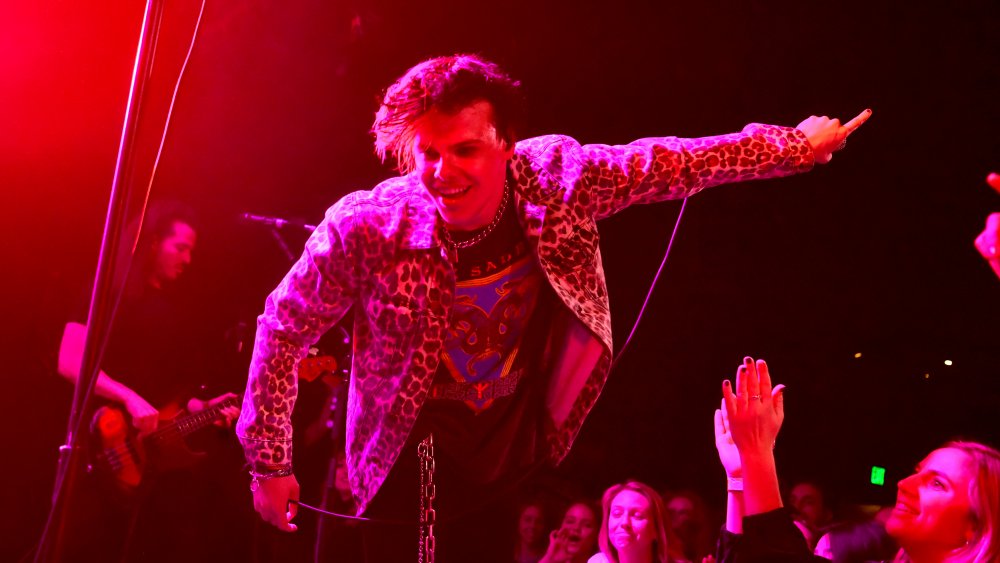 Rodin Eckenroth/Getty Images
Apparently Halsey wasn't the only one who was musically inspired by this relationship! Except while she wrote her first-ever love song about Yungblud, he penned a breakup track to capture his emotions.
"This [upcoming] album is going to feature my first heartbreak song," he told Rock Sound in May 2020. "It's about the first time I ever properly loved someone and I had my heart ripped out of my chest and it was all over the f**king Internet. It's an album about liberation, in terms of sexuality and identity. In terms of finding love and in terms of finding heartbreak. In terms of issues with self-harm and drugs and mental health."
He also compared the album with his previous work. "I was so angry on the first album," he added. "I just want people to feel things as much as they did with the first one but with gasoline on it. This album is about your heart and how that changes. People forget about the heart in this day and age. It's always about your f**king head. Nah man, you've got to protect your f**king heart."
Yungblud noted that he's grown up a lot between his first release and his impending sophomore album. And, while it's sad to hear how much the breakup impacted his emotions, we are sure his new work will capture those tumultuous feelings beautifully.