The Truth About Steve Harvey And Bill Cosby's Relationship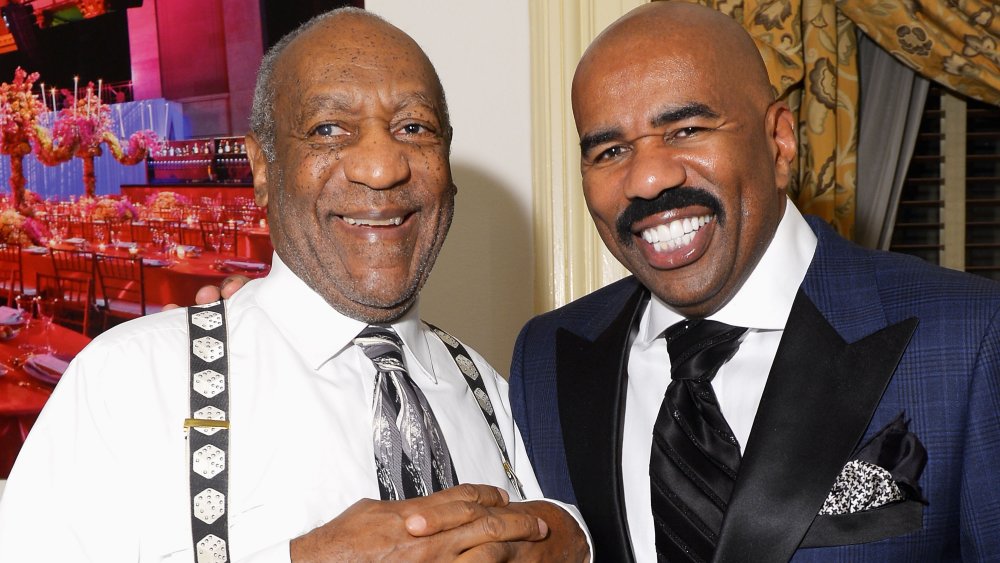 Michael Loccisano/Getty Images
In 2018, Bill Cosby was sentenced to prison for sexual assault. He cried "defamation" in response to the allegations, but many people sided with the proclaimed victims. Even so, there were still some stars who continued to support Cosby – Steve Harvey was one of them. In a September 2017 interview with The Hollywood Reporter, Harvey said, "I haven't talked to him in a few months, but when I'm your friend, I'm your friend."
Harvey elaborated, "He didn't even know me and he taught me how to do this business." The Family Feud host revealed, "I called and asked him how he was doing. You know what he says to me? 'Hey man, I appreciate you calling, but just stay away from me right now. You don't need none of this on you. You're doing good. Whatever happens to me, happens to me, but don't you get none of this on you.' That's an amazing thing for a guy to say."
In January 2016, Harvey told The Hollywood Reporter, "He said, 'Steve, you have the ability to make people laugh. And once you make people laugh, you have their attention ... you have to be careful with the power.'" Then he (seemingly) joked, "I'm going to say from now on that George Carlin taught me that." 
In regard to the sexual assault allegations, specifically, Harvey said, "I would love to believe none of it were true, but I'm not the judge and jury on this one. Wherever the chips fall, he is my friend."
Steve Harvey said Bill Cosby could take away his career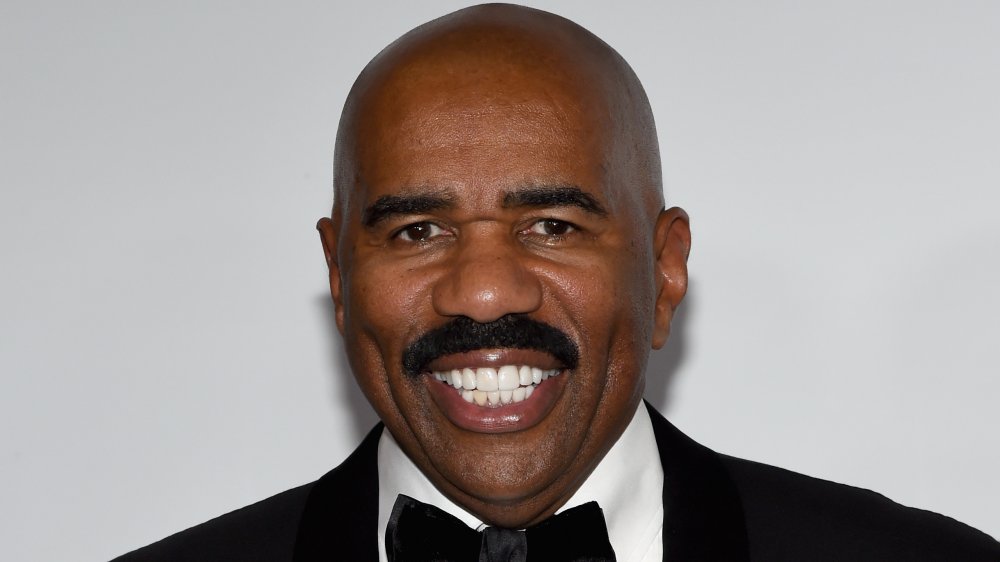 Ethan Miller/Getty Images
While Steve Harvey stood by his friendship with Bill Cosby during those interviews in 2016 and 2017, he had a very different stance when he spoke to Thought Catalog for an article published in December 2014. During that interview, he wore a jacket that was adorned with a "ridiculous amount of buttons," claiming, "They represent all of Cosby's victims." Apparently, he "chok[ed] up" and "tears pour[ed] down [his] face" as Harvey spoke about this. He shared, "This suit got fifty seven buttons on it. This is my spring 1982 to fall 1984 Cosby suit. That's how many women he raped in that time period."
The Miss Universe host remarked, "It was a thing you couldn't done talk about back then. Cosby would take away your career, you understand. It was a different time back then, you see. The buttons were the only way I could speak out." Harvey referred to himself in the third person when he asked, "How he gone to rape all those women? How he gone make Steve wear all these damn buttons?" 
There are many layers to the relationship between Cosby and Harvey. As Harvey mentioned, he is grateful Cosby helped him out early in his career. That being said, Harvey also admitted that he was afraid of the career-related repercussions he could face if he spoke out against the Kids Say the Darndest Things host. 
Nevertheless, it should be noted that Harvey hasn't publicly spoken out about Cosby since 2017.