The Untold Truth Of Ashley Stock
Influencer Ashley Stock went through every parent's nightmare in 2020, when her daughter was diagnosed with a brain tumor and died just over a month later, just two weeks after her third birthday (via Today).
People reports that Stock's daughter, Stevie, passed away on May 27, 2020. Stock posted an emotional update to her 325,000 followers on Instagram to share the sad news. 
"For now, I'm overwhelmed with relief that she's at peace but I'm also feeling crushed by a pain so intense I can't put it into words," she wrote. "I let it out a bit at a time, like when you gently twist the lid off a liter soda bottle... releasing the built up pressure a little at a time to keep it from exploding all over the place. I'm twisting the lid on my grief gently. Because if I release it all at once, I don't see how I could possibly survive."
After Stevie started showing signs of declining motor function, her parents took her to the hospital where a "large mass on her brain" was discovered (via People). Several days later, Stock revealed their daughter's tumor "is a form of cancer called DIPG (diffuse intrinsic pontine glioma). And it has a 0% survival rate." 
Let's take a closer look at the woman behind this tragic story.
Ashley Stock has always been vulnerable with fans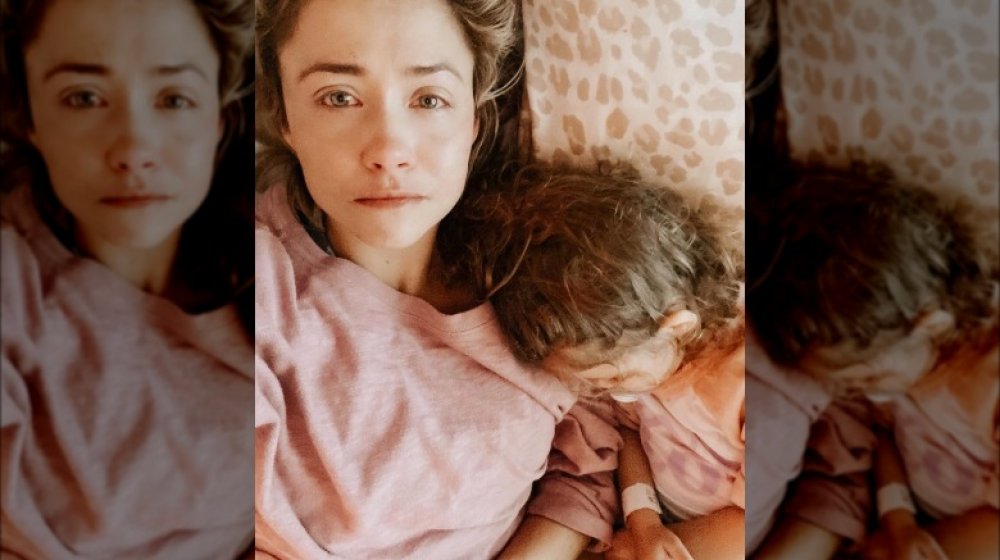 Ashley Stock, a blogger and lifestyle influencer with more than 325,000 followers on Instagram, recently lost her daughter Stevie to brain cancer. She shared much of her experience dealing with the diagnosis, care, and ultimately her daughter's passing, on Instagram.
Sharing the ups and downs of her life isn't new for Stock. Throughout her blogger career, she has also shared several other intimate parts of her life, referring to them as "secrets" she was sharing.
In 2010, Stock revealed she'd been suffering from trichotillomania, a form of obsessive-compulsive disorder (OCD) that's marked by repetitively pulling one's hair out. On her blog, Little Miss Momma, she wrote that she started pulling out her hair when she was nine years old and has been struggling with the disorder ever since.
Later in 2010, she revealed another secret on her blog. To help hide the hair loss from her disorder, she wore hair extensions. "And for those of you who are thinking, 'pshh, her secret's not that big of a deal," she wrote in her blog. "I mean look at all that hair she has'... Well here's the truth: I have hair extensions to help hide my secret." Today, Stock continues to be open about her trichotillomania on Instagram.
After the loss of Stevie, Stock has been mourning alongside her husband, Ben, and two older sons, Wesley, 10, and Sawyer, 7. We're keeping the entire family in our thoughts during this hard time.