Mickey Rourke's Latest Verbal Attack On Robert De Niro Explained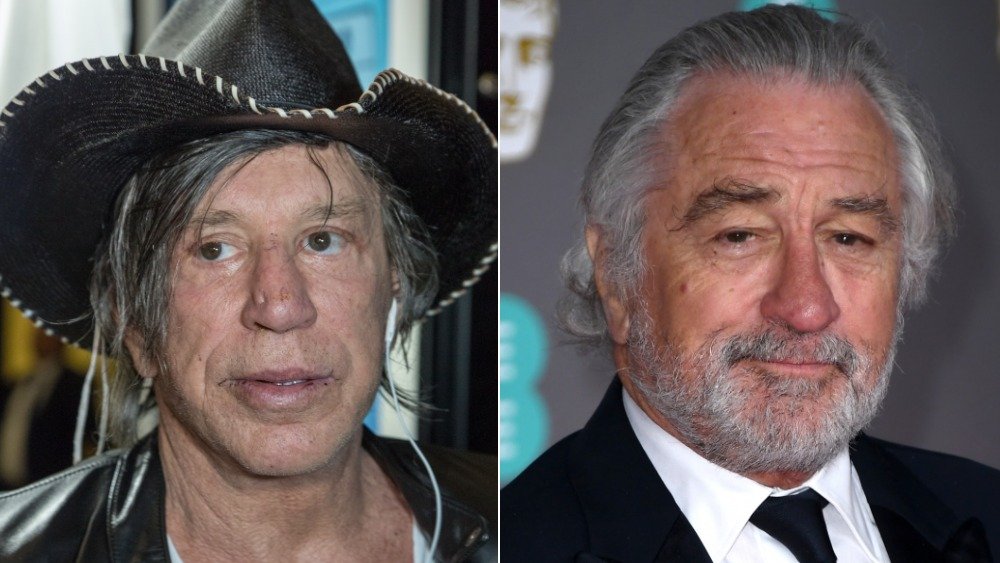 Greg Doherty, Jeff Spicer/Getty Images
Actor Mickey Rourke recently reignited his 33-year-long feud with Robert De Niro over some comments he made about the movie, The Irishman. Apparently, these two grown men have been at odds ever since they starred in Angel Heart together in 1987. Per Page Six, apparently Rourke was excited to star opposite the actor in the Netflix movie, but De Niro wasn't into being buddy-buddy with him.
"When I was in school studying to be an actor, I looked up to him like Marlon Brando, Al Pacino," Rourke said in a September 2019 interview on the Italian talk show, Live – Non è la D'Urso. So Rourke introduced himself to him and De Niro told him that it was better if they don't talk while on set in order to remain in character. It's notable that De Niro is known for being a Method actor, which means basically that he tries to truly immerse himself in the character he's playing and not break from it, on or off set. That could explain his request. 
Rourke felt slighted and insulted, though. It got worse when, according to Rourke, De Niro didn't want to be touched by Rourke while filming a scene. "It hurt my feelings a little bit 'cause I looked up to him," he added. The drama doesn't end there. 
Mickey Rourke doesn't think much of Robert De Niro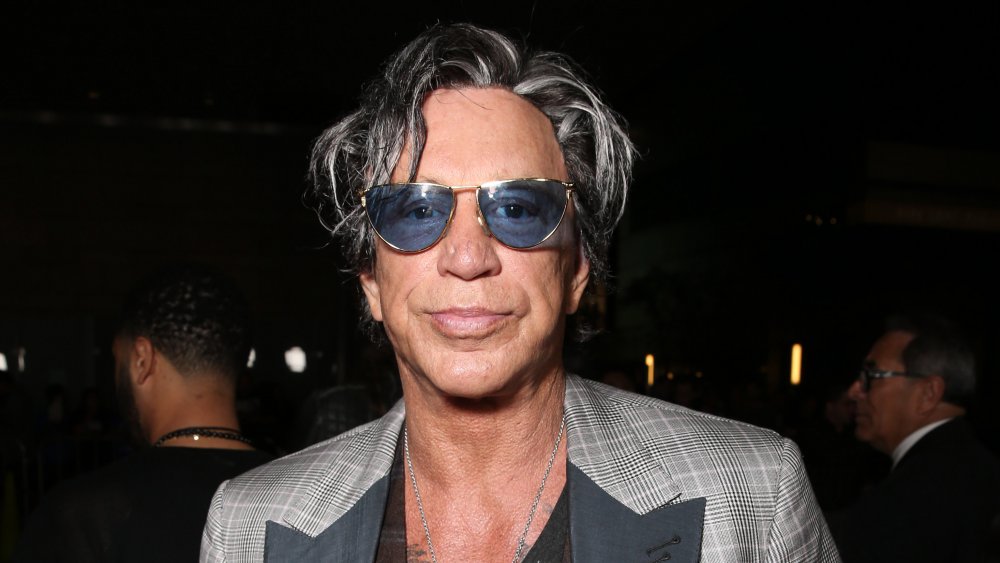 Todd Williamson/Getty Images
During an Italian talk show interview in September 2019, Mickey Rourke said, per Page Six, "Now I don't look up to [Robert De Niro] no more; I look through him. I came up from the sh*t. He doesn't know that life. I lived that f**king life, so every time I look him in the face, I look right through his a**hole."
In that same conversation, Rourke also said that he was asked by Martin Scorsese to be in Netflix's The Irishman, which starred De Niro. Rourke claimed that he lost the part because De Niro refused to work with him. Right afterwards, De Niro got a little petty, issuing a statement saying that The Wrestler actor was never involved with The Irishman. De Niro's rep Stan Rosenfield said, "According to The Irishman producers, Jane Rosenthal and Emma Tillinger Koskoff, and casting director Ellen Lewis, Mickey Rourke was never asked to be in 'The Irishman' nor was he ever even thought of, discussed or considered to be in the movie.'"
Rourke eventually got wind of De Niro's rep's comment and was not happy about it.
Mickey Rourke called Robert De Niro a 'punk' and a 'crybaby'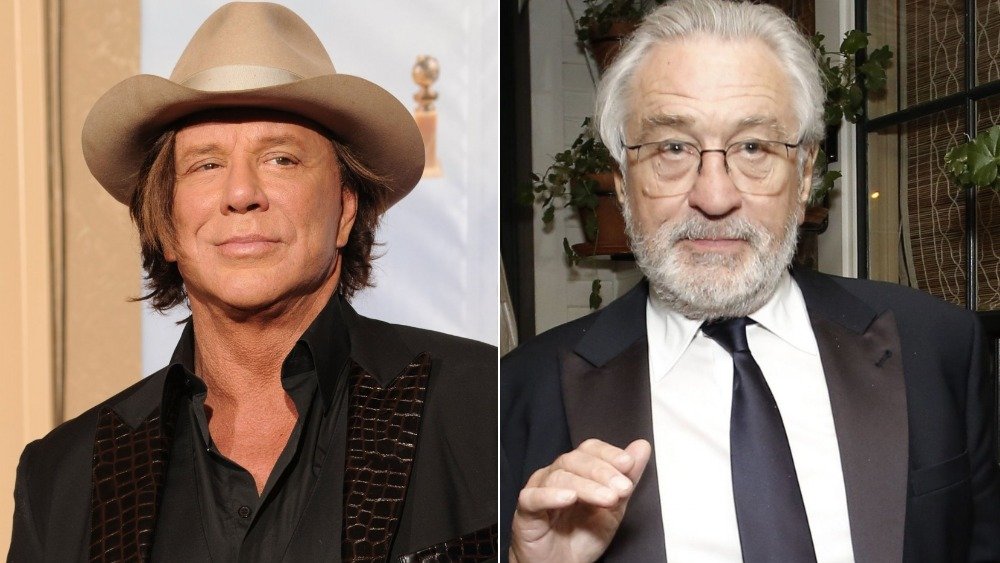 Kevin Winter, Rachel Murray/Getty Images
When Mickey Rourke heard that Robert De Niro said that he was making things up about being asked to be in The Irishman, the Sin City actor lost it. Months later, in July 2020, he posted on Instagram, "Hey Robert De Niro, that's right i am talking to you, you big f**king crybaby. A friend of mine just recently told me that a few months back you're quoted as saying to newspapers "Mickey Rourke's a liar he talks all kind of sh*t."
Rourke went on to add, "Listen Mr.Tough Guy in the movies, you're the 1st person that ever called me a liar and it was in a newspaper. Let me tell you something, you punk a**, when i see you i swear to God on my Grandmother, on my brother and all my dogs, I gonna embarrass you severely." Since Rourke's posting on July 17, De Niro hasn't responded. Hopefully these two gents can work out their beef.