Camille Grammer's Daughter Looks Just Like The Star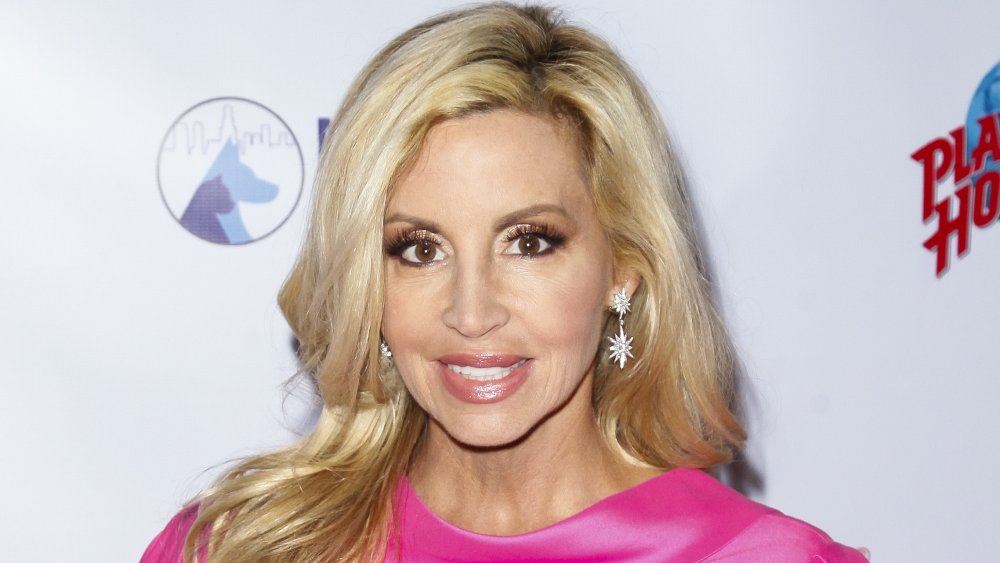 Tibrina Hobson/Getty Images
Coronavirus safety guidelines have not prevented people from celebrating life milestones like high school graduations. Real Housewives of Beverly Hills OG Camille Grammer's daughter, Mason Grammer, graduated from Malibu High School in June 2020 with a ceremony that followed social-distancing guidelines. The students and their families marked the occasion by receiving their diplomas with a drive-through graduation in the parking lot, according to People. 
The former RHOBH cast member shared pictures from the event, which included a mother-daughter photo that highlighted just how much Camille and Mason look alike. They're both blondes with very similar bone structures. No wonder they've both worked as professional models. In 2018, Camille shared a modeling headshot from 1995, where she looks just like Mason, but with 90's-style eyebrows. Back in the day, Camille posed for Playboy. By the time Mason was 15, she was already a New York Fashion Week veteran, making her sixth appearance in 2017, according to Page Six. 
Mason wasn't the first RHOBH offspring to walk the runway, though. Yolanda Hadid's daughters, Bella and Gigi Hadid, are world-famous supermodels. Lisa Rinna's daughters, Amelia Gray and Delilah Belle Hamlin, model as well. Discussing the modeling success of the RHOBH daughters, Camille told Page Six in 2017: "I don't think we have any expectations, we're just going with it," with Mason chiming in, "Just seeing where the road takes us." And so far, that road includes Mason looking like a Camille mini-me and incorporating great traits from both her parents.
Camille Grammer is her daughter's biggest supporter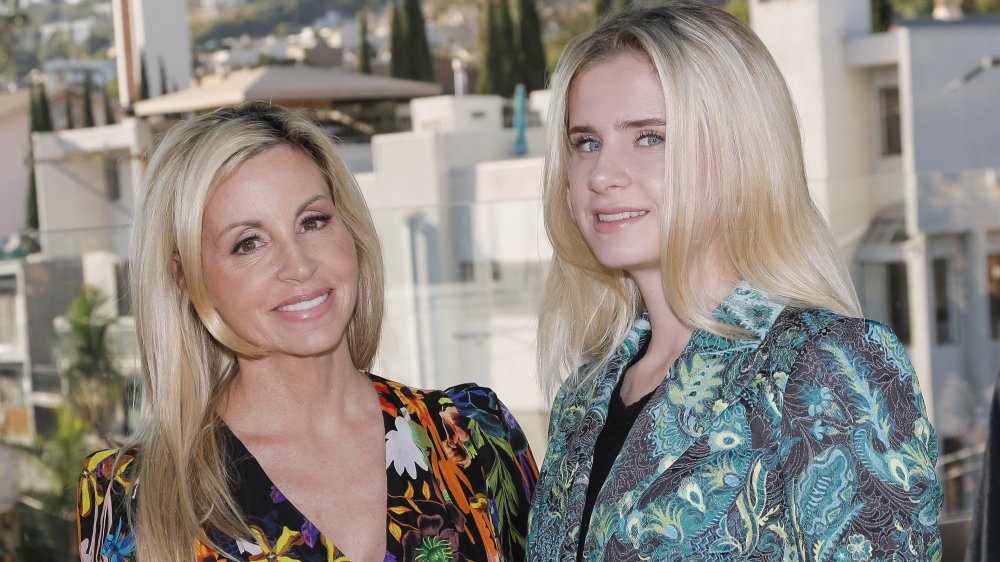 Tibrina Hobson/Getty Images
In 2018, Mason Grammer told Page Six: "I want to go to college," revealing, "I want to major in film, so that's my real passion. I'm just doing [modeling] for fun, pretty much, and seeing what happens." Although modeling doesn't appear to be Mason's ultimate career goal, in 2017, Camille Grammer told Bravo's The Daily Dish that modeling is "really building her self-confidence." Even so, she's not embarking for modeling gigs on her own. Camille shared, "I'm always there, so she is always protected," adding, "She's a good girl and we are going to keep it that way."
Despite her acrimonious relationship with ex Kelsey Grammer, Camille did compliment him telling Page Six, "She's a really good student," explaining she "must have gotten that from [her] dad because I don't have that kind of discipline at times!"
Camille giving Kelsey any sort of praise is pretty shocking considering how difficult their divorce was. In 2018, Page Six reported that Mason told Genlux that the divorce was "the hardest time of [her] life." She explained, "I changed a lot after that. I had to grow up faster because I had a lot more responsibilities. My dad wasn't around, so I didn't see him much, and my mom had such a hard time. I became my younger brother's mom. Everyone was on edge. My parents still don't talk. At all. Ever."
Although Camille and Kelsey don't have a relationship at this point, Camille and her look-alike daughter seem very close.