The Coincidental Timing Of Taylor Swift And Kanye West's Album Releases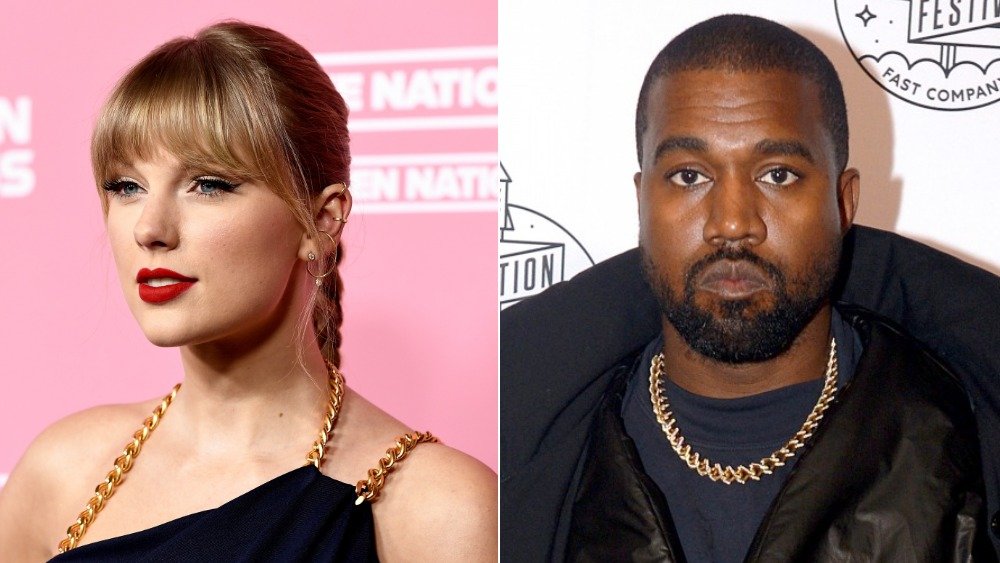 Frazer Harrison, Brad Barket/Getty Images
Rapper Kanye West has had a rough July 2020. First, the presidential hopeful's inaugural rally sparked backlash after West made controversial remarks about abolitionist Harriet Tubman. Then, Kanye launched an unprovoked Twitter rant against his family, including wife Kim Kardashian. But he must now also face the (literal) music, as his rival singer-songwriter Taylor Swift announced her plans to release a surprise album on the exact day Kanye's set to release Donda: With Child.
"Tonight at midnight I'll be releasing my entire brand new album of songs I've poured all of my whims, dreams, fears, and musings into," Swift posted on Instagram, as she revealed Folklore, her eighth studio album, would drop at midnight EST on July 24, 2020. "Before this year I probably would've overthought when to release this music at the 'perfect' time, but the times we're living in keep reminding me that nothing is guaranteed," she noted. "My gut is telling me that if you make something you love, you should just put it out into the world."
However, countless media outlets, including the New York Times and The Sun, can't help but notice the coincidental timing of both West and Swift's album releases as the two stars' ongoing feud persists. (But diehards fans will argue that Swift might've chosen this date because, if you look at this date numerically, 7 + 2 + 4 = 13, the singer's lucky number.) Regardless of her true motivation, Swift's move will likely perpetuate the feud across the two fandoms.
Taylor Swift's fans want her to run for president against Kanye West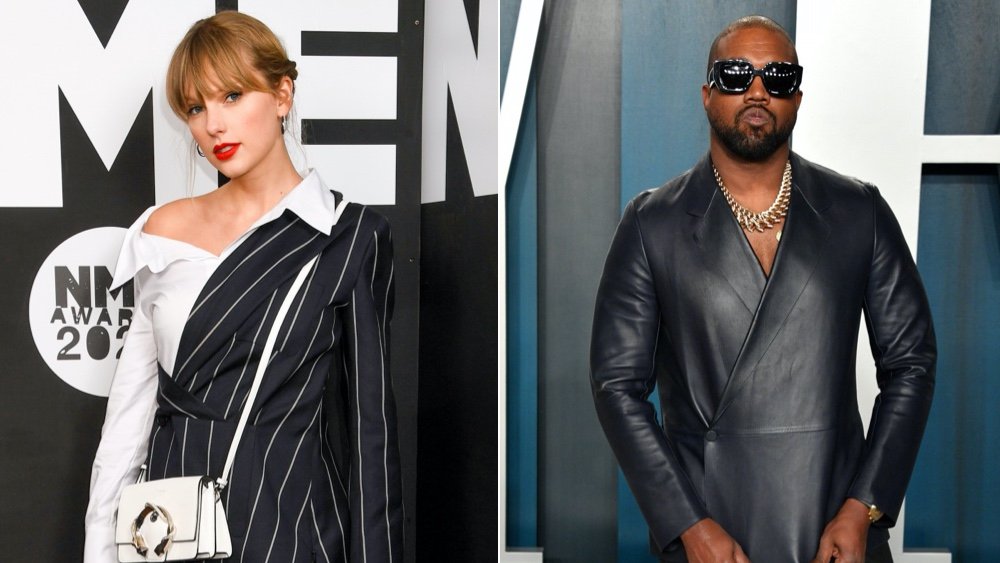 Dave J Hogan, George Pimentel/Getty Images
As if Taylor Swift and Kanye West's feud weren't intense enough, now fans want Swift to throw her hat in the ring and run for president to counter Kanye's bid for the White House. "We must now realize the promise of America by trusting God, unifying our vision and building our future," Kanye tweeted on July 4, 2020. "I am running for president of the United States." So it was only a matter of time before Swift's fans hopped on Twitter to pit the two adversaries against each other once again.
"Okay so I need @JoeBiden to announce @taylorswift13 as his vice-president in order to defeat Kanye West & Trump," one user wrote. "I honestly can't wait for Taylor Swift to come out and say, 'Hey Kanye, Imma let you finish but...' and then BOOM announces that she's gonna run for president," another Twitter user added.
However, as Billboard noted, Swift fans have no hope that the singer will ever come around to their way of thinking because, even if she wanted to run for office, United States regulations require all such candidates to be at least 35 years of age or older — Swift's only 30. Therefore, she can't even be former vice president Joe Biden's running mate! While this will certainly crush fans' hopes of another Kanye vs. Swift battle at the mic, we'd rather watch them battle it out on the charts.