Suzanne Somers' Granddaughter Looks Just Like The Star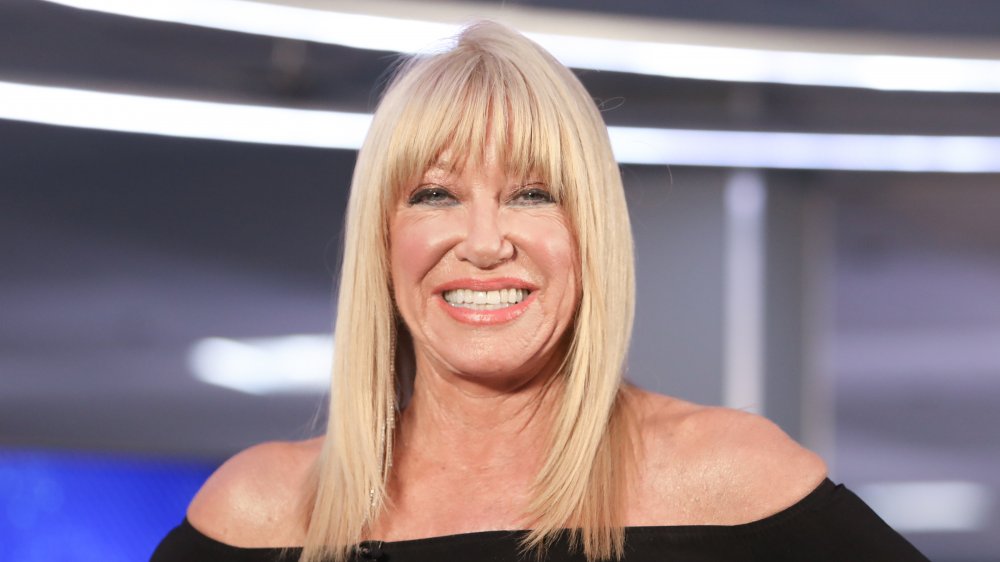 Paul Archuleta/Getty Images
The late Suzanne Somers appears to have passed down her looks to her granddaughter. The legendary blonde actress, author, and entrepreneur first hit it big with her role as Chrissy Snow in the ABC sitcom "Three's Company", which ran from 1977 to 1984, according to Screen Rant. The show catapulted Somers to superstardom, but as Business Insider reported, she left the show peak-fame after being refused a salary increase by the network. It wasn't all bad though, as the actress's colorful career was only beginning.
Somers starred in the '90s sitcom "Step By Step," a season of "Dancing With The Stars," and even her own talk show, "The Suzanne Show." Throughout her life, Somers remained busy off-screen too, releasing her own makeup line and more than a dozen books on self-help, health, aging, and dieting. According to The Week, Somers' unconventional medical advice in regards to her cancer treatment gained criticism from the American Cancer Society. After dealing with her diagnosis for several years, Somers ultimately died in 2023 at age 76.
Somers married her first husband Bruce Somers in 1965 when she was 19, according to Country Living. While that marriage ended in 1968, she met her next husband of 50 years, Alan Hamel, during her stint as a prize model on the game show "Anniversary Game." Somers had son Bruce Jr. with her first husband, resulting in granddaughters Camelia and Violet. After not seeing each other for a while due to the pandemic, the actress reunited with her granddaughter Violet in an Instagram makeup video, per Daily Mail. Their similarities remain pretty uncanny.
Violet Somers was close with her grandmother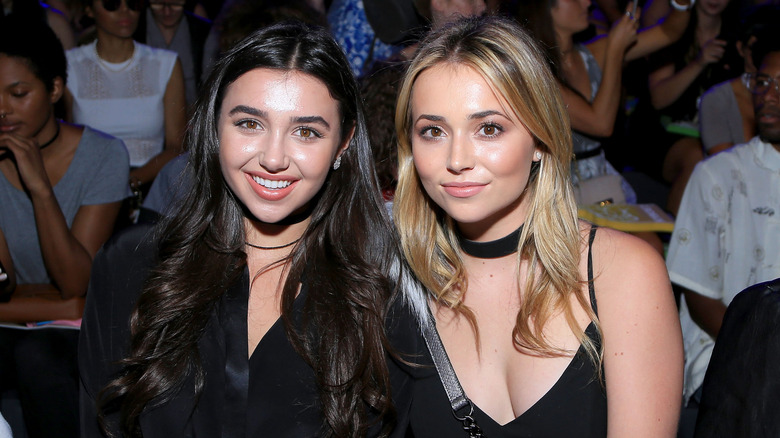 Anna Webber/Getty Images
Violet Somers and her grandmother certainly share facial features — it's easy to see the similarities between the two. They sat down for an at-home Instagram makeup video on June 9, 2020. The duo cheerfully went through some of the products in the sitcom star's makeup line, with husband Alan Hamel in the background. It was apparently a lucky break that Violet could co-star in the video, as she was in Italy days before the coronavirus pandemic hit.
"She was in Italy, just as the whole world pandemic broke out there. You got out in the nick of time," Somers said in the video. "Yeah, two days before," Violet replied. Many fans commented on the physical similarities in the comments section of the video. "Violet is the image of her Zanny, only with dark hair," one Instagram user wrote.
Somers appeared to be close to her grandchildren. She posted another Instagram photo with both Violet and Camelia Somers and daughter-in-law Caroline Somers in January 2020. "3 generations of SOMERS women!" Somers captioned the post. "Love these leopard babes @carolinesomers, @violetsomers and @cameliasomers. I always say, 'I'm a different kind of grandmother!'" That statement rings true; according to O, the Oprah Magazine, Somers wanted to do a Playboy shoot for her 75th birthday. She famously posed for the mag twice in the 1980s. Not every grandmother can cross that off their list!
Violet Somers learned a lot from her grandmother
In her lifetime, Suzanne Somers passed down a lot of things to her granddaughter — good looks, talent, and apparently, enough wisdom to live an authentic and fulfilling life. In celebration of Suzanne Somers' 76th birthday back in 2022, Violet took to Instagram, sharing a throwback photo of the iconic actor alongside a lengthy, heartwarming tribute. "The little girl in this photo is my grandma when she was younger. She liked to play with her toy kitchen set, try on her sister's bra, and dream about one day having a house with a swimming pool," Violet started. Writing further, Violet touched on her bond with Suzanne, who she credited for teaching her to enjoy life and to focus on the most important things. "It's not about who you are or what you do, it's who you love and who loves you," she recalled the actor once telling her.
While Violet might not have inherited her grandmother's flair for acting, the up-and-comer has carved out a spot for herself in the fashion industry. Of course, she got a little help from Suzanne. During a 2016 interview with The Extravagant, Violet opened up about her love for fashion, telling the outlet it first piqued her interest as a child. "Though I have several interests, fashion has been consistent from the time I was 5 years old and my nanny taught me how to hand sew dresses for my dolls," she explained. As she grew older, Violet made the most of her grandmother's expensive wardrobe, trying out different outfits and putting on a makeshift fashion show. "My grandma always said I had an incredible eye (I mean, she's my grandma, but it built my confidence!)," she admitted.