Why Clay Aiken Isn't Adam Lambert's Biggest Fan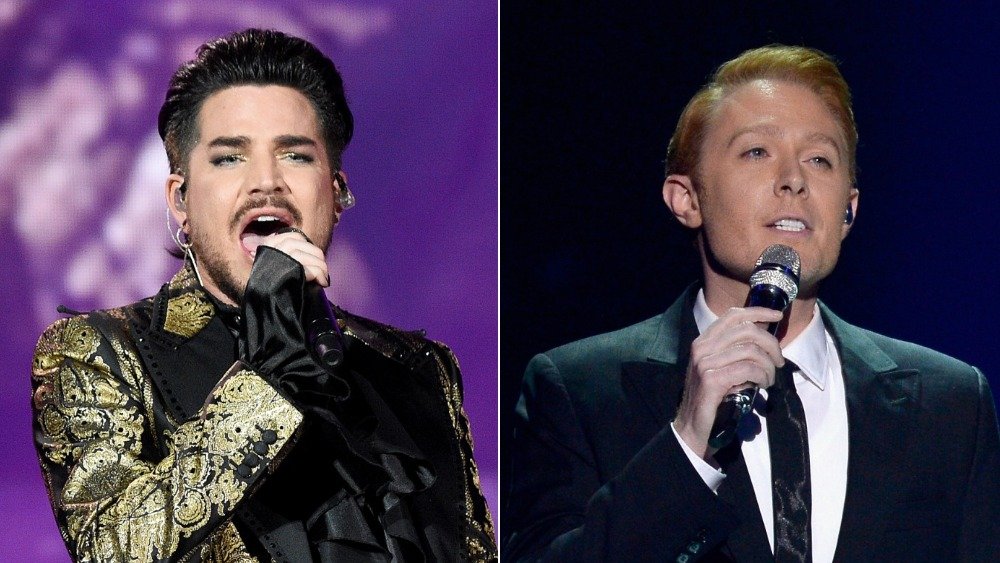 Kevin Mazur, Kevork Djansezian/Getty Images
Given their similarities, you'd think Adam Lambert and Clay Aiken would get along... but you'd be wrong. Aiken blew away judges and fans on American Idol's second season as a soulful balladeer, whose voice mismatched his nerdy, bespectacled exterior. He quickly shed that look for contacts and signature spiked hair as he moved ahead in the competition. The singer came in second place in his 2003 season to the lovable Ruben Studdard by a razor-thin margin, per Bustle, but post-Idol, Aiken struck back.
Soon after the loss, he put out the album Measure of A Man, which had five Top 10 hits, per Billboard. Aiken, a foster father, came out publicly in 2008. "I cannot raise a child to lie or to hide things. I wasn't raised that way, and I'm not going to raise a child to do that," Aiken announced to People (per The New York Times).
Meanwhile, Lambert has a similar Idol story, sailing through his 2009 season with an unstoppable voice and glam-rock edge, but losing to the more milquetoast Kris Allen. Lambert has since become the frontman for Queen and put out multiple successful albums, similarly coming out publicly — but immediately after his season, per Rolling Stone.
With these commonalities (maybe fewer as of late, but we'll get to that), it seems like the two would be friends or even cordial. Apparently not. Aiken is no fan of Lambert's — or at the very least, the two have a spotted history. Here's a look. 
Clay Aiken said Adam Lambert's voice makes his 'ears bleed'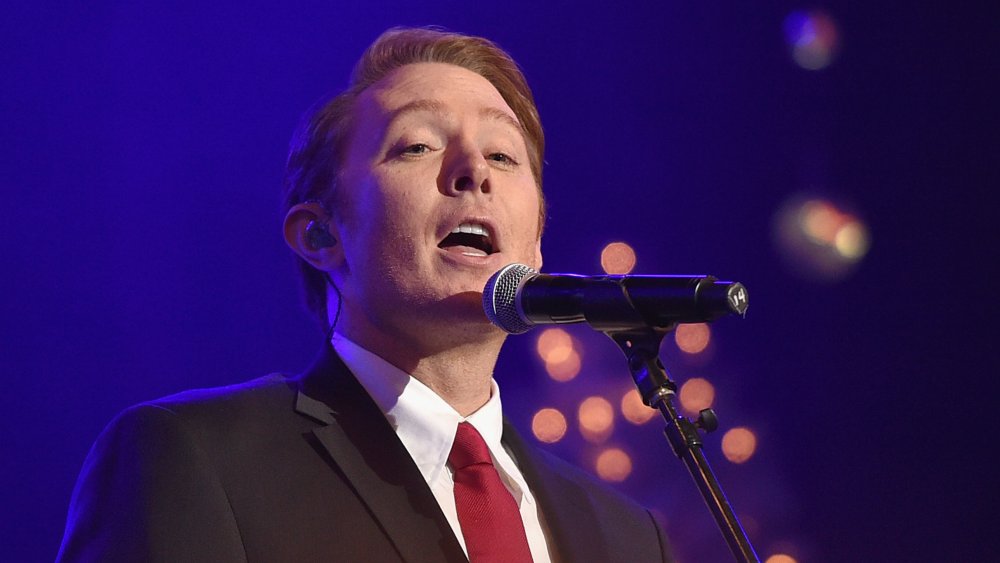 Mike Windle/Getty Images
So, what does Clay Aiken really think of Adam Lambert? In 2009, the runner-up didn't hold back when a fan asked his thoughts via his fansite. Aiken wrote (per Gawker), "[I] couldn't be happier about the way [American Idol] ended this year." He continued, "I happened to turn it during the minute that Adam Lambert was singing 'Ring of Fire' and, at that moment, thought my ears would bleed." Ouch! 
But he didn't stop there — Aiken went on to call the performance "contrived, awful, and slightly frightening," proclaiming, "I wasn't really a fan and found myself surprised whenever folks told me that they liked him." Admitting that he hadn't actually seen Lambert's other Idol performances, he added, "Just not my cup of tea at all."
Lambert quickly snapped back. "I don't know Clay," he told Access Hollywood, as Us Weekly reported. "I'm glad he's getting headlines now though, because he wasn't before." Did we hear a mic drop? For the record, Aiken has since apologized. "I do apologize to Adam for my colorful (and negative) choice of words," he said (per Vulture). "I hope he can forgive me. I imagine he doesn't give a damn!"
Aiken may simply be jealous of his fellow runner-up. Lambert has gone on to become the highest-earning Idol alum, per Forbes. Meanwhile, Aiken has had some Broadway stints and unsuccessfully voyaged into political waters, losing a congressional race in 2014. Once a runner-up, always a runner-up?