Strange Things About Kurt Russell And Goldie Hawn's Relationship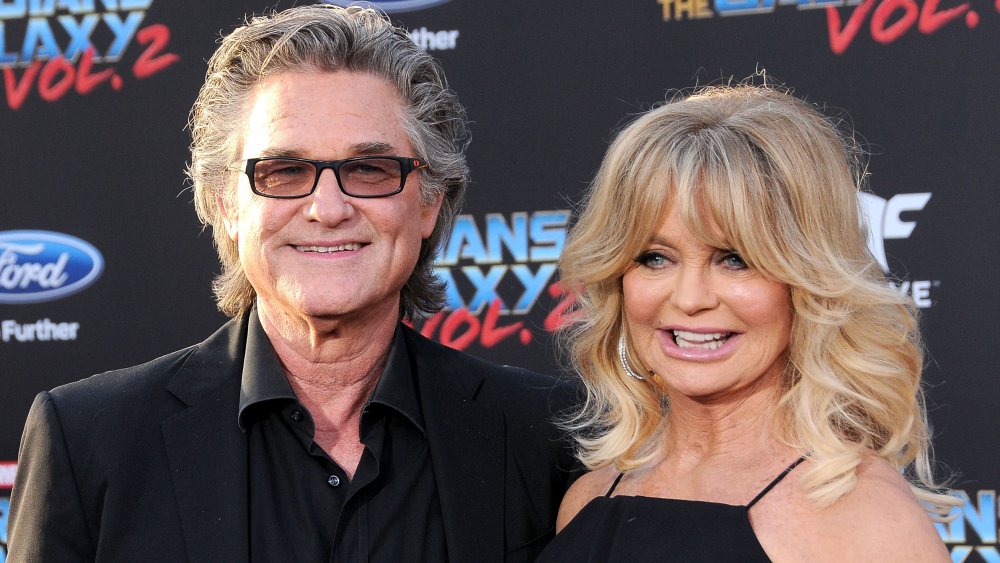 Barry King/Getty Images
If you want to talk about a celebrity couple with staying power, Hollywood's Kurt Russell and Goldie Hawn have a love that's withstood the test of time. According to Town and Country, sparks flew on the set of Swing Shift and the two began dating in the early '80s. Decades later, the inspiring pair —and their blended family! — are still going strong. "The other night we were going to go have dinner," Hawn told People in April 2020. "He looks at me and goes, 'You're unbelievable.'" Aww!
Together, Hawn and Russell welcomed son Wyatt in 1986 and raised him alongside Hawn's children, Oliver and Kate Hudson, and Russell's son, Boston, from their previous marriages. Although Russell and Hawn have been a sure thing since the '80s, they first locked eyes on a previous film project in the '60s called The One and Only, Genuine, Original Family Band. "I was 21 and he was 16," Hawn recalled during a BBC Radio 4 interview. "I thought he was adorable, but he was much too young. Then, years later we met up again..." 
And did they ever! The couple has spent decades hitting red carpets and having cute on-stage Oscar moments together. They even co-starred in 1987's Overboard, which went on to become one of Hawn's most popular roles. Obviously, after all these years, the pair must have their methods for making things work, right? Well, here are some interesting details about Hawn and Russell's aspirational relationship.
Goldie Hawn and Kurt Russell aren't interested in marriage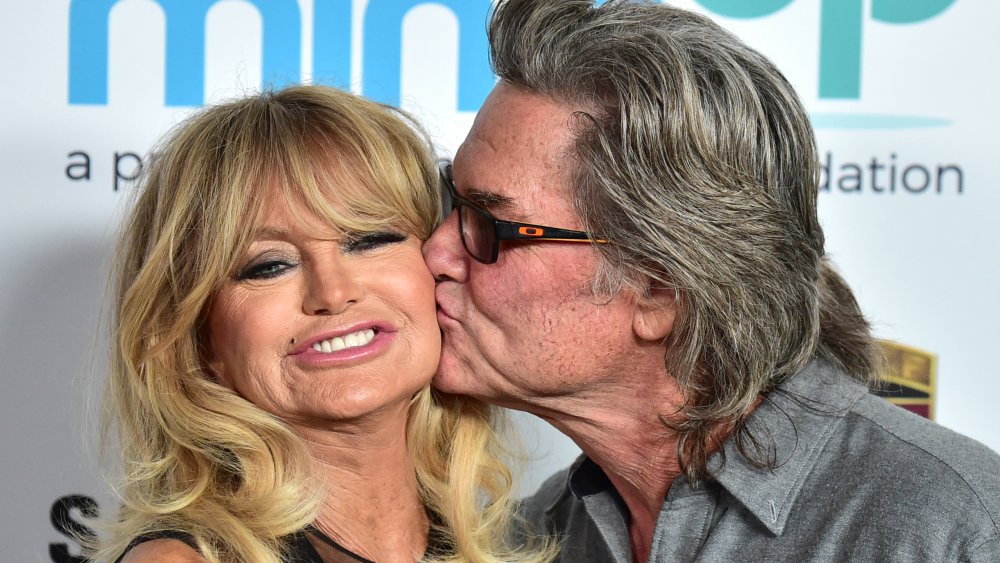 Frazer Harrison/Getty Images
After all these years, Kurt Russell and Goldie Hawn's secret to their successful relationship may actually be not getting married. "I would have been long divorced if I'd been married," Hawn told ITV's Loose Women in 2015. "If you need to feel bound to someone, it's important to be married. I chose to stay, Kurt chose to stay, and we liked the choice. What is marriage going to do?"
Another interesting (and seemingly beneficial) choice the couple made is to never put work before family. "I very rarely worked when I knew Goldie was going to be working. And vice-versa," Russell told the Daily Mail in 2018. "Money is great, but you've got to say no. You really do." Russell added that, instead, he'd stay home with the kids. "Everyone has their marker on what is really important and where you draw the line," he explained. "For Goldie and me, that core value was this: the kids come first." 
But the pair hasn't been without their speed bumps. In 2000, per Closer Weekly, Hawn was reportedly "furious and devastated" after Russell was infamously photographed leaving a not-so-family-friendly massage parlor. Otherwise, it's been mostly smooth sailing for the unconventional, understanding couple. "Monogamy is a very tough order. We're human beings," Hawn told People in 2017. "There is, I guess, an elasticity to the relationship. Otherwise, it's going to break, just like a rubber band." Even when stretched to the limit, this couple never snaps!