The Truth Behind Cardi B's Comments About Melania Trump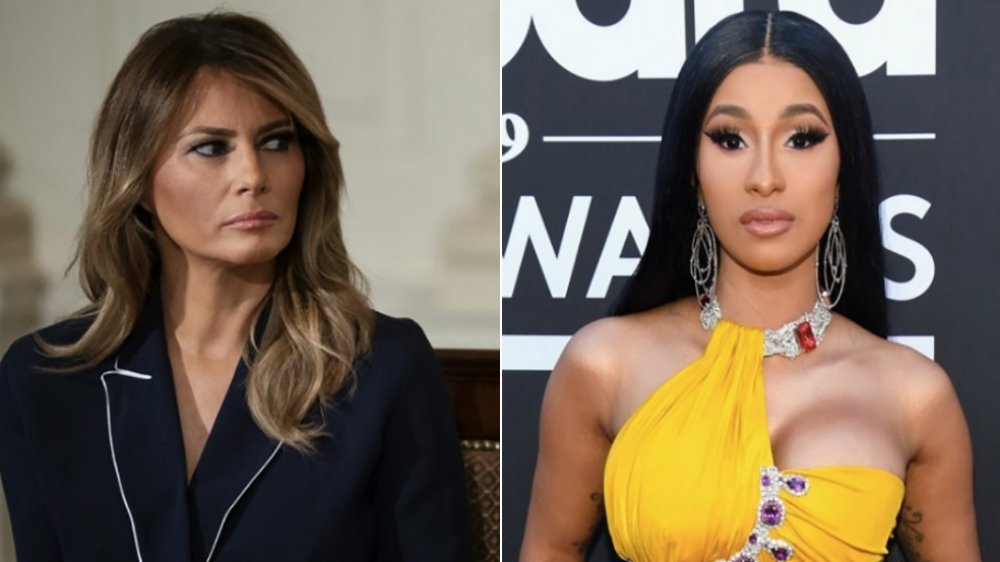 Drew Angerer, Kevin Mazur/Getty Images
Cardi B is not one to shy away from conflict, especially when it comes to her critics. Case in point: The Bronx-born rapper's name became a trending topic on Twitter when she addressed comments that compared her to first lady Melania Trump. It all started on Aug. 25, 2020, when many Republicans across the country commended Melania's speech at the Republican National Convention, an address that was undoubtedly more original than her 2016 version. Failed congressional candidate and self-described "conservative-warrior," DeAnna Lorraine, was just one person who took to Twitter to show her support, writing, "America needs far more women like Melania Trump and far less like Cardi B."
Cardi B, an outspoken opponent of many President Donald Trump's policies, did not take the insult lying down. "Didn't she used to sell that Wap?" Cardi tweeted in response. For the uninitiated, that's a reference to Cardi B's hit single with Megan Thee Stallion, "WAP," which stands for "Wet A– P—y." The possible implication being that the first lady was once a sex worker, which isn't a new allegation, as the Trumps sued the Daily Mail in 2016 for publishing a now-retracted report that suggested Melania "provided services beyond simply modeling," as an apology from the outlet stated. 
Lorraine called Cardi a liar in response, telling her she should be ashamed. Cardi, who is rarely ashamed of anything, did not back down. Instead, she tweeted a pic from a nude photoshoot Melania Trump did in the 90s.
So what did Twitter have to say? As it turns out, a lot of people have strong opinions about the situation.
Cardi B's comment spurred a debate about Melania Trump's past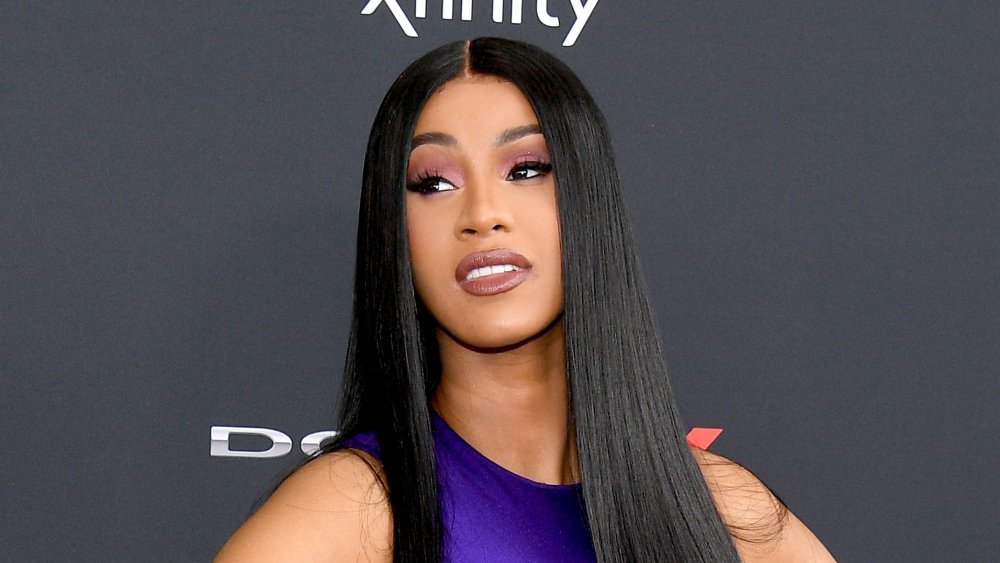 Dia Dipasupil/Getty Images
Cardi B wasn't the only one who reposted the racy photo of Melania Trump, and many weren't thrilled that the first lady's past is seemingly being used to criticize her as a person. As some pointed out, the outrage should solely focus on Melania's actions while in the White House. "A woman has the right to do whatever she wants with her body even if she's a bigot," comedian and author, Franchesca Ramsey, tweeted. "There's so many legit criticisms of Melania that have nothing to do with her body & stooping so low is misogynist."
Ramsey didn't call out Cardi B specifically, and it's important to note that the Grammy-winner might not have been shaming Melania at all. "Let's be clear... Cardi isn't slut-shaming Melania," one commenter penned. "She's slut-equalizing. Cardi is empowered by her own sexuality and views her sensuality positively unlike the conservatives who are attempting to tear her down by comparing her to Melania... she's pointing out hypocrisy."
What's more? In an August 2020 interview, Cardi told Elle she hopes her music makes women feel powerful. "When you make a woman feel like she's the baddest b***h in the room, to me, that's female empowerment," she told the outlet. The mom-of-one also defended "WAP" during an appearance on the Kyle and Jackie O Show, arguing, "If people didn't wanna hear it, if they were so afraid to hear it, it wouldn't be doing as good."
Of course, there's a good chance this debate won't end here.