Karen Pence Looks A Lot Different Than When She Was Younger
Alex Wong/Getty Images
Karen Pence, who, as of this writing, is the second lady of the United States of America, has undergone quite a transformation! Wife (or "mother") to Vice President Mike Pence, Mrs. Pence took the stage on the third night of the Republican National Convention on Aug. 26, 2020, looking quite put together. While other speeches that came out of the 2020 RNC were deemed a bit controversial, Karen used her time on stage to praise military families, per USA Today. Namely, two military spouses who created a patriotic handbag company during World War II and another who started a restaurant in Montana. 
"These men and women, like our daughter, Charlotte, and our daughter-in-law, Sarah, are the home front heroes," she said during her speech. The topic seemingly hit close to home for Karen. After all, the mother of three is a military mom as her only son, Michael Jr., is a pilot in the Marine Corps., per CNN. The art therapy enthusiast also used her time to highlight the benefits of art therapy for veterans. "Art therapy facilitated by a professional art therapist is especially effective with post-traumatic stress disorder," she said, per the New York Post.
Speech topics aside, another thing was quite notable during Karen's 2020 RNC speech: the second lady has definitely changed her look. Following the 2016 election, Karen was rocking a short bob and heavier jewelry. Now, that's all changing. Here is Karen Pence's stunning fashion transformation.
Karen Pence has upped her fashion game completely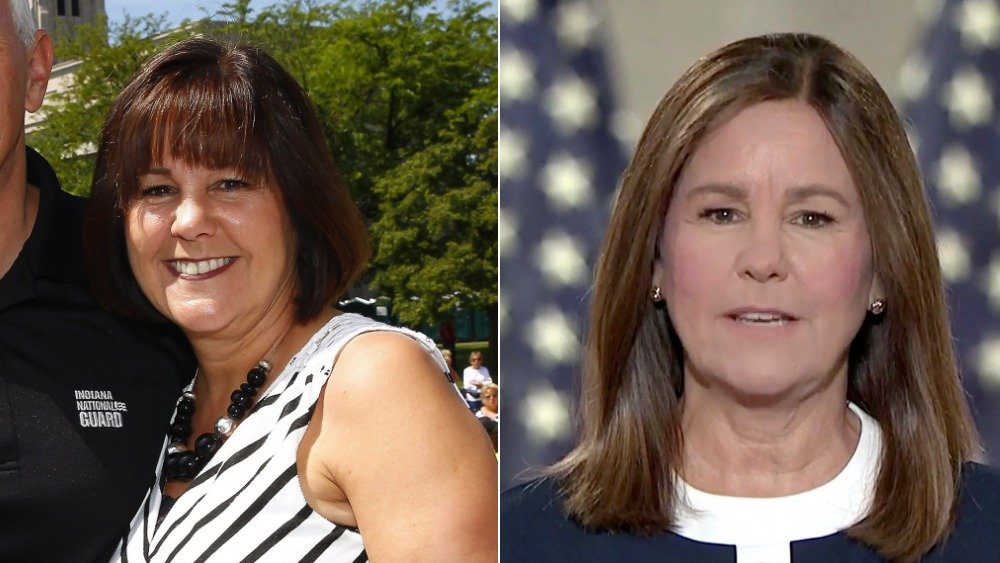 Michael Hickey, Handout/Getty Images
Second lady Karen Pence is seriously upping her fashion game ahead of the 2020 presidential election. On the left, you can see how Pence dressed around 2014. At the time, Mike Pence hadn't even begun gearing up for his vice presidential run. On the right, you can see her look as she took the Republican National Convention stage in late August 2020.
As Vanity Fair pointed out, her former, business casual look has been "traded up" for more modern, Washington D.C.-ready pantsuits and dresses, according to the outlet. But that's not all. Second Lady Karen Pence has also altered her hairstyle. The former bob is now grown out, and she ditched those bangs. Some are even speculating she might have shed a few pounds. "She really has had a total makeover, she looks great. She looks like she's happy, she radiates confidence," a Pence family friend noted to VF.
In light of Karen's new look, people have taken to social media to share their thoughts. "Second lady Karen Pence has been looking GREAT, too. Obvious weight loss, hair style, younger look," one tweeted in December 2019. "Such a great job! (And your makeup was on point!)," one Instagram user said following Karen's RNC speech. "I can see Karen Pence changed her style to look more like Melania. She used to dress like a church lady," a third wrote. 
Regardless of your political preferences, it's worth noting that these days, Karen is definitely bringing her fashion A-game. 
What might explain Karen Pence's style transformation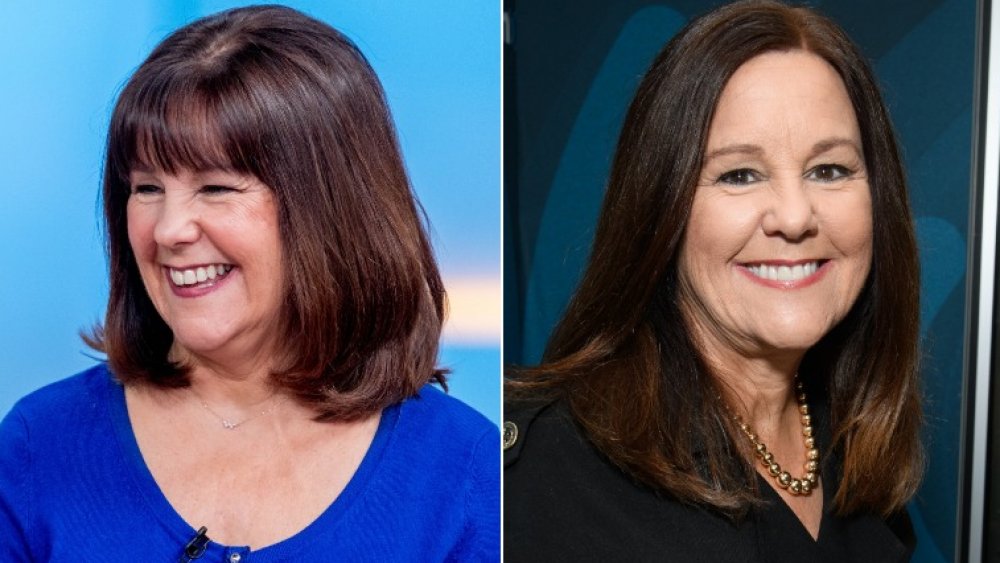 Roy Rochlin, Noam Galai/Getty Images
The pictures above from left to right show Karen Pence's transformation from 2018 to 2020, and the differences are pretty obvious. Not only did Karen ditch her darker makeup for a lighter shade of lipstick, but she also experimented with blue eyeliner and jewelry. New second lady, who dis? 
Although Karen is arguably more reserved compared to her predecessors (Jill Biden, anyone?), she hasn't been shy about flaunting her transformation on social media. Mrs. Pence was looking quite chic in Charlotte Pence's October 2019 Instagram video, for example, and, in the clip, she appears to be wearing a "double-breasted dress with gold buttons and a cinched belt," according to Vanity Fair. It's quite the fashion statement for "mother," no? "Mrs. Pence looks amazing!" one user commented on the video. "What's your secret?" 
The second lady is also looking refined on her own social media pages. On Aug. 27, 2020, she shared a picture featuring her signature new hairstyle and a full-length patterned dress. And on Aug. 15, 2020, she rocked a modern sleeveless blouse. Wow! Has Mrs. Pence secretly gotten a full wardrobe makeover?
Her physical transformation begs the big question: is Karen Pence preparing for husband Mike Pence's own 2024 presidential bid? "There's no question that would be something Mike Pence would want to do," Andrea Neal, author of Pence: The Path to Power, told Bloomberg (via Yahoo! News) when asked whether about a potential run. Either way, we look forward to seeing Karen Pence's style evolve!