The Truth About 90 Day Fiance's Ashley Smith
Drama seems to follow 90 Day Fiancé's Ashley Smith (née Martson) like... well, like a reality TV crew. Whether she's fighting with her husband, Jay Smith, or fighting with other reality TV stars, it seems like she's always in the headlines. American-born Ashley, and her Jamaican-born husband Jay Smith, may go down in history as one of the messier couples to ever appear on 90 Day Fiancé, thanks in large part to Jay's infidelity and arrests and Ashley's no-nonsense attitude. 
According to Us Weekly, things started innocently enough when Ashley met Jay while on a trip to Jamaica. They kept up the convo after Ashely returned to the states. Six months later, she traveled back to Jamaica to get some face time with her boo, and Jay popped the question. Ashley was delighted to find herself engaged for the third time and was confident this one would stick, despite the 10 year age gap.  The couple said 'I do' in 2018, and it's been a rollercoaster ride ever since.
Here's everything you need to know about 90 Day Fiancé's messiest star: Ashley Smith.
Ashley and Jay's relationship is complicated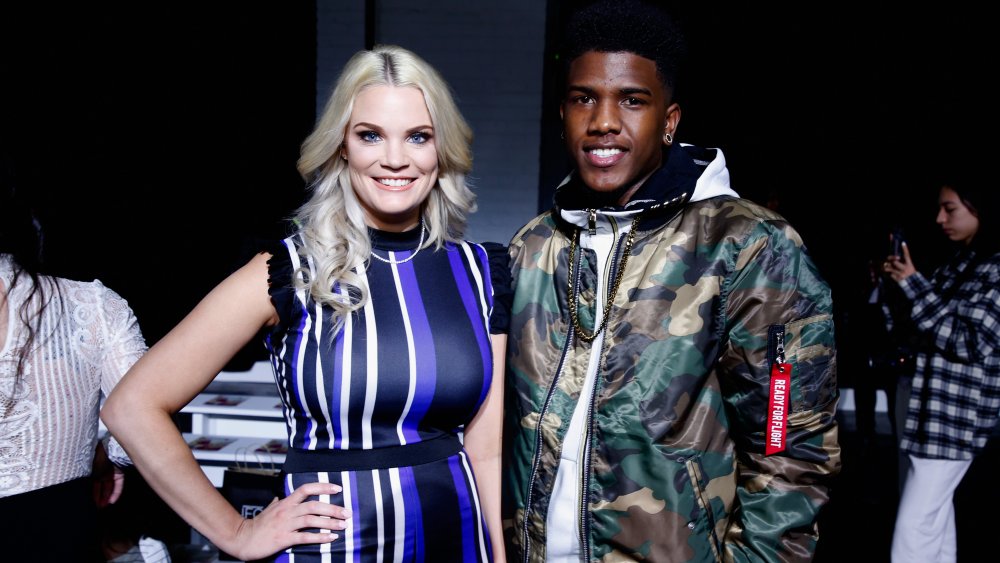 John Lamparski/Getty Images
After the wedding, it didn't take long for Ashley and Jay Smith's relationship to fall apart. In fact, it only took 24 hours. Us Weekly reported the day after the wedding, the bride caught the groom messaging women on Tinder. All the drama played out on camera as a devastated Ashley admitted she had no idea what to do. "After everything that I've done for him, and this is how he treats me," she said. "The signs were there, and I just ignored them."
Ashley filed for divorce a few months later but withdrew the paperwork soon after. Fans were more than a little confused about the state of the relationship. Ashley took to Instagram in February 2019 to clear things up. Us Weekly reported that in a since-deleted story, Ashley claimed that she and Jay never separated and were forced to play up the drama by producers.
The couple filed for divorce a second time in April 2019. More cheating allegations followed, as did lots of back and forth between Ashley and Jay. Jay insisted he never wanted to do the show in the first place, and Ashley filed an order of protection.
But love finds a way, and in 2020 the couple announced they were back on. On August 8th, 2020, Ashley posted a sweet photo to Instagram to celebrate their wedding anniversary. "It's been a wild 3 years," she wrote. That's an understatement.
Ashley wants Jax fired from Vanderpump Rules
Mindy Small, Bruce Glikas/Getty Images
Ashley and Jay Smith have their fair share of problems, but Ashley is not about to let anybody disrespect her man. Enter: Jax Taylor, star of Bravo's Vanderpump Rules. Following a string of firings by the network in 2020 after racist actions by the cast members were made public, Ashley wanted the network to clean house and give Jax the ax too.
Ashley uploaded a series of stories and a now-deleted post to Instagram to plead her case. She shared a screenshot of a comment Jax made in 2018 on a photo she posted of Jay. Jax allegedly wrote, "Your mans nose is the size of his head," per Us Weekly.
The 90 Day Fiancé star wasted no time calling out the racist comment.  "When your nose or my nose is referenced as large it's probably just a large nose. Black people have been historically colored to an ape or monkey, meant to be derogatory," she wrote on her Instagram story. "One of the most well known racial stereotypes is referencing a black persons nose," she continued, "again suggesting it is similar to that of an ape."
Let's hope Jax listens to Ashley and regrets his choice of words. If he's not careful, he'll go the way of his fallen co-stars, Kristen Doute and Stassi Schroeder.