Lady Gaga's 2020 VMA Outfit Was Possibly Her Strangest Yet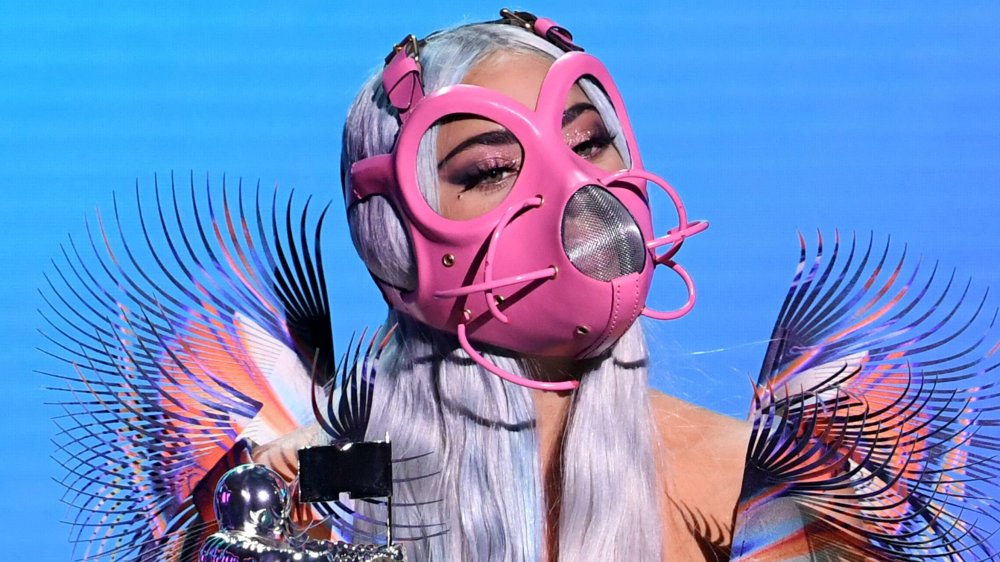 Kevin Winter/mtv Vmas 2020/Getty Images
Since the beginning of her career, the name "Lady Gaga" has been synonymous with the concept of an ever-evolving, avant-garde image of what the term "pop star" means in the abstract — and how those very boundaries can be, in the most oxymoronic sense, pushed. The Grammy- and Academy Award-winning virtuoso's career touchstones are basically different variations on Jennifer Lopez's infamous green Versace dress; her paradigm shifts in her musical oeuvre can basically be intoned by the mere mention of the Meat Dress, the Jo Calderone drag, and the stripped-down A Star Is Born Hollywood starlet throw-back. 
So to no one's surprise, the same goes for the 2020 MTV Video Music Awards in August, in which Lady Gaga (born Stefani Germanotta) appeared as both a performer and a nominee. Along with her collaborator, Ariana Grande, Gaga was nominated for video of the year, best collaboration, best pop song, best cinematography, best video effects, and best choreography for the hit single "Rain on Me."
In true Gaga fashion (pun unabashedly intended), she walked the slightly-altered, COVID-19-friendly red carpet touting what might be perhaps her strangest get-up yet — but, again, the commentary behind her haute couture look has a much deeper meaning than at first glance.
Lady Gaga's VMA outfit has a multitude of meanings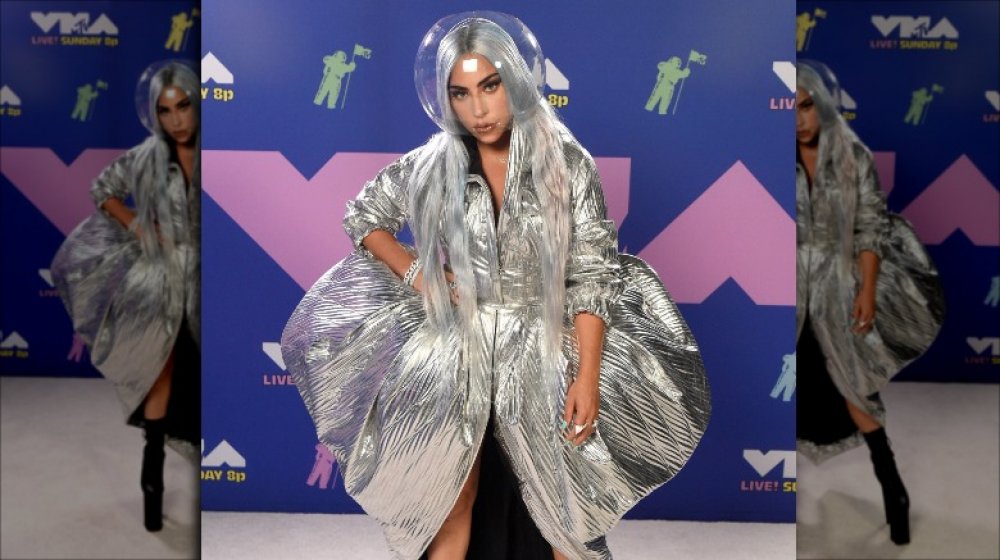 Kevin Winter/mtv Vmas 2020/Getty Images
As Elle magazine noted, Actress and performer Lady Gaga donned a silver dress steeped in a futuristic aesthetic that somehow both pays homage to her career debut with 2008's The Fame and her latest musical profferring, 2020's Chromatica. In keeping with her career-long commitment to complex thematics, both her dress and her headpiece — a transparent, fishbowl-esque globe which encompassed her entire head — served as a tribute to both the history of the award ceremony and to this historical moment in time.
When it comes to the VMAs, it's hardly a coincidence that Gaga's get-up highly resembles the manifestation of the coveted Moonman statuette MTV has presented to show's winners since it first aired in 1984. (As MTV reported in 2016, the reason why the award is fashioned after an astronaut walking on the moon had to do with the theme of "claiming uncharted territory," which fit into MTV's mission of being the first-ever network to broadcast music videos.) Considering the nature of this year's VMAs and how many precautions producers have taken to safely broadcast them in the midst of a global pandemic, Gaga's globe is a de facto face mask meant to keep herself and others safe. 
Now Gaga can add another laurel to her multi-hyphenate: public health awareness role model.