The Truth About Sophia Loren And Jayne Mansfield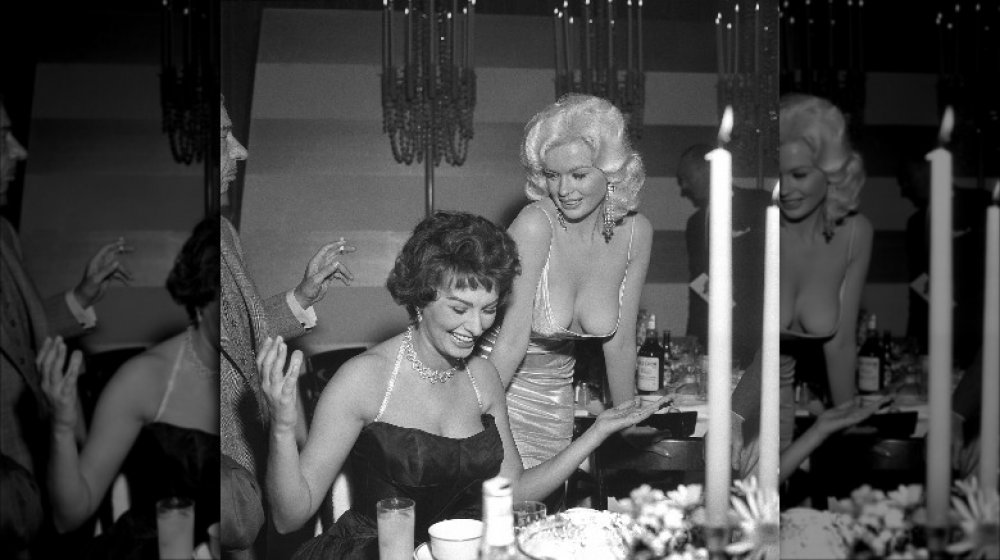 Michael Ochs Archives/Getty Images
Since time immemorial — or at least, ever since memes became an actual thing — one of the most universally revered looks, in every sense of the term, has been a good old-fashioned side-eye. Whether it's Michelle Obama, a very judgemental toddler, or a knock-off Muppet named Teddy, the pure, visceral joy of a vicarious side-eye is GIFable satisfaction at its best. But when it comes to the de facto side-eye hall of fame, one of the most legendary exemplars of this underrated art form pre-dates the advent of the world wide web by more than a few decades — and it's all thanks to Italian actress and pop culture icon Sophia Loren, with a little help from fellow bonafide bombshell and late Hollywood great Jayne Mansfield. 
So what, exactly, was the photo in question, which spurred rumors about a Loren/Mansfield feud as soon as it was taken? How did it come to resurrect itself and live in the hallowed halls of internet infamy? And what does Sophia Loren think about it now, over 50 years after Jayne Mansfield's tragic death? Hold your breath and get ready for a deep-dive. 
One moment in Hollywood history created this legendary meme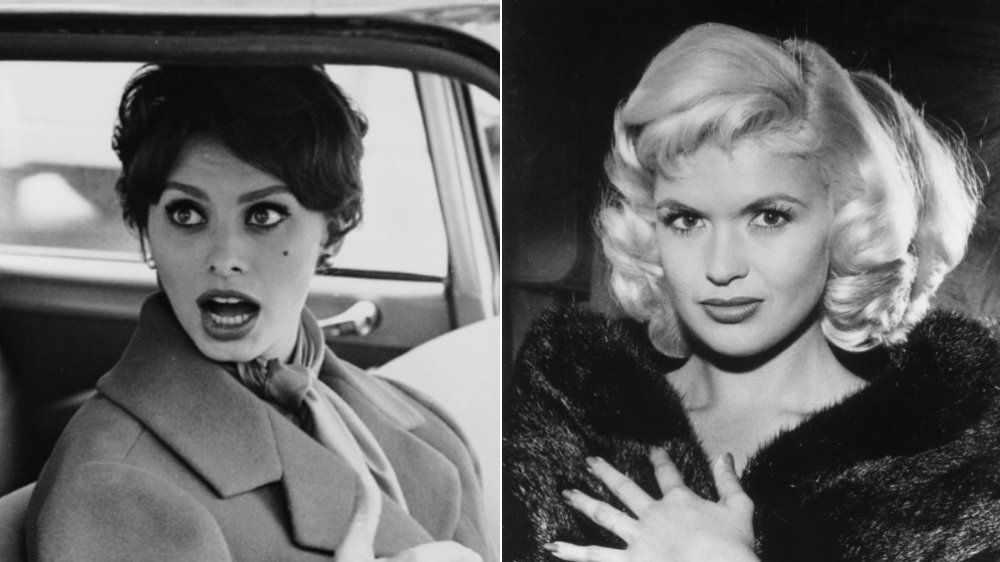 Keystone Features, Steele, Hulton Archive/Getty Images
The photograph in question, which you can view in different, meme-able variations here, here, and most definitely here, has certainly seen this side of glory with regards to the advent of the internet, but according to Sophia "Side-Eye Goddess" Loren herself, her now-iconic side-eye is a little more nuanced than at first glance. (Pun certainly intended.)
As Loren relayed in a 2014 interview with Entertainment Weekly, the photograph of the most infamous side-eye in Tinseltown history was the result of the two-time Academy Award-winning Italian actress' unofficial Hollywood societal debut, which took place at a party in Beverly Hills in 1957 organized by Paramount Studios. Among the A-listers invited to the exclusive soiree was Jayne Mansfield, who at the time was fresh off of a Golden Globe win as a promising newcomer for her dramatic turn as a hopeful burlesque dancer in the movie adaptation of John Steinbeck's The Wayward Bus. 
As per Loren, Mansfield, who was the last to arrive at the party, immediately bee-lined towards Loren — a move that ensured all eyes would be upon both starlets. It was this admixture — a grand, unforgettable entrance, a meeting between two of the biggest stars of the year, and a lowcut dress that Mansfield, famous equally for her acting chops as much as her status as one of Hollywood's first sex symbols — that provided the necessary potency for one of the era's most unforgettable photo ops. 
Sophia Loren's side-eye wasn't mysterious at all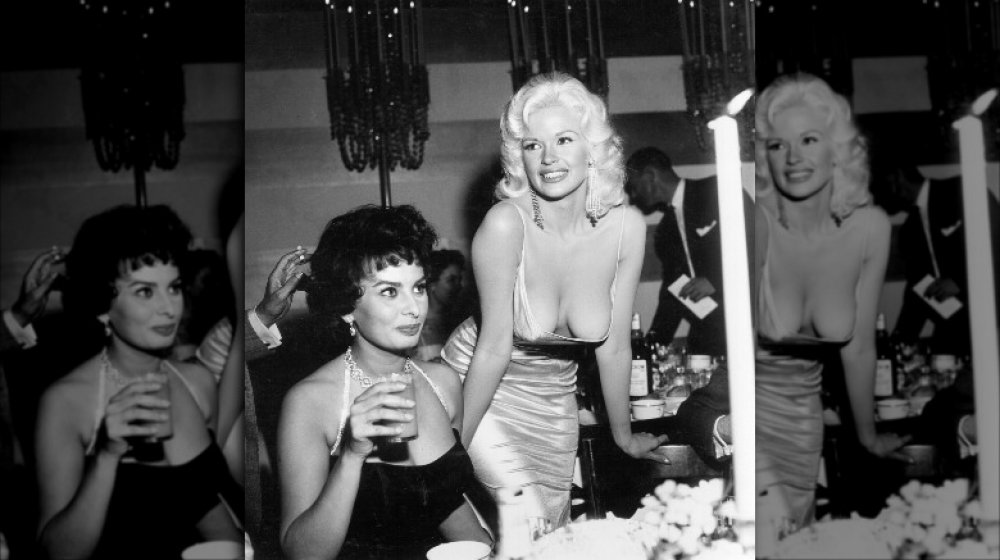 Getty Images
"Look at the picture," recalled Loren at the time of the 2014 interview with Entertainment Weekly, describing the moment of indelible convergence. "Where are my eyes? I'm staring at her nipples because I am afraid they are about to come onto my plate. In my face you can see the fear. I'm so frightened that everything in her dress is going to blow — BOOM! — and spill all over the table." Or, to be candid, the photo in question which features Loren's infamous side-eye was all thanks to a low-cut dress Jayne Mansfield wore and her deeply admirable embrace of her body and image, all in the face of the public's frequent objectification of it.
To wit, Roger Ebert felt the need to cite the buxom star's measurements in a 1967 profile. "Everyone knew," the venerable critic wrote of Mansfield's bust-waist-hip ratio, adding, "Not many in her audiences knew very much more than that. She didn't want them to. She was a stereotype, almost a caricature, of the dumb blond: bigger, blonder, dumber, more publicity-conscious than any who had gone before." 
While the Loren-Mansfield photo-op has become the meme-able hallmark that it is today — Loren herself recalled how "many, many times" she has been "given this photo to autograph" by fans, adding that she has perpetually refused to do so in respect to Mansfield's legacy after her death in 1967 in a fatal car accident — the story behind the meeting of two of Hollywood's most indelible actresses is one we should remember in celebration of both of the legacies they've left for us to celebrate with commemorative joy.