The Truth About The Jay Cutler And Tomi Lahren Dating Rumors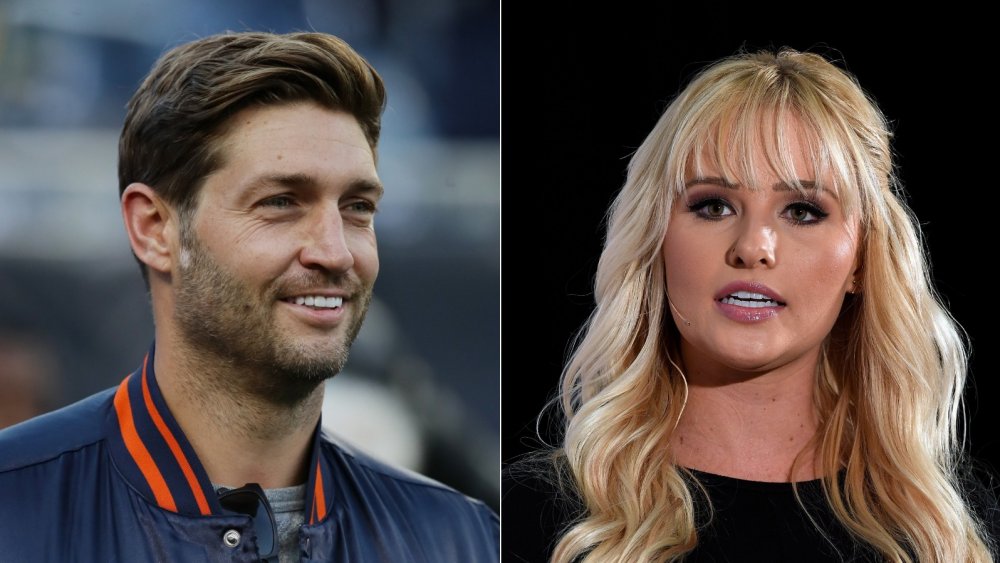 Jonathan Daniel, Michael S. Schwartz/Getty Images
Mere months after former NFL player Jay Cutler officially split from his wife of almost seven years, reality star Kristin Cavallari, rumors started swirling that Cutler was dating conservative political commentator Tomi Lahren. As NBC Sports pointed out, the Lahren-Cutler dating rumors were apparently also prompted by a bonafide tweetstorm in early September 2020. One tweet, which has since racked up thousands of likes, made sure to take a swipe at Cutler's former career as a football star. "Jay Cutler and Tomi Lahren are dating," the Twitter user wrote. "She can rest easily that, if he tries to make a pass at another woman, it won't get there. Geez, I crack myself up."
So what could feasibly substantiate the possible pairing? According to E! News, both Lahren and Cutler were spotted out on the town in Nashville, Tenn. Sources who spoke to the entertainment outlet and saw the two together claimed that Cutler and Lahren split a bottle of tequila with two accompanying friends before ultimately leaving together. So, are Tomi Lahren and Jay Culter dating? Lucky for us, one half of the rumored pair have spoken out as to whether they've coupled ... or haven't. '
Did Tomi Lahren squash the Jay Cutler dating rumors?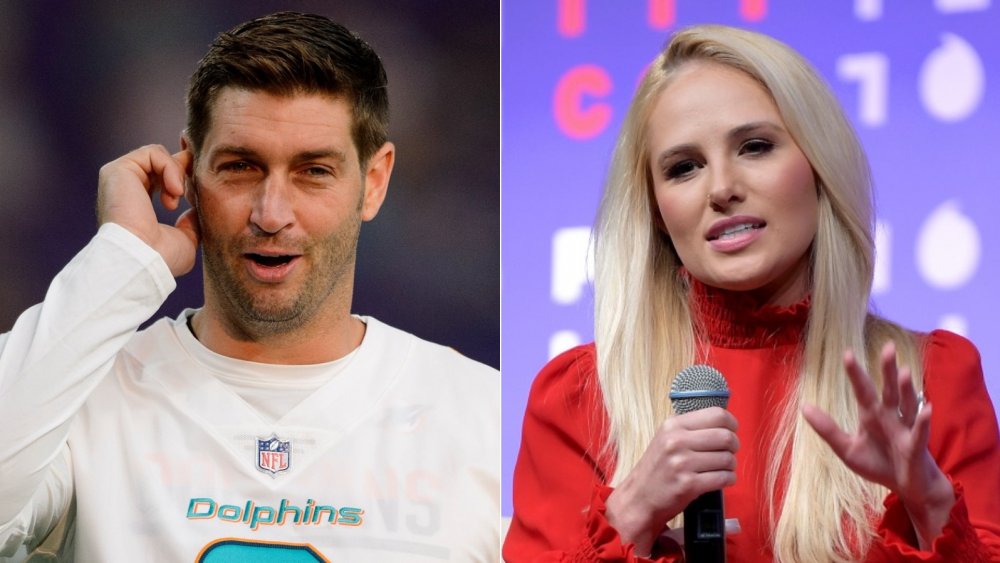 Hannah Foslien, Jason Kempin/Getty Images
Contrary to what circulated in the rumor mill after Fox Nation host Tomi Lahren and ex-footballer Jay Cutler were spotted out together at a bar in Nashville, it seems like the relationship between the two is strictly platonic. Lahren herself seemingly put a kibosh on the rumors entirely, taking to social media to make it clear that she and Cutler's relationship is anything but romantic. 
"I love it when the internet tells me who I'm dating. Good one," Lahren tweeted on Sept. 3, 2020, shortly after the rumors first surfaced. E! News also seemed to substantiate Lahren's declaration with a second source (presumably close to either Cutler or Lahren), stating that "[t]hey are just friends." Despite appearing to deny the romance rumors, it's worth noting that both Lahren and Cutler split from their respective partners in early 2020. Cutler and his ex-wife, Very Cavallari star Kristin Cavallari, announced their divorce in April 2020, while Lahren split from her ex-fiancé Brandon Fricke around the same time, per People.
While it's pure speculation that their night out at a Nashville bar could have been a calculated move to make their exes jealous, it's not entirely off the table. In August 2020, Cavallari posted a cozy photo featuring her and her former Laguna Beach co-star and ex-boyfriend, Stephen Colletti, to her Instagram account.