Unforgettable ACM Awards Outfits That Caused A Stir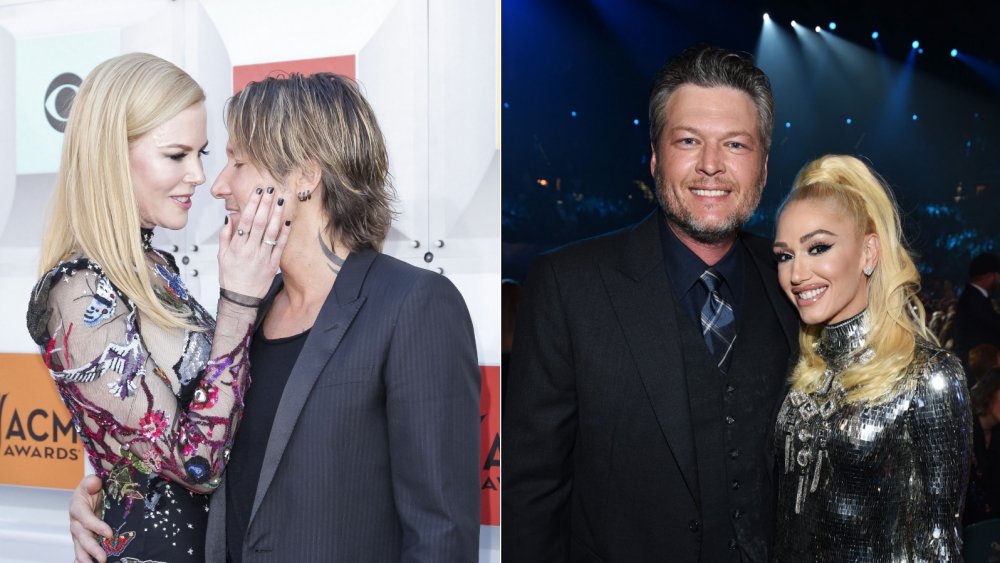 Tibrina Hobson, John Shearer/acma2019/Getty Images
Ah, the ACM Awards. The iconic awards ceremony offers a way to celebrate country music's finest while fans watch Nicole Kidman and Keith Urban doing that little nose snuggle off in the distance. Win, win, really.
It's an event that offers cowboy boots and Bebe Rexha in one room (thanks to that epic collab "Meant to Be" with Florida Georgia Line). Don't forget about the potentially awkward dynamic between Miranda Lambert, Blake Shelton, and Gwen Stefani. (Seriously though, Stefani and Lambert are grown women who seem so far above any pettiness... but still.) There are also those fun memories of Taylor Swift when she was known only as a country star and not the queen of the music industry. Oh, how times have changed!
With all this fun in one night, it's hard not to notice the incredible outfits, too. It's a night where glam and belt buckles come together and over the years, there have been some really wild outfits. So, here for your sensory pleasure are the most unforgettable ACM Awards outfits ever.
Miranda Lambert and that corset stole the show, as did Steven Tyler's pants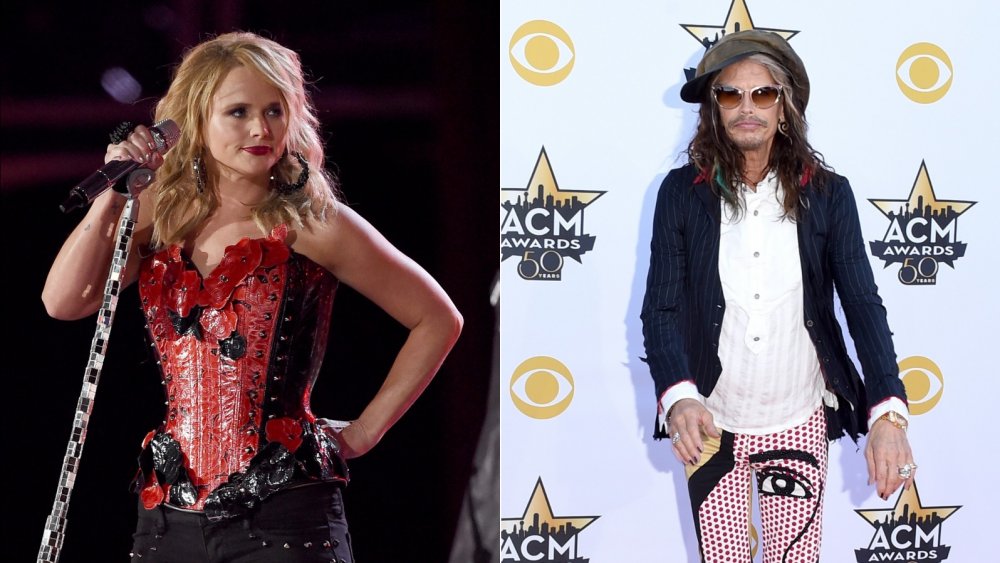 Ethan Miller, Jason Merritt/term/Getty Images
If you've ever sat at home and thought, "Gee, I wonder if anyone's been able to pull off a leather corset?" we've got an answer for you: Yes. Miranda Lambert totally shocked and slayed at the 50th ACM Awards in 2015 while wearing a red and black leather corset. As if that wasn't edgy enough, she also wore studded black jeans, so she'll forever be a winner in our books. Not to mention, Lambert walked home with four awards that night, including Female Vocalist of the Year, Album of the Year (for her album Platinum), and Song of the Year for "Automatic," according to The Washington Post.
On the same night, Steven Tyler of Aerosmith also sported some eventful pants, which looked something like a Roy Lichtenstein pop art installation. Why was he there, you might ask? Well, Tyler actually came out with a country album, We're All Somebody From Somewhere in 2016, according to Entertainment Weekly, thus proving that he and his pants can do anything.
But this ain't the end of notable ACM Awards outfits.
Dolly Parton and Carrie Underwood slayed in glitter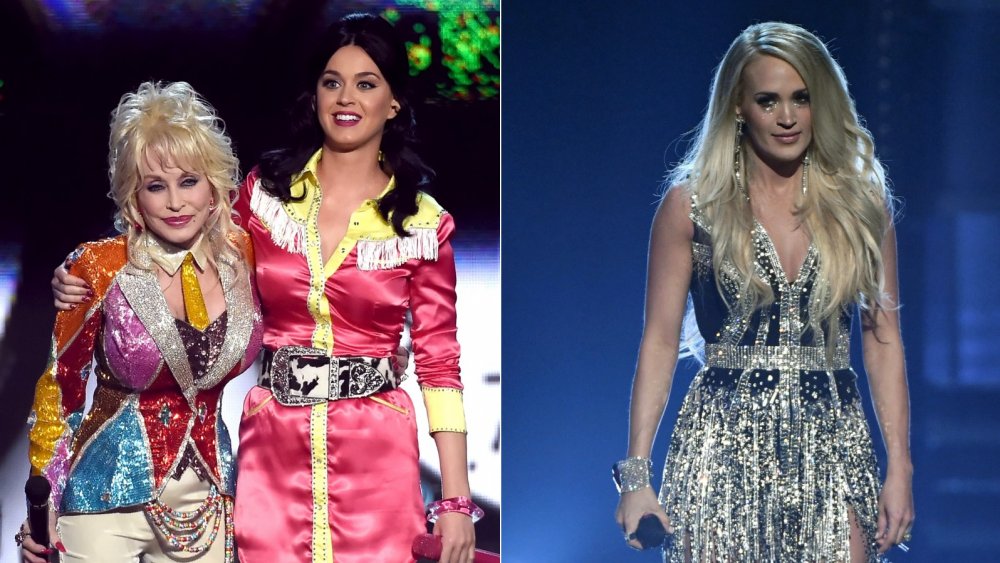 Ethan Miller, Ethan Miller/Getty Images
We couldn't talk about outfits at the ACM Awards and not mention Dolly Parton. Honestly. Remember at the 2016 ACM Awards when our gal stepped on stage with Katy Perry? The two sang "Coat of Many Colors" as well as the iconic "Jolene," according to Billboard, and wrapped things up with "9 to 5." Fittingly, Parton herself wore a sequined blazer of many colors while Perry rocked a cowhide belt and some shoulder tassels, polished off with fishnet stockings. Casual.
There's also no way to talk about the ACM Awards without mentioning Carrie Underwood. The star is an icon of country music and it's tough to pinpoint one look of hers, but the winner might just be her 2018 performance of "Cry Pretty," where she literally had glitter tears under her eyes. What made the performance even more astounding was that Underwood had suffered a severe injury earlier in 2018, according to Time, including a "broken wrist and serious facial injuries." Did that stop her? Nope, and she came out on stage and proved she's as resilient as she is talented.
So the ACM Awards aren't just about cowboy hats and sweet tunes. They're also a night to celebrate the heroism, love, heartbreak, and power of these incredible artists.