How Brad Pitt's Rumored Girlfriend Really Feels About Angelina Jolie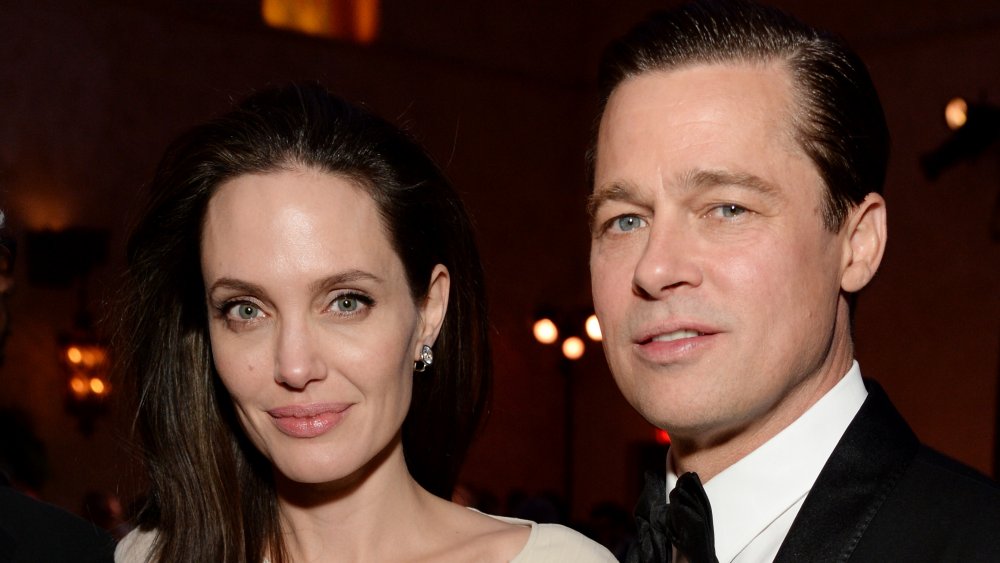 Michael Kovac/Getty Images
Brad Pitt and Angelina Jolie might just be one the most famous celebrity couples of all time. There isn't much to say about them that hasn't already been said. The two met on the set of Mr. and Mrs. Smith in 2004 while Pitt was still married to Friends star Jennifer Aniston. Pitt and Aniston split a year later, per US Weekly. 
Following his divorce from Aniston, Pitt and and Jolie went public with their relationship, affectionately being dubbed "Brangelina." During their time together, the couple adopted three children and conceived three more. When the the two finally wed in 2014, it seemed like the culmination of Hollywood's greatest love story.
For that reason, the world was shocked when the couple announced their separation in 2016. Jolie requested "physical custody" of all six children and "cit[ed] irreconcilable differences" as the reason for the split, per TMZ. While Pitt has been romantically linked to various women since he and Jolie went their separate ways, in mid-2020, rumors started swirling that the actor was dating model Nicole Poturalski. In September 2020, Poturalski shared some of her feelings about Pitt's ex-wife.
Who is Nicole Poturalski?
In 2020, news broke that Brad Pitt had seemingly moved on from Angelina Jolie. In 2019, Pitt told The New York Times: "I don't know how many women they've said I've been dating in the last two or three years, and none of it's true." However, the speculation surrounding Nicole Poturalski just seems to hold a bit more water. The couple were first spotted together in November 2019, being photographed at a Kanye West concert at the Hollywood Bowl, per People. But who is Nicole Poturalski?
Poturalski is a German model. Marie Claire reports that she was discovered when she was just 13 years old while on a trip to Disneyland. Since then, she's graced the covers of ELLE Germany and Germany's Harper's BAZAAR, just to name a few. According to the outlet, Poturalski speaks five languages, and, although she is 30 years Pitt's junior, the age gap is something she seems accustomed to. 
The model reportedly has a son and, as of this writing, is allegedly in an open marriage with German restauranteur Roland Mary, who is about 40 years older than her. If anything, Poturalski seems like a woman well aware of the intricacies of dating in the entertainment world, a fact made evident by her comments about Pitt's former flame, Angelina Jolie.
Does Brad Pitt's rumored boo hate Angelina Jolie?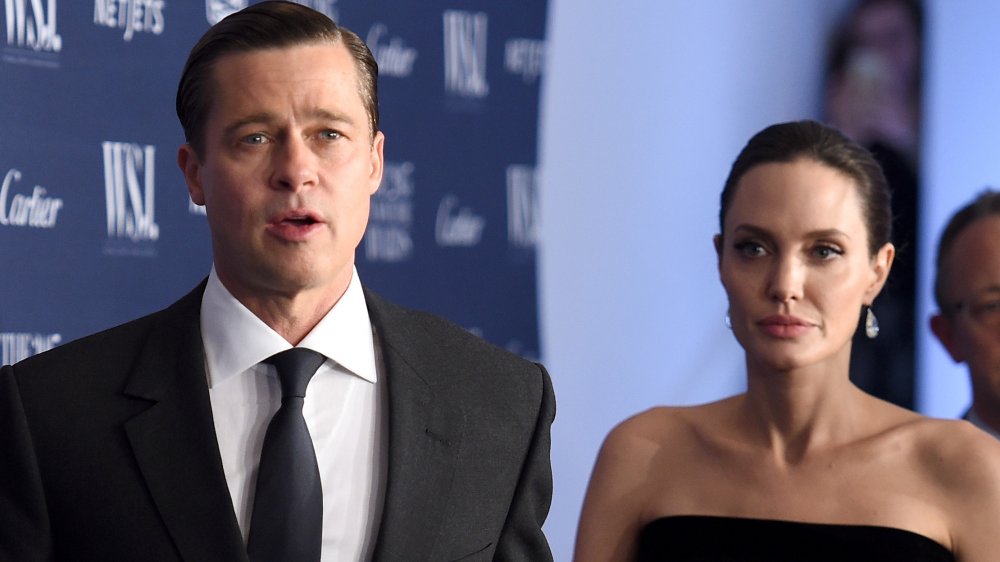 Dimitrios Kambouris/Getty Images
In a September 2020 Instagram post, Brad Pitt's rumored girlfriend, Nicole Poturalski shared some unguarded thoughts about Angelina Jolie. The model posted a photo on the social media platform showing her wearing an orange dress and shades. She captioned the shot: "Happy people dont (sic) hate." A commenter on the post asked (via Entertainment Tonight): "If so, then why [do] you and Brad hate Angelina? Practice what you preach, girl." Poturalski coolly replied: "Not hating anyone."
Another commenter jumped in, seemingly capturing Poturalski's exact feelings. "Come on Nicole never said she hates Angie," they began. "It was always the paps creating stories and saying 'a source close to reported....' I think it's only Brad who is dealing with Angie, Nicole has no business there." Poturalski responded to that comment with a simple "Amen."
Despite whatever rumors may or may not be swirling about Poturalski's feelings towards Jolie, it seems that the model isn't here for the drama. What's even more notable, however, is that the comments are the most confirmation that either Pitt or Poturalski has given about their relationship. Neither of them have publicly addressed the relationship until now, and it seems that not only are they an item, but are too happy to have hate for anyone else.