This Is Really What Happened When Stars Lost The Emmys While At Home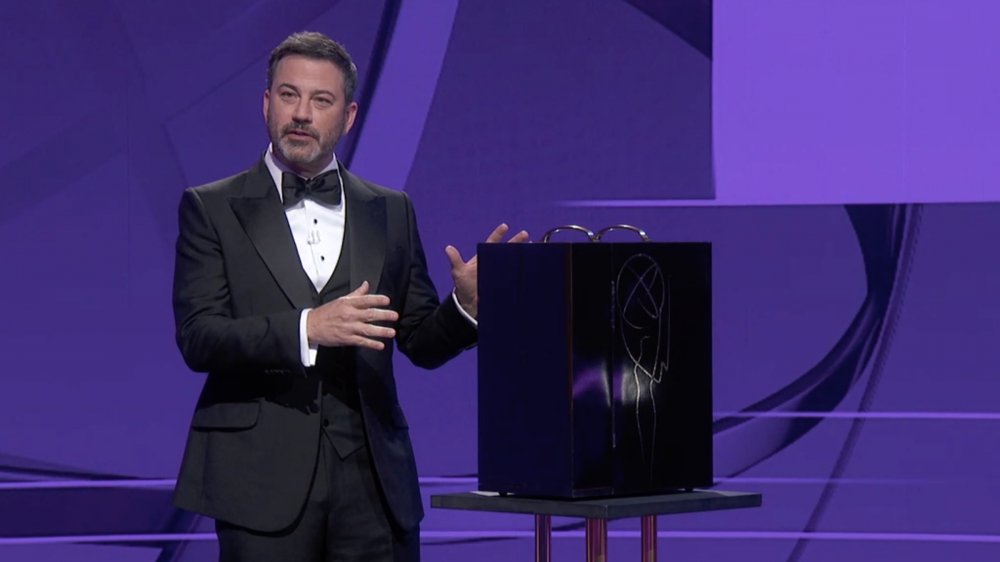 ABC
It seems like everyone is doing the most to make things as normal as possible in 2020 — even the people behind award shows like the Emmys. The 2020 Emmy Awards were virtual, with stars social distancing at their homes with their loved ones or at small watch parties, while Jimmy Kimmel, along with some select guest presenters, hosted the event in a cavernous arena all alone. To ensure that the stars actually got their Emmy in a timely fashion, winners in some categories were visited by presenters in tuxedo hazmat suits who arrived at their home with the trophy... and left if they lost. It was bizarre, but a fun way to spice up the show. 
The hazmat suit was created and designed by costume designer Katja Cahill and executive producer Guy Carrington. Carrington also worked with a hazmat manufacturer to create these garments for the show, per Variety. Not everyone was visited by a hazmat wearing presenter, though. Only certain major categories had the honor. Executive producer Reggie Hudlin told Variety that they were just trying out the new format. "From category to category, it's going to change throughout the broadcast. Some of them may not work, but we said, 'Let's just experiment and have the audience a little more on the edge of their seats.'" The actors were, too, as you can see in comedian Ramy Youssef's video about what happened when someone lost. It's sort of amusing, if kind of sad, actually.
Losing an Emmy in 2020 meant literally watching your award walk away
While not every category got an Emmy home delivered, Ramy creator Ramy Youssef was nominated for one such category. Youssef was up against Schitt's Creek's Dan Levy, Black-ish's Anthony Anderson, Black Monday's Don Cheadle, The Kominsky Method's Michael Douglas, and The Good Place's Ted Danson in the Outstanding Supporting Actor in a Comedy Series category. Levy won, and was handed an award before taking the mic at a watch party with the rest of the series' cast and crew. Apparently everyone had a hazmat-wearing Emmy presenter standing outside their house, because Youssef posted a video that simply said, "when you lose the emmy." In the video, a person wearing the hazmat tux and clutching a trophy waves through a sliding glass door and then walks away. 
How anticlimactic! It couldn't have been easy knowing that the Emmy was right outside your door and then watching it walk away. It's unclear if these stars knew that every nominee was getting a visitor and not just the winner, because that would have been a real tease. If anything, at least Youssef had a sense of humor about it. And there's always the complimentary gift bag to help ease the pain, too.