Machine Gun Kelly's Tattoo Artist Reveals The Story Behind His Tattoo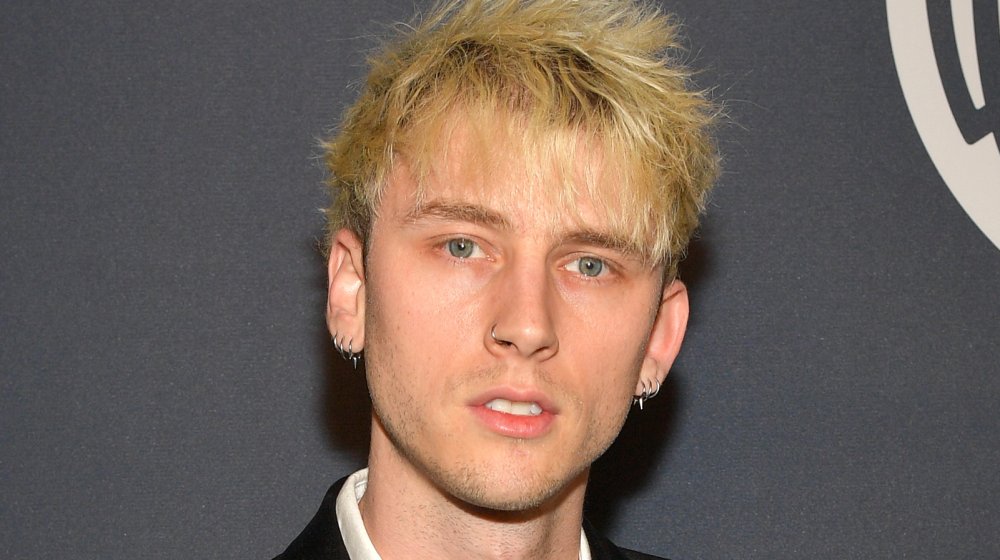 Matt Winkelmeyer/Getty Images
When you hear about Machine Gun Kelly — whose real name is Colson Baker — you may think about the star's award-winning music, his money-making business moves, or even his personal relationships with both his daughter and actress Megan Fox. But there's also a chance that you're the kind of person who focuses on a celebrity's tattoos. If that's the case, then you'll definitely want to read on, because tattoo artist London Reese opened up to Nicki Swift about the story behind Kelly's body art.
"I first met Colson while tattooing our mutual friend, Pete Davidson, during a late-night session at my studio, The Black Lantern," Reese explained, saying that the rapper "was rather cool, calm, and collected." Adding that they "quickly hit it off," Reese recalled how they "talked about his, then, beef with Eminem and their dis tracks about each other." After Reese "asked him how it felt to arguably beat 'the goat,'" Kelly apparently "lit up" and "didn't argue" while saying that "he's stoked it went off like it did."
While Reese noted that "there was plenty of laughter in the air" while the tattoo artist did his work, the pro also gave us some specifics about the ink itself — as well as a few more tidbits about what it's like to hang out with the stars.
Machine Gun Kelly's cover-up tattoo was a way to 'recreate himself'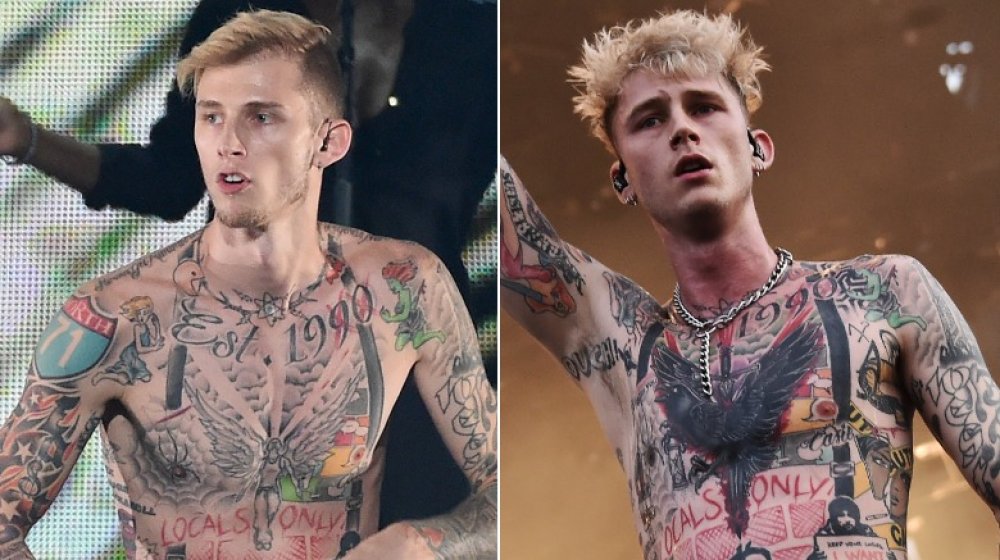 Ethan Miller/Getty Images, Steven Ferdman
London Reese obviously made a good impression on Machine Gun Kelly, because just a couple of weeks after their first meeting, the star reached out to the tattoo artist about a rather significant piece. Kelly wanted Reese to cover up his huge chest tattoo. After going over a few options, the rapper decided that "he wanted a big, dark raven to change the way his entire torso looked. It was, in essence, the perfect time to recreate himself because he was getting ready to drop his new album (Hotel Diablo) and it was going to hopefully be a game-changer, that recreated him as an artist and performer."
"We mutually agreed on the final design and he came through my studio at 10 p.m., one cold night," Reese told Nicki Swift. "We got straight to work; stenciling the massive design on his torso and preparing for a long night ahead."
And it really was a long night. Reese said that Kelly "sat like a legend until 5 a.m." and "didn't wince or move or complain about the pain once," despite the fact that they "covered some ground on one of the more sensitive spots on the body." Reese declared that the star "took it like an absolute G" and "chopped it up the entire session like he wasn't getting a gnarly tattoo." Maybe that's why it wasn't long before MGK was ready for more ink.
Tattoos, parties, MGK, and Pete Davidson ... oh my!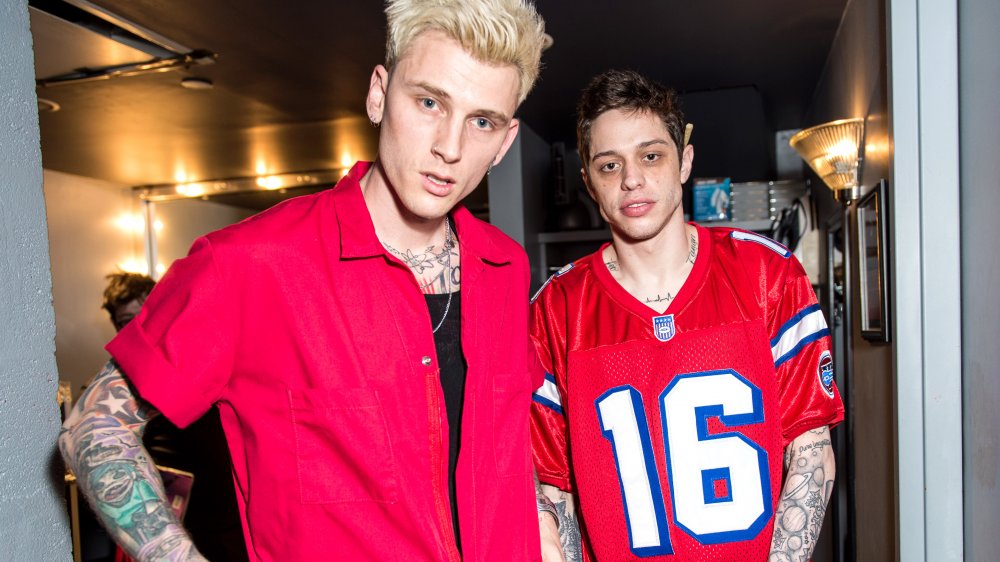 Steven Ferdman/Getty Images
Look at Machine Gun Kelly's tattoos and you'll see that the space on his chest has "some red light rays that emit off of the raven tattoo and follow between the existing clouds he already had," according to London Reese, who's responsible for the work. The tattoo artist told Nicki Swift that Kelly contacted him again a few weeks after they tackled the cover-up and they made further additions, which "really helped his torso feel more complete." Reese also redid Kelly's "Locals Only" abdomen tattoo, explaining, "it was older and need a quick pass to really saturate the red pigment. It all helped make the new raven feel like it belonged there, all along."
That's when the story spins back to the star-filled, tattoo-loving social scene that first saw Reese connect with Kelly. Soon, the two were hanging out "in LA for Colson's birthday, with Pete [Davidson], and some other mutual homies" during "a WILD party in the hills."
At the time, Reese was actually working on Pete Davidson and Judd Apatow's The King of Staten Island, which Kelly "makes an amazing appearance in," per Reese. As a consultant, Reese lent his "expertise in tattoo culture and application," "helped design a lot of the 'bad' tattoos," and assisted with the script during Kelly's scene. Reese admitted that "it's been a pretty crazy full circle of Pete and MGK," and these days, he's "stoked to know them, both, and now call them friends."