Mila Kunis Was Sued By Her Childhood Friend For A Bizarre Reason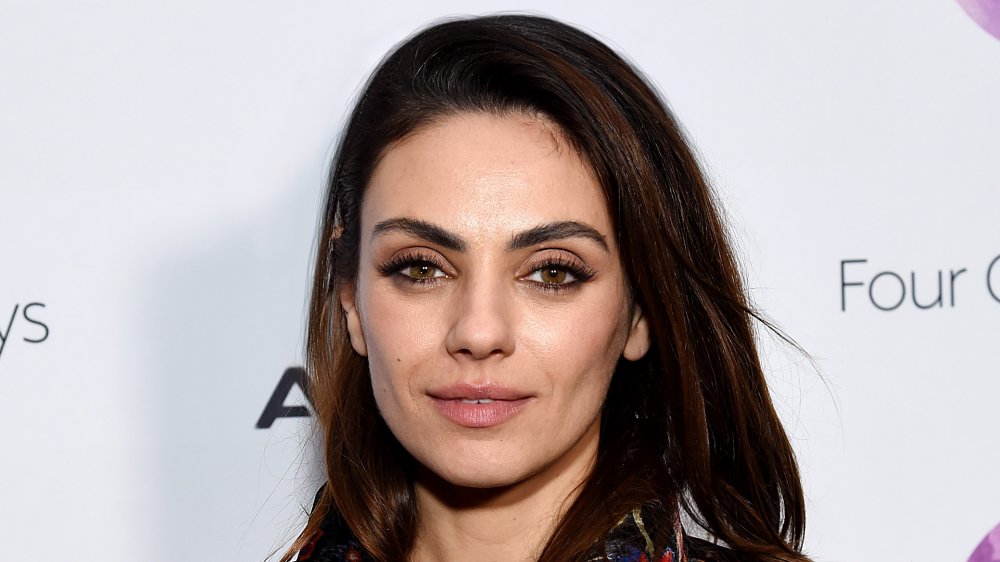 Michael Kovac/Getty Images
We suspect "fowl" play! Did you know Mila Kunis was sued by a childhood friend, and the reason involves ... chickens? The superstar actress, who wed Ashton Kutcher in 2015 and with whom she shares two children, per People, immigrated from Ukraine to Los Angeles, Calif. with her family when she was seven, according to Biography (more on why that's important later). Kunis began taking acting lessons, and clearly, those paid off. She's since starred in the long-running sitcom That '70s Show and voiced the character Meg on Family Guy. Kunis has also had plenty of shining moments on the big screen, including starring alongside Natalie Portman in the sinister Black Swan and popping up in Forgetting Sarah Marshall. But before Kunis began her Hollywood journey, she apparently ruffled a few feathers back in her home country. 
In a clucking bizarre lawsuit from 2015, a woman named Kristina Karo accused the star of once stealing her pet chicken. Page Six reported that the lawsuit claimed Kunis would come to her pal's house in first grade and play with the feathered friend named "Doggie." However, she allegedly then snatched up the bird for keeps. "Kristina, you can have any other chicken as a pet; you have a whole chicken farm," Karo said Kunis told her (via TMZ). The lawsuit stated Karo was owed for resulting trauma and counseling fees ... to the squawk of $5,000. 
Yup, pretty wild story that's come to roost! And here's what happened with Kunis' animal-inspired legal situation.
Mila Kunis laughed off the strange chicken lawsuit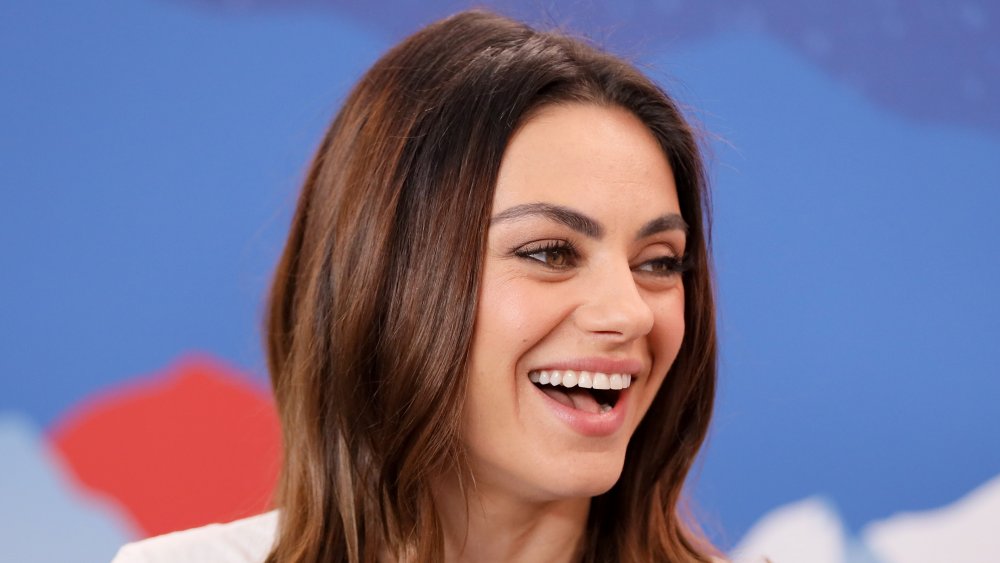 Rich Polk/Getty Images
What happened when Mila Kunis was sued for apparently stealing a pet chicken? Unsurprisingly, the whole thing didn't fly with the star. In a laugh-filled video posted by her and husband Ashton Kutcher in April 2015, per Page Six, they essentially dismissed the whole thing as a farce. "I was devastated," the actress sarcastically said in the vid. "I was weeping. I was dumbfounded. I was like, 'which chicken did I steal?'" 
Kunis went on, according to Page Six, to note that she was never physically served with a lawsuit from accuser Kristina Karo. Not only that, but the plan actually seemed hatched to get Kunis to watch a music video from Karo, who is apparently a struggling Ukrainian pop star (hmm...). "I would like to launch a counter $5,000 lawsuit for making me watch your music video shamelessly," Kunis joked. 
Kunis' so-called friend and pop star hopeful proceeded to drop the suit, telling TMZ her "fans" helped her raise the money to cover the chicken-related therapy she needed. "I've learned to forgive in my heart the people who have wronged me, like Mila," she said, closing the book on this squabble with some pointed words for the star. "There is only one judge and that is God," Karo said. "I pray for her soul and the soul of Doggie, that he has found peace finally in chicken heaven." Welp, probably for the breast — we mean best — this issue was dropped.
Mila Kunis' chicken accuser dropped a music video amidst the lawsuit
Surprise, surprise, there's even more to the egg-cellent timing of this failed Mila Kunis chicken lawsuit. Apparently, Ukrainian "friend" Kristina Karo's theft claim was, per AV Club, quite "conveniently" issued. That is, Karo only attempted to sue Kunis when she moved to Los Angeles herself, releasing her music video "Give Me Green Card," and making Kunis and Ashton Kutcher captive viewers. "I saw [Kunis] and these memories came rushing in," she told TMZ in a video testimonial. Isn't it funny how the mind works?
That timing led, in part, to the parties "squawking back and forth at each other from the coops of their mobile devices," according to AV Club. "The girl has a music video coming out at the same time she's suing you for 5000 dollars," Kutcher said in his video response with Kunis (per TMZ). "My body hurts. My eyes hurt. They're burning. That requires money," Kunis said about the comedic song. From there, the cagey remarks only got more unpleasant, with Karo pecking fun at Kutcher for exclusively posting his video response on his former app Meerkat. "I guess you needed some push in advertising, so this one is on me," Karo said sneeringly on YouTube. 
Karo hasn't posted a new video since 2016 when she "ran for president." So who knows, maybe someday Kunis' chicken-grieving friend will make it big and these two can reconcile. But let's not count our chickens before they hatch.