The Truth About The Tana Mongeau And Noah Cyrus Dating Rumors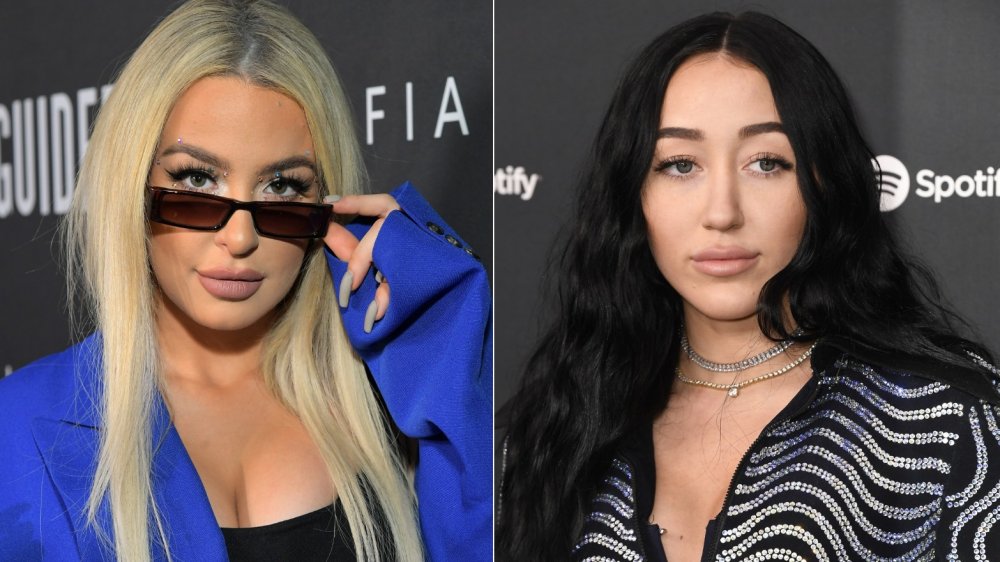 Charley Gallay, Frazer Harrison/Getty Images
Noah Cyrus and Tana Mongeau are the newest "maybe" couple of 2020. Either way, they have a lot to talk about when it comes to heartbreak and finding love again in the public eye. But first, let's back up a bit: Cyrus and rapper Lil Xan had a very public relationship and breakup back in 2018, and, after the split, Cyrus was reportedly so distraught that she sold a $12,000 vile of her tears as part of her collaboration with Pizza Slime, per Seventeen.
Mongeau, who identifies as pansexual, has also had her fair share of public romances and breakups. She previously dated Belle Thorne before committing to fellow YouTuber Jake Paul in 2019. The two had a lavish wedding ceremony in Vegas, but there is no record of them ever obtaining a marriage license, according to Insider. It was around this time that Mongeau first became romantically linked to Cyrus. Paul and Mongeau claimed to be in an open relationship, and Mongeau even called Cyrus her girlfriend a few times after the supposed wedding. Mongeau and Paul broke up a few months later.
The Cyrus-Mongeau rumor mill quieted down until September 2020 when they started showing up all over each other socials. So what's going on now? Keep reading to find out.
Tana Mongeau and Noah Cyrus have a history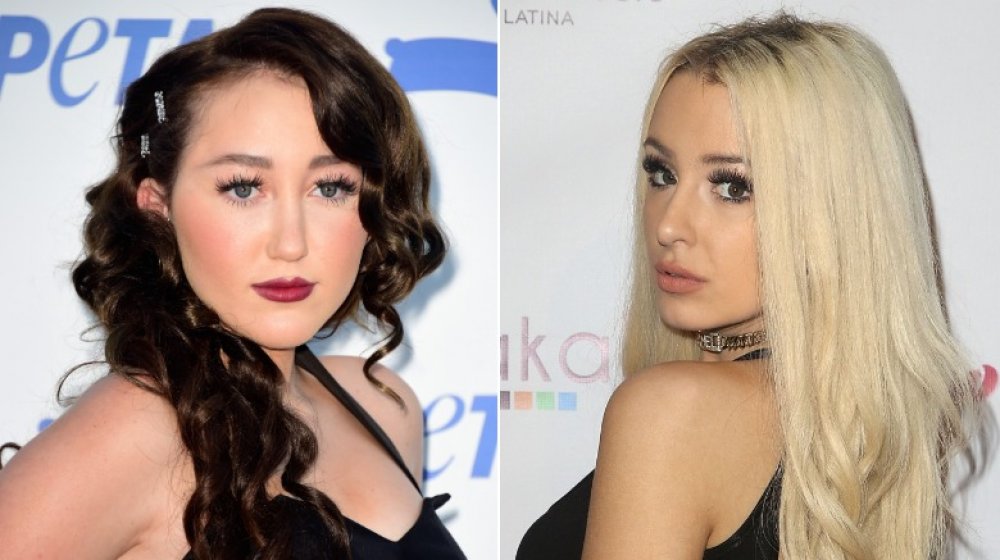 Frazer Harrison, Jc Olivera/Getty Images
Tana Mongeau and Noah Cyrus sparked rumors of a reconciliation in September 2020 when they spent a long, heavily documented weekend together. The party started when Cyrus posted a since-deleted Instagram story of several gifts she planned to give to Mongeau. The presents included some flowers, a teddy bear, and a rolled blunt, People noted. Mongeau reposted the story along with the caption, "She really showed up at my house like this." Finally, to cap it all off, Cyrus posted Mongeau's story on her grid with the caption, "i show up to your house wit these.. wyd?"
The pair spent the rest of the weekend posting more stories of each other on their Instagrams. One video seemingly showed them on the verge of kissing as they drove through LA, per People. In another post, they each made a poll asking their fans if they should date. And on Sept. 27, 2020, Mongeau captioned a cuddly shot of the pair, "i mean ofc i had to take a break from instagram until she was my girlfriend again." Say what?
Of course, all of this could mean nothing. Mongeau and Cyrus have never confirmed the specifics of their relationship, and Mongeau told Entertainment Tonight in December 2019 that they weren't together. "I just love being around Noah," she explained. "There's something about her, even before I knew her, that has always inspired me."
So, as for whether this Instagram filled weekend means they're finally official, your guess is as good as ours.