Why NeNe Leakes Isn't A Fan Of Andy Cohen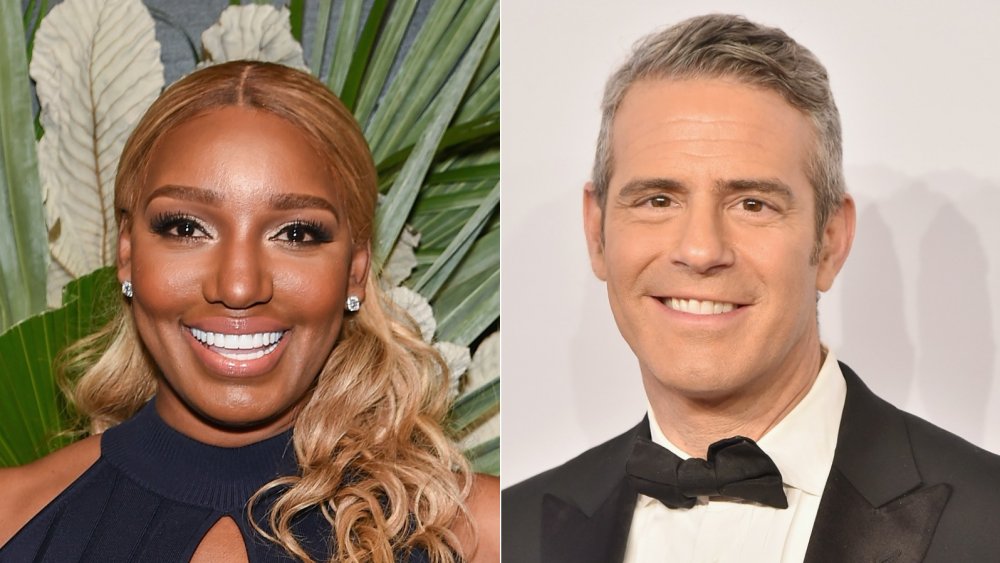 Gary Gershoff, Michael Loccisano/Getty Images
2020 managed to get even worse when NeNe Leakes announced that she will not be returning to The Real Housewives of Atlanta for the 13th season. NeNe's strong personality and fearless attitude won the hearts of reality TV fans everywhere, who were distraught to learn of her exit.
Abrupt Real Housewife exoduses are nothing new. In the first nine months of 2020 alone, Teddi Mellencamp, Denise Richards, and Dorinda Medley all left their respective series. The axed housewives typically put out a statement saying something along the lines of, "It's been a wild ride... excited for the future... thanks Bravo... family and friends..." You get the idea.
Upon her departure, NeNe said, "I'm just so happy that I can say that I was a part of a genre that opened up doors for Black ensemble reality shows to step up and be a part of what we all now love so much, reality TV," in a YouTube video. She added that the contract negotiations with Bravo were "emotional" and "exhausting." When a fan asked NeNe via Twitter if Bravo would finally give her a spinoff, NeNe replied that Bravo didn't think she deserved to be on the network at all, sparking outrage among her fans, as reported by People. NeNe left the world of Bravo just as she entered it: stirring the pot.
Now, no longer bound by a contract, NeNe is finally opening about why she can't stand Bravo or her former boss Andy Cohen.
NeNe Leakes accused Andy Cohen of racism
Shortly after announcing her departure from Bravo, NeNe Leakes took to Twitter and spilled some scalding hot tea about what's really going on behind the scenes. The trouble started when Wendy Williams appeared on Watch What Happens Live and chatted with Andy Cohen about NeNe's exit. Williams said she wasn't surprised NeNe left and wouldn't be surprised if NeNe returned. "She loves attention," she told Cohen. Williams added that she didn't know what NeNe would do next, but that any spinoff involving the former housewife would be too "boring" to watch.
In response, NeNe posted a series of tweets suggesting Williams was using cocaine and called Andy Cohen an "ole racist." "No one knew you until YOU knew me. Remember I'm ICON. Don't forget," she wrote of the WWHL host. The former housewife continued her stream of tweets by accusing Cohen and other higher-ups at Bravo of participating in systemic racism. "The racist is the master manipulator! They using me for ratings like they have always done," she wrote.
As evidence, she pointed to the career trajectories of other "OG" housewives, who joined in the first season of their series, like Teresa Guidice and Kyle Richards. "I was the ONLY BLACK OG. My white counter parts were elevated and given full season episodes EVERY season. Each season i was given less & less. Don't ask me, @ Andy and @ Bravo and ask them why," she wrote. Safe to say, whatever NeNe does next, Cohen probably won't be producing.