Brad Pitt Wants To Stay Married To Angelina Jolie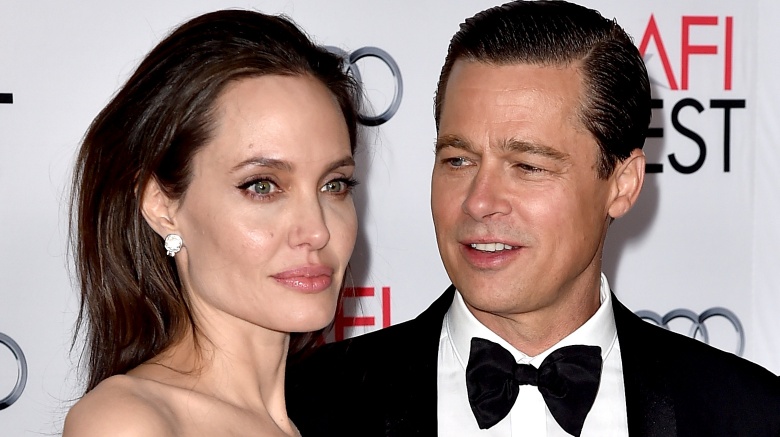 Getty Images
Brad Pitt denies allegations of child abuse and is very reluctant to divorce Angelina Jolie, who sources say he still adores despite their dramatic split.
"He was never physically abusive to her or the kids. He did yell at one of their children on the plane during an argument, but he didn't hit the child," a source told Page Six. "Brad is denying claims of inappropriate behavior."
The insider added that Jolie, 41, and her team are leaking stories to sway family court to her advantage in hopes of getting full custody of Maddox, 15, Pax, 12, Zahara, 11, Shiloh, 10, and twins Knox and Vivienne, 8. "Angelina is putting out [the abuse] story to take the kids away from him. Angelina's team's campaign to smear him is so aggressive, they called all the major networks, People and TMZ last night with claims he is beating her and the kids," the source told Page Six.
There may be some validity to claims that Jolie's camp is out to make Pitt, 52, look like a villain because as Nicki Swift previously reported, Los Angeles Police Department Sgt. Barry Montgomery told Page Six the Fight Club star is not under investigation. "It's not true. There is no criminal investigation or any investigation of any kind against Brad Pitt," he said, adding that TMZ "made it up."
A source close to the actor told Page Six that Pitt "is taking this seriously and fully cooperating. He admits he is not perfect, but he insists he's not physically abusive. He loves his kids and is very sad about this situation." According to the insider, "He knows he made mistakes and he knows he has to be better. He and Angelina fought a lot recently, and she knows how to push his buttons. But he is adamant that he did not hit these kids like she's trying to say."
E! News reported that Jolie would like to co-parent with Pitt in the future if things improve. "This comes down to the kind of disagreements that sometimes occur between teenage boys and their father," a source said. "This is where this situation has spiraled from, and Angelina as a mother can be very protective."
Pitt's camp said the actor was blindsided by the divorce news. "He only knew that she was filing for divorce a day before she did it," a source told Page Six. "They'd just got back from Europe. Brad didn't want it to happen. He still loves Angelina and wanted to work it out."