Nancy Pelosi's Mixed Reaction To Trump's Positive COVID-19 Test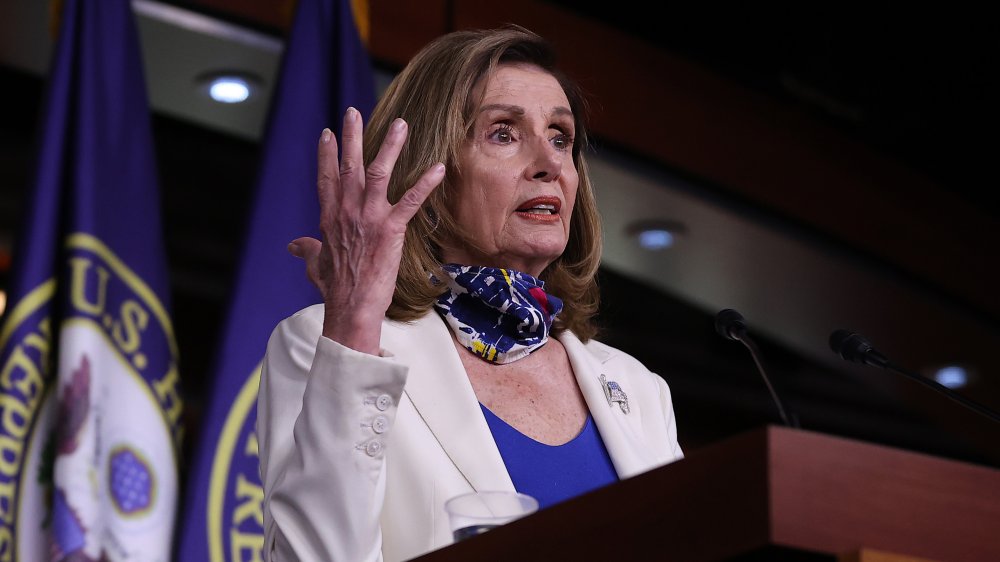 Chip Somodevilla/Getty Images
When the news broke on Oct. 2, 2020, that President Donald Trump and first lady Melania Trump tested positive for the coronavirus and are experiencing "mild symptoms," reactions from world leaders and celebrities were varied. Although Trump's opponent, Democratic nominee Joe Biden, was quick to send positive thoughts and wishes to the president (despite Trump mocking Biden for wearing a mask), other responses weren't as straightforward. One example? Democratic House Speaker Nancy Pelosi, who was more contemplative in terms of speaking publicly about the diagnosis.
Pelosi's remarks came during an appearance on MSNBC, amid discussions as to whether Trump's diagnosis would significantly alter talks surrounding a second economic stimulus package. Arguing that Trump's dismissal of personal protections against COVID-19 made the situation almost inevitable, the seasoned politician stated, "This is tragic, it's very sad, but it's also something that, again, going into crowds unmasked and all the rest, was sort of a brazen initiation for something like this to happen."
Despite her somewhat empathetic acknowledgment of the plight of the president and first lady, the news of which struck her with "great sadness," it has not deterred her in using it as an example of why taking preventative measures concerning COVID-19 is tantamount, and how no one is immune.
Nancy Pelosi hopes Trump's diagnosis will be a 'pivotal moment'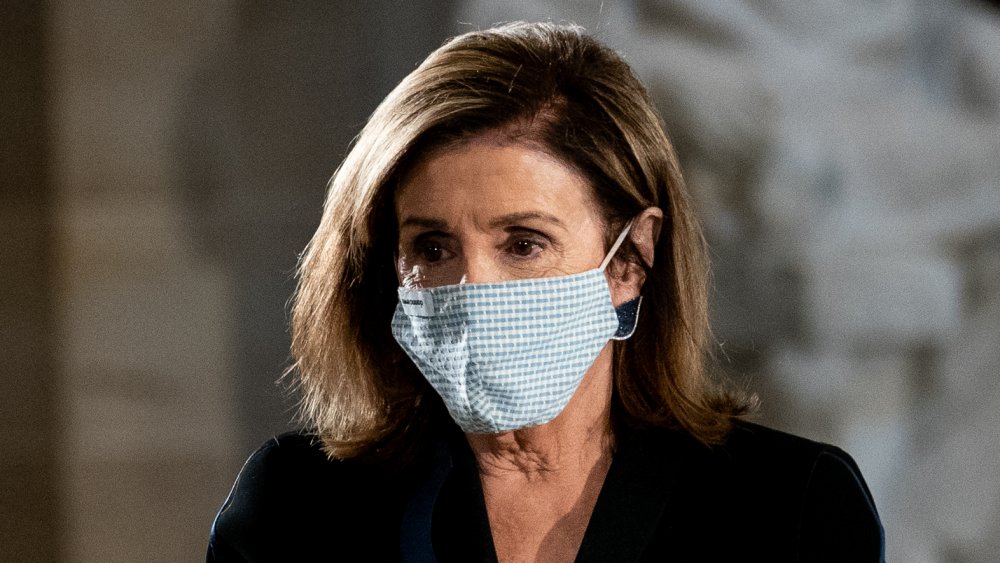 Pool/Getty Images
Although House Speaker Nancy Pelosi publicly described President Donald Trump's coronavirus diagnosis as "sad" and "tragic," her commentary on the condition of the president — who the New York Post noted she has not spoken to in over a year — was not without its caveats. Namely, Pelosi emphasized how not even world leaders are immune, and that she hoped the news would highlight the importance of preventative measures like quarantining and wearing masks.
"The rest of the country has to know that even with the precautions taken surrounding the president that people are susceptible, so that they should ignore the, shall we say, mocking of masks and wear masks," Pelosi said in an interview with MSNBC.
Pelosi also stated her hope that Trump's diagnosis would allow Americans, regardless of party affiliation, to finally take the coronavirus pandemic as a serious health issue, not a political one. "As sad as the diagnosis is that the president and first lady have, maybe it is that pivotal moment to take us to a different place as we fight this vicious virus based on science, not on politics," concluded the speaker, who later confirmed with CNN that she had tested negative for COVID-19.