Kellyanne Conway's Daughter's Response To Her Diagnosis Has People Talking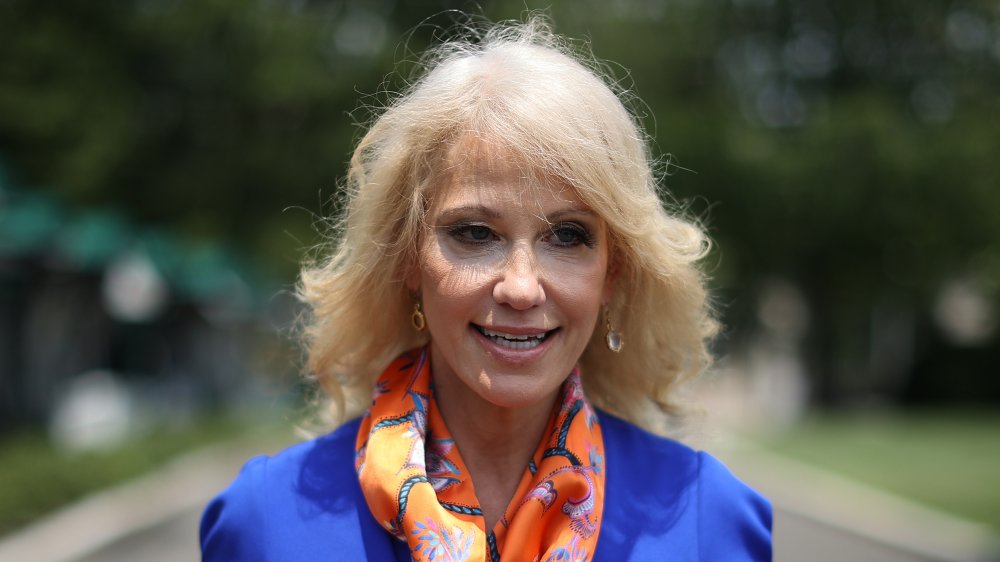 Chip Somodevilla/Getty Images
After penning a Twitter announcement stating that she tested positive for COVID-19, former White House counselor Kellyanne Conway received mixed reactions from the public about her diagnosis. The serious backlash from her critics outweighed the prayers from her supporters due to her earlier statements in regards to the virus. One anti-Conway user tweeted, "Trump got the virus and I was like, man, I just don't think I could possibly have any less f***s to give. Then Kellyanne Conway tested positive."
In August 2020, Conway mocked Democratic presidential candidate Joe Biden's call for an enforced mask mandate, per Fox News. Conway, on an episode of Fox's The Story, posed the rhetorical question, "For somebody who's been in Washington for the last 47 years and in this building [the White House] as vice president for eight, the best he can come up with is a national mask mandate?"
While the irony sets in that Conway is — as of this post — one of 25 infected politicians, journalists, and staff members who attended the Rose Garden event or the first presidential debate, that is not the only bombshell facing the former Trump adviser. Aside from dealing with mockery from her critics, Conway's daughter Claudia is not too sympathetic about her diagnosis. Here's why Claudia Conway's response to her mother's COVID-19 diagnosis has people talking.
Claudia Conway called her mom out on TikTok
Before Kellyanne Conway could publicly announce her positive test results, her daughter Claudia Conway revealed the results in a TikTok video captioned, "bye i'm done i'll see you all in two weeks." In a series of videos, Claudia slammed her mother for not following COVID-19 protocol and encouraged her followers to vote in the 2020 presidential election. In one video, she wrote, "I'm furious. Wear your masks. Don't listen to our idiot f***ing president piece of s***. Protect yourselves and those around you."
Claudia continued her rant in the comment section of her videos, revealing that her mother lied about her test results: "She also lied to me today and said her test was negative when it literally wasn't and I spent all day around her." She added, "Will be spending my birthday in quarantine." Although Kellyanne's tweet only listed "mild symptoms," Claudia posted a video a day prior to the announcement insisting that her mother was coughing constantly throughout their home.
Claudia, Kellyanne's eldest daughter, is known for publicly speaking out against her mother's politics. The self-dubbed "radical agnostic liberal/leftist" is a vocal supporter of the Black Lives Matter movement and shares similar anti-Trump views with her father, George Conway III. Although she is not too big of a fan of her parents' views, she does not harbor any negativity towards them. "Believe it or not, you can have your own opinions not influenced by your parents at all simply by educating yourself! My views don't have anything to do with my mom's," Claudia told her TikTok followers, per the New York Post. "[B]ut just please no hate to my mom or my dad, they're both amazing people and I love them so much."
Kellyanne Conway's daughter wants to be emancipated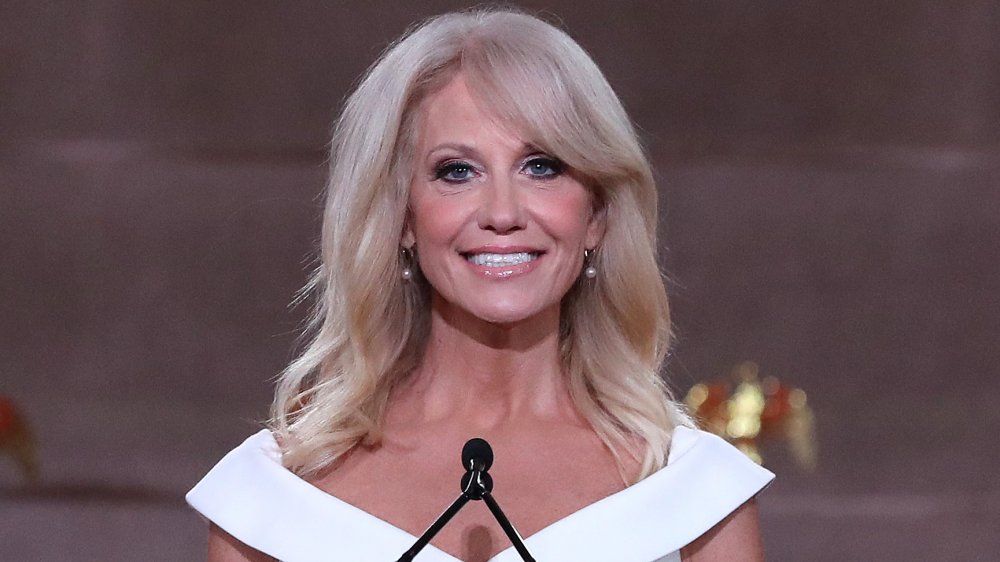 Chip Somodevilla/Getty Images
As previously mentioned, this isn't the first time Kellyanne Conway's daughter, Claudia Conway, has publicly spoken out against her. In August 2020, Claudia made headlines for her anti-President Trump tweets, posting, "there is no one who hates @realDonaldTrump more than me." She has also quoted tweets from the president and her mother, adding her responses. In one of those tweets, Claudia said, "you know life isn't fair when you wake up to your own mother speaking aside a homophobe and a rapist." 
After sharing that she was "DEVASTATED beyond compare" over mom Kellyanne speaking at the RNC later that month, Claudia declared, "i'm officially pushing for emancipation. buckle up because this is probably going to be public one way or another, unfortunately. welcome to my life." Claudia went on to claim, "my mother's job ruined my life to begin with. heartbreaking that she continues to go down that path after years of watching her children suffer. selfish. it's all about money and fame, ladies and gentlemen." Although Claudia was not happy about her mother's job, she insisted, "y'all love to twist everything. i'm not getting emancipated because of my mom's job.. it is because of years of childhood trauma and abuse." 
Claudia did not elaborate on the allegations, but Kellyanne left her job at the White House shortly after her daughter's tweets went viral. Claudia later announced a "mental health break from social media," and hasn't tweeted since August 2020, but that didn't stop her from speaking out on TikTok.