Brad Pitt And Angelina Jolie's $400 Million Fortune Protected Via Prenup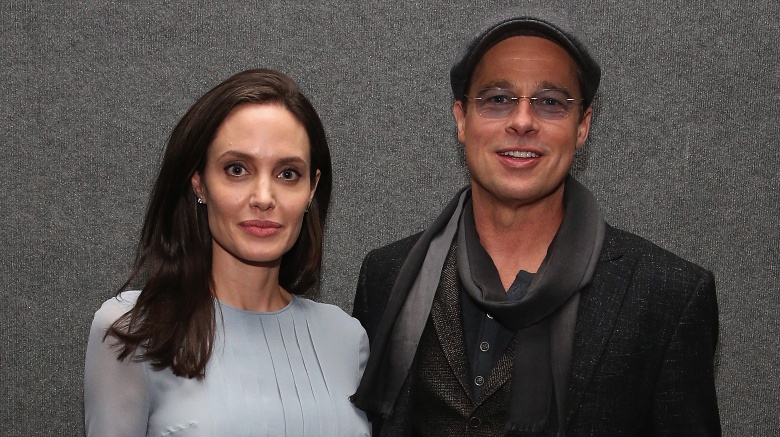 Getty Images
Brad Pitt and Angelina Jolie's reported $400 million fortune won't be an issue in their pending divorce. According to TMZ, the couple signed an "ironclad" prenuptial agreement leading up to their Aug. 23, 2014 wedding that "details the specifics of their combined fortune." This includes their 12 properties, three of which—a vineyard in France, a mansion in New Orleans, and an apartment in New York City— were purchased together before they got married.
But that doesn't mean their divorce won't be messy. As Nicki Swift previously reported, Pitt is planning to fight for joint physical custody of the couple's six children after Jolie requested in her divorce papers that Pitt receive only joint legal custody. Sources for TMZ claim the couple's custody battle could be the "flash point" in the divorce that fuels a "fierce legal battle."
The kids have already been at the center of Jolie and Pitt's breakup, due in part to an alleged mid-flight altercation involving Pitt, Jolie, and their adopted 15-year-old son, Maddox. According to TMZ, Pitt and Jolie were fighting on a private flight from France to Los Angeles on Sept. 14, 2016 when Maddox interfered to "verbally defend" Jolie, prompting Pitt to lunge at him. Jolie reportedly "jumped in between them to block [Pitt]" but "[Pitt] connected in some fashion with [Maddox]." The alleged incident is being investigated by the FBI and the Los Angeles County Department of Children and Family Services, reported People.
Jolie filed for divorce on Sept. 19, 2016 after two years of marriage. Initial reports claim she became fed up with Pitt's alleged anger problem, parenting methods, and consumption of weed and alcohol. "Angelina Jolie Pitt has filed for dissolution of the marriage," a rep for the actress said in a statement to Us Weekly. "This decision was made for the health of the family. She will not be commenting at this time, and asks that the family be given their privacy during this difficult time."
"I am very saddened by this, but what matters most now is the well-being of our kids. I kindly ask the press to give them the space they deserve during this challenging time," Pitt added in a separate statement to People magazine.
The couple met while filming the 2005 movie Mr. & Mrs. Smith. Pitt was married to Friends star Jennifer Aniston at the time. Details about the early days of Pitt and Jolie's romance remain up for debate.