Why Some People Are Worried About Trump After Examining Latest Video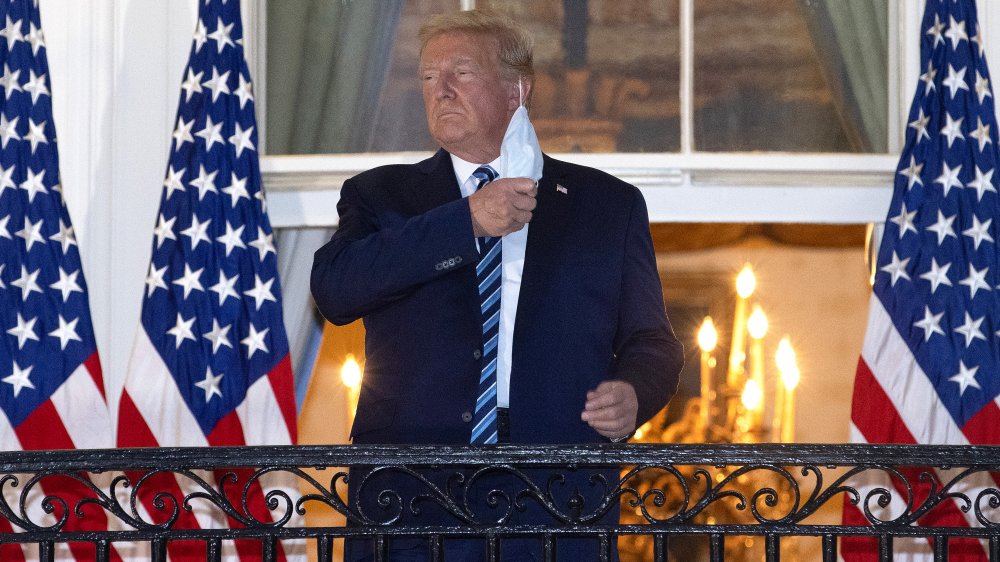 Win Mcnamee/Getty Images
Just days after President Donald Trump touted wearing his mask "when needed" at the first presidential debate of the 2020 election season, the Republican candidate announced that he, along with the First Lady Melania Trump, tested positive for the coronavirus. Things escalated when the president was taken to the Walter Reed National Military Medical Center, raising questions about the severity and consequences of Donald's diagnosis. After all, Donald's regular health situation — his advanced age and weight — puts him at an increased risk for COVID complications, so the outlook wasn't looking so good upon his initial diagnosis. 
But Donald's stay at the hospital was relatively short, lasting only 72 hours. Upon his return, Donald claimed that he was "feeling really good" — better than he has in decades, even. "Don't be afraid of Covid," he tweeted. "Don't let it dominate your life." According to White House physician Sean Conley, the president was "not entirely be out of the woods yet," but Conley and his team "support the president's safe return home." But a new video has surfaced that brings the truth behind the president's health into question.
Was Donald Trump having trouble breathing on the White House balcony?
In the hours since President Donald Trump returned to the White House after his brief stay at Walter Reed National Military Medical Center, footage has been circulating around Twitter that shows Trump removing his mask after reaching the top of the White House balcony and wincing as he tucks his mask into his suit pocket. "This is a person struggling for breath," an editor for Wirecutter observed."This is a human having difficulty filling their lungs who is also in physical pain."
"My nurse brain says he's having labored breathing," another Twitter user, whose bio states she's a nurse, wrote. "He's using his accessory muscles to breathe. You can see him trying to take deep breaths & making facial expressions. He's not well!" The speculation about Trump's deteriorating health may not be in Trump's favor. An inside source told CNN that Trump is "done with the hospital" and he thinks being hospitalized "makes him look weak." The new video brings into question whether or not Trump is as healthy as he claims to be and could hurt his chances of re-election in the long run.