Who Is Eugene Levy's Wife?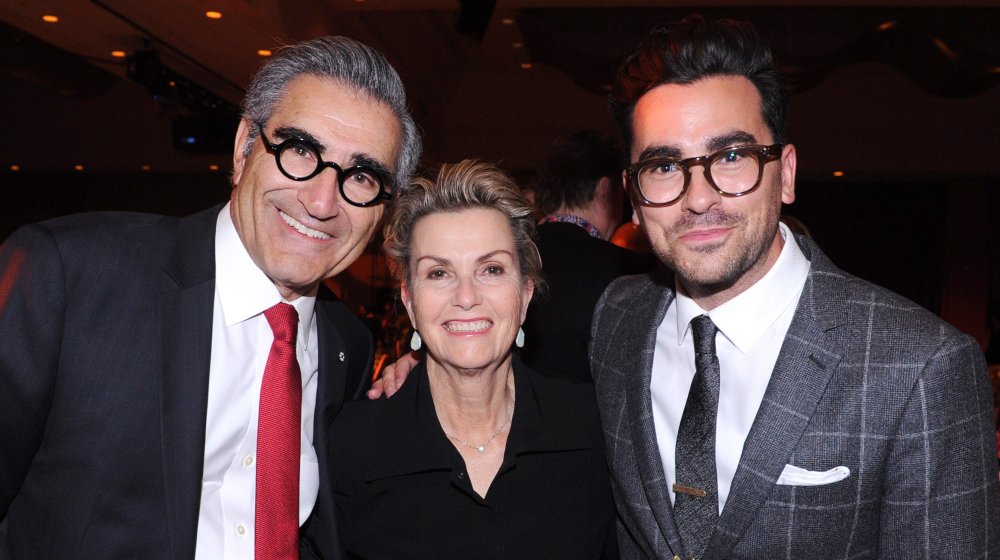 George Pimentel/Getty Images
For Eugene Levy's whole comedic career, he's had one very important person by his side: his wife, Deborah Divine. The funnyman — who co-created and co-starred in Schitt's Creek alongside his son, Dan Levy, and daughter, Sarah Levy — married Divine in 1977. And while she may not take up the spotlight quite like the rest of her family, she's just as much of a shining star.
Like the rest of her famous family, Divine is also in the entertainment industry, though she largely stays behind the scenes. According to SuperBHub, Divine is a screenwriter, producer, and production manager predominantly. Perhaps her most well-known job is as a writer on Maniac Mansion, which her husband created. It aired in the early 1990s in Canada, where the family is based.
Divine has been on hand to support her husband and children especially during their run on Schitt's Creek, including sharing Emmys night with them in September 2020 when the show swept the comedy Emmy categories. She noted on Twitter afterward, though, that the local Canadian TV station made a blunder with how long she and Eugene had been married: "Been married to @Realeugenelevy for 43 years! The cutline said 34 – and those of us who have hauled it this long know that 34 is well, kid's stuff."
Keep reading for more details about Eugene's real-life leading lady.
Dan Levy says he and his mom have a 'very close relationship'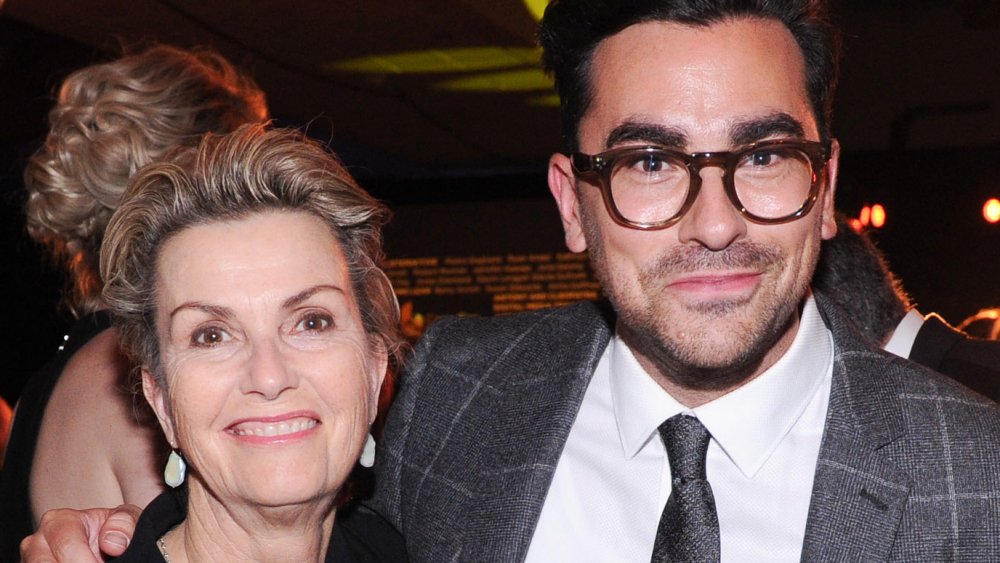 George Pimentel/Getty Images
Deborah Divine may not spend as much time in the public eye as her husband Eugene Levy and their kids, Dan and Sarah Levy, but she's an incredible support system behind the scenes. For the 2020 Emmy Awards, Sarah had to skip out due to filming another project, but her mom wrote on Twitter, "Wish I could have seen @sarahlevy_'s scream fest up close the other night. But shooting a new show in gorgeous Newfoundland? I get it!" She also added a bunch of hearts to show her support and excitement for her daughter.
Dan also told Andy Cohen on Watch What Happens Live that it was his mom who made him comfortable with coming out as gay when he was 18, according to The Hollywood Reporter. Eugene said on the show, "I believe it was mom who just actually said, 'Okay, are you gay?'" "She did," Dan responded. "My mom asked me over for lunch one day and I said, 'Yes.' She almost knew. My mom and I have a very close relationship in that sense and it almost felt like she knew that I was ready."
Eugene also added that he and Deborah knew long before then that their son was gay, they were just waiting on him. "We were waiting and then mom couldn't wait any longer," Eugene said. And they've been nothing but supportive ever since.