The Real Reason Lindsey Graham Is Refusing To Take A COVID Test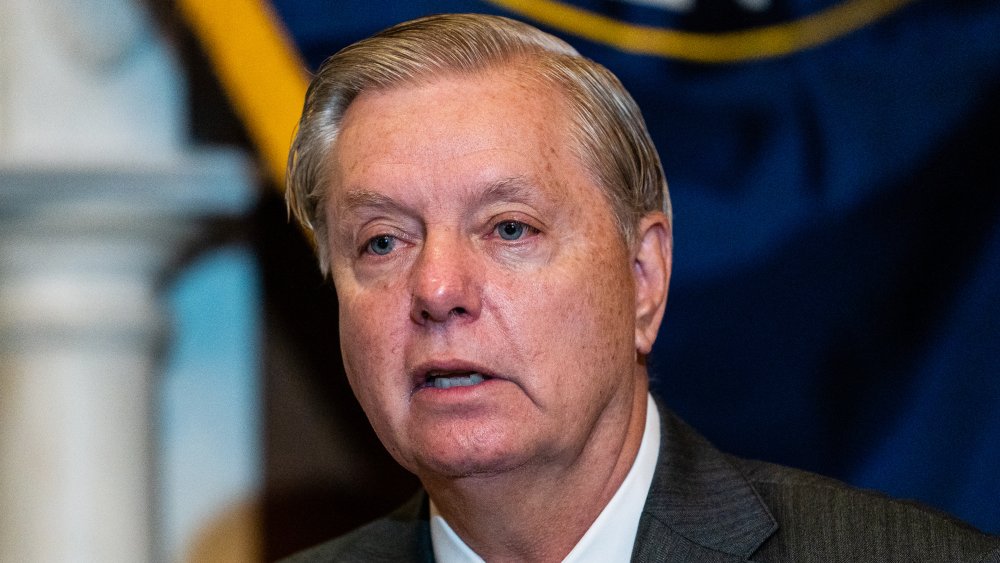 Pool/Getty Images
On Oct. 2, 2020, news broke that President Donald Trump and First Lady Melania Trump tested positive for coronavirus, following the Sept. 26 Supreme Court nomination announcement in the White House Rose Garden. Since then, it was deemed a "super-spreader event," with other attendees confirming their positive COVID-19 diagnoses, including Kellyanne Conway and Chris Christie. As a result, a presidential debate that was scheduled for Oct. 15 was canceled, because Trump refused to participate in a virtual debate and former Vice President Joe Biden didn't want to debate in person due to POTUS' coronavirus diagnosis. Instead, they will each participate in a town hall meeting from two separate locations.
A parallel situation went down in South Carolina for a senate debate between Republican Sen. Lindsey Graham and Democratic candidate Jaime Harrison. While they were set to debate each other on Oct. 9, the format was changed at last minute to separate one-on-one interviews, according to NBC News, for a very specific reason. "If Sen. Graham will not take a coronavirus test," Harrison told CNN, "I cannot responsibly debate in person tomorrow night and allow politics to put my family, my campaign staff, Sen. Graham's staff, and members of the media at unnecessary risk."

In response, Graham said in part to NBC News, "For those of you who work for a living, you can't do what Mr. Harrison has demanded tonight." But why exactly is Graham refusing to take a coronavirus test? Let's break it down.
Sen. Lindsey Graham got a doctor's note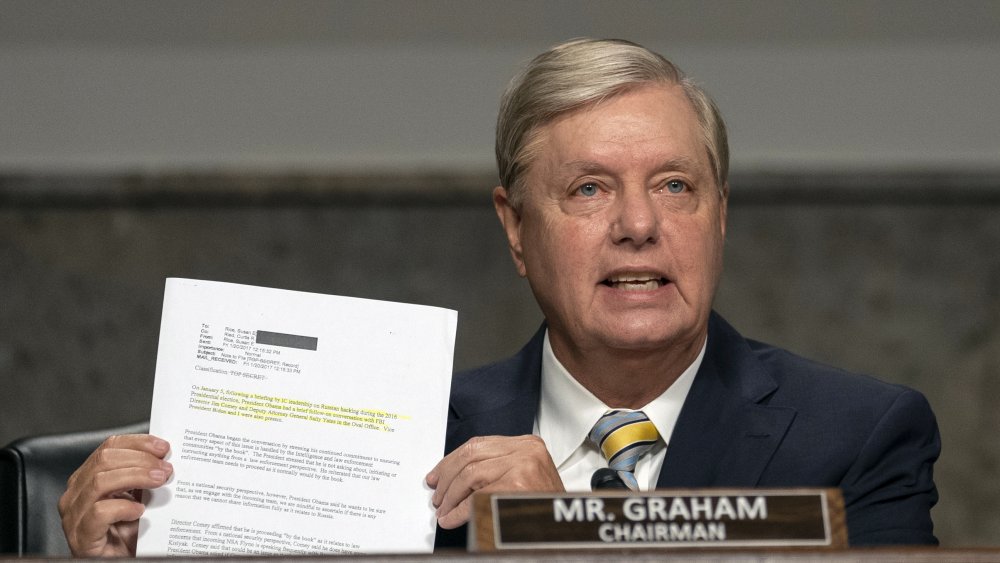 Pool/Getty Images
The Greenville News confirmed that Sen. Lindsey Graham was at a hearing with Sen. Mike Lee on Oct. 1, 2020 — just a day before Lee tested positive for the novel coronavirus. On Oct. 2, Graham tweeted, "After being informed of his positive test, and out of an abundance of caution, I was tested for COVID-19 in South Carolina. I was informed I was negative." It's worth noting that CDC guidelines state the following: "Even if you test negative for COVID-19 or feel healthy, you should stay home (quarantine) since symptoms may appear 2 to 14 days after exposure to the virus." 
All of this brings us to what would have been the second senate debate between Graham and Jaime Harrison on Oct. 9. "Whether Mr. Harrison attends tomorrow's debate is his decision, not mine. I will be there," Graham tweeted ahead of the debate's format change. Claiming in a lengthy text-post that Harrison was "demanding special treatment" by requesting the longtime senator get tested again, Graham alleged in part, "South Carolinians do not appreciate Harrison putting himself above others." (Ironically, Harrison previously brought his own plexiglass barrier to the duo's first debate on Oct. 3, explaining, "Tonight, I am taking it seriously. That's why I put this plexiglass up, because it's not just about me.")
Meanwhile, Graham went on to tweet a photo of his doctor's note, writing, "I'll take medical direction from actual physicians, not my political opponent."
Don't expect Lindsey Graham to get another COVID test anytime soon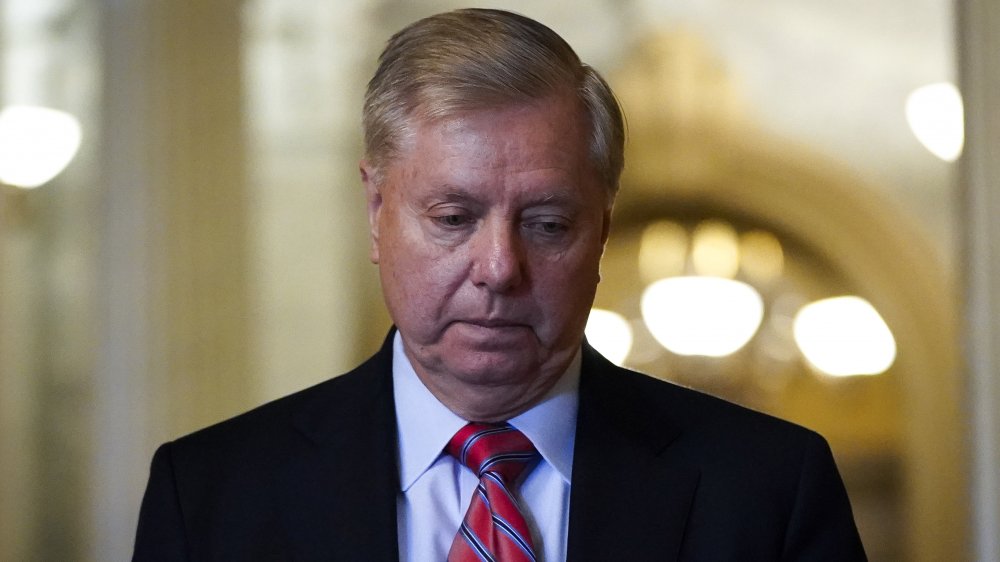 Drew Angerer/Getty Images
The "medical direction" Lindsey Graham referred to came from his doctor's note, which read in part, "Based on the present [CDC] criteria to establish risk of coronavirus transmission, you do not meet the criteria for 'close contact' requiring isolation or quarantine. You do not require coronavirus testing."
However, Graham and Jaime Harrison continued to disagree. On Oct. 8, 2020, a Harrison spokesperson told the Greenville News, "We're disappointed that Lindsey has failed to take a simple coronavirus test, but we appreciate our hosts were able to change the event format to make it safer for everyone." In contrast, Graham claimed that the debate was scrapped because Harrison "declined to participate ... at the last minute." He continued to point the finger on Twitter, writing, "If Mr. Harrison is not able to interact with South Carolinians on the same terms they live their lives, he should not be their senator ... Do workers in South Carolina demand their coworkers and customers be tested before going to work?" (Well, no — but they're required to follow other CDC guidelines, like social distancing and wearing masks.)
Graham's rejection of Harrison's request prompted suspicion in the Twittersphere, as well as criticism on the other side of the political aisle, but he later emphasized (via the New York Post), "I've got a letter from my doctor saying that I am CDC compliant, there's no reason to test me." So, one thing is clear: Graham and Harrison will likely never agree on this issue.