The Truth Behind Alyssa Milano And Rose McGowan's Feud, According To An Expert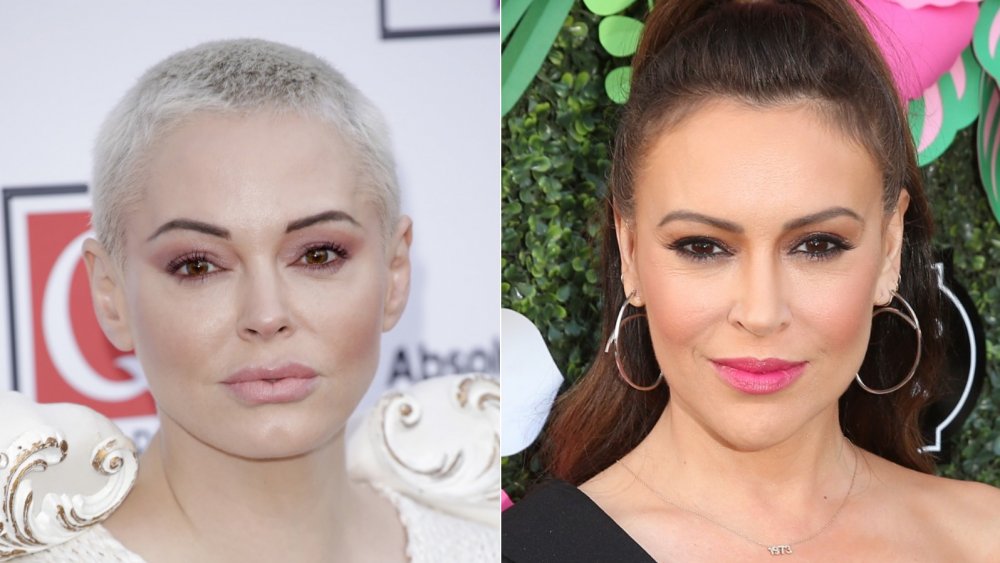 John Phillips, Jesse Grant/Getty Images
Rose McGowan and Alyssa Milano's feud made headlines again when Milano appeared on The Wendy Williams Show on Oct. 7, 2020. The two actresses once starred in Charmed together as on-screen sisters, but they had an infamous falling out that began in 2017.
According to The Hollywood Reporter, McGowan was one of many actresses who accused producer Harvey Weinstein of rape. Meanwhile, Milano was and remains close friends with Weinstein's ex-wife, Georgina Chapman. Milano's continued friendship with Chapman, despite her public support of the #MeToo movement, spurred on McGowan's infamous tweet: "You make me want to vomit. You actually gave me a body flashback. Well done, fake one."
The drama continued over the years, as McGowan criticized Milano for her support for the Democratic party and added that Milano created a toxic work environment on the set of Charmed, per an earlier report from The Hollywood Reporter. McGowan also claimed in a tweet that Milano stole the #MeToo movement from activist Tarana Burke, who originated the phrase, per the outlet. Milano also clapped back via Twitter, saying that McGowan was "bleating" nonsense about the Democratic party. 
With years of animosity still ongoing, Nicki Swift spoke with relationship expert and life coach Nicole Moore to see what's really going on between the two stars, and the results are intense.
Why Rose McGowan feels so hurt by Alyssa Milano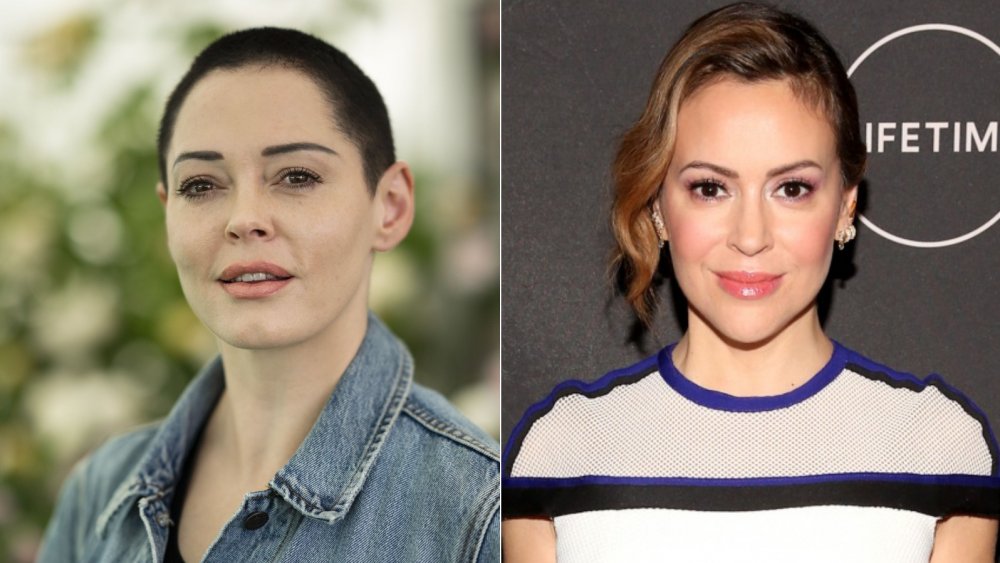 David Levenson, Jesse Grant/Getty Images
Relationship expert and life coach Nicole Moore spoke with Nicki Swift about the ongoing feud between Charmed stars Rose McGowan and Alyssa Milano. Moore explained that their story is more than a typical feud between co-stars. "It's a story of hurt and retaliation and both sides refusing to admit any wrongdoing," Moore said.
According to People, McGowan grew up in the polygamous cult, Children of God, and escaped with her father when she was nine. This experience, in addition to McGowan's accusations of rape against Harvey Weinstein, created a traumatic past for the star, one that adds complications to her other relationships, as Moore notes.
"Alyssa might be feeling personally attacked by Rose and wondering why Rose can't stop tweeting about how bad Milano is to the press," Moore explained. "But what Alyssa needs to understand is that as a survivor of a cult-like environment as a child, Rose likely has major PTSD from her upbringing that has programmed her to be incredibly wary of anyone who could cause her, or other people harm."
Moore added that McGowan's trauma could also explain the star's anger at Milano's continued friendship with Georgina Chapman, Weinstein's ex-wife. Looking at the situation from Milano's side, Moore says, "For Alyssa's part, she likely was able to separate Georgina Chapman's husband's behavior from Georgina's and develop a friendship with her that was solid, maybe even feeling a need to protect Georgina on some level."
With this history of hurt, Moore offers a solution for how the two women could mend their relationship.
Alyssa Milano and Rose McGowan need to apologize to each other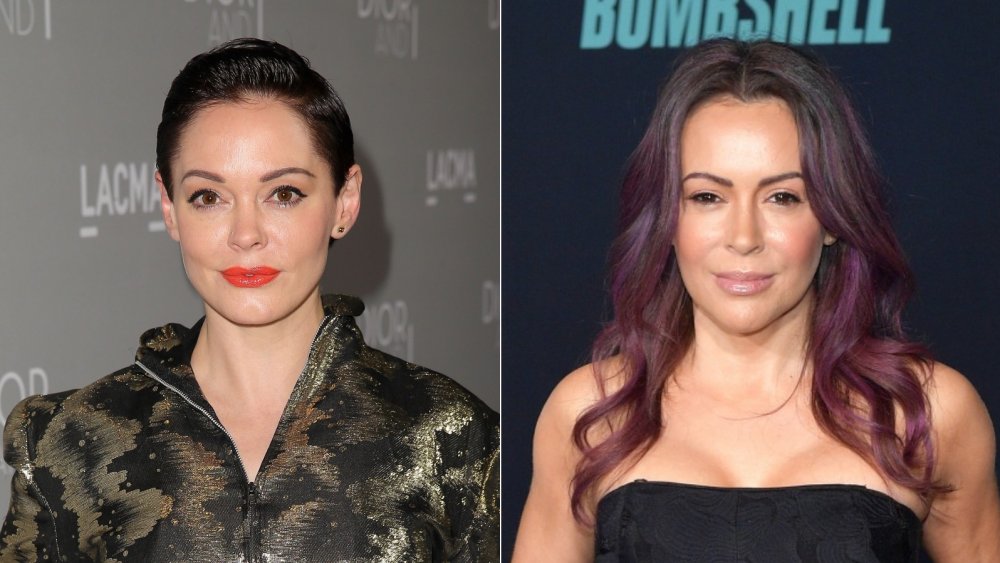 Imeh Akpanudosen, Matt Winkelmeyer/Getty Images
Nicole Moore, relationship expert and life coach, spoke with Nicki Swift about the intense feud between Alyssa Milano and Rose McGowan. Moore offered a message of hope for how things could be mended between the two, saying that loving communication is key.
Moore said, "Rose tweeted angry and accusatory tweets about Milano supporting [Georgina] Chapman, which of course just incited retaliation from Milano. What Rose could have done is be more vulnerable about the feelings underneath the anger and communicate those instead." Moore pointed out that communication that is vulnerable and honest is often received in a more positive way and might help Milano understand that McGowan is hurt and afraid.
But Moore had advice for Milano as well. "What Alyssa needs to learn is true empathy to understand that underneath an attack is just fear and someone being really afraid that they're not going to be okay," Moore explained. "Had she taken the time to look underneath the surface of Rose's seemingly angry and attacking tweets, she would have seen that little girl inside of Rose that suffered tremendous abuse in a cult and who was just crying out that she didn't want abusers in the world anymore so she could finally feel safe."
Moore noted that a sincere apology from both parties is the first step, and communication built on love would be the surest way to foster understanding between McGowan and Milano.