Alyssa Milano Explains Her Silence Regarding Harvey Weinstein Scandal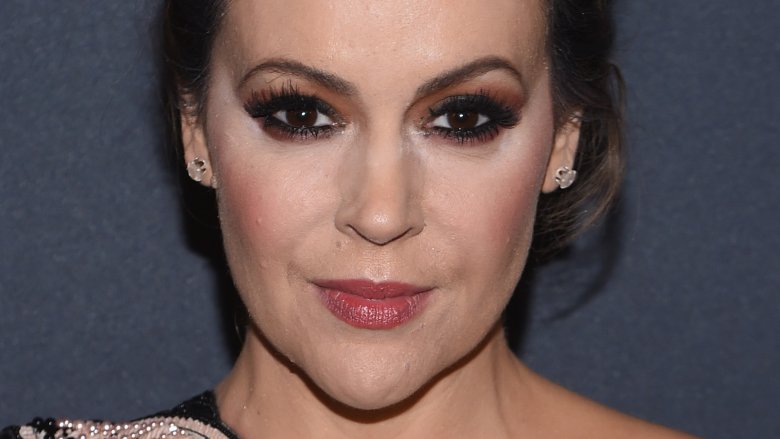 Getty Images
The former child star is finally speaking up about the allegations made against Harvey Weinstein.
Days after her Charmed co-star Rose McGowan revealed that she'd been sexually harassed by the Miramax co-founder, Alyssa Milano published a post on her website, Patriot Not Partisan, explaining why she'd been hesitant to publicly comment on the matter. Though she'd been apparently "sickened" by the claims, she had decided to keep quiet out of respect for her close friend, Weinstein's wife, Georgina Chapman.
"Even with these strong feelings—not just about Weinstein but about workplace sexism in general—this statement is complicated for me for personal reasons," Milano, 44, wrote. "Harvey has a wife, who I have had the privilege of working with for the last 5 years on Project Runway All Stars. Georgina Chapman is my friend. She is one of the most special humans I have ever met."
Milano went on, "Harvey and Georgina also have two very young children who my children have known their entire lives." She added, "It is because of my love for Georgina, [Georgina's children] India and Dashiell that I haven't publicly commented on this until now. Please don't confuse my silence for anything other than respect for a dear friend and her beautiful children."
"While I am sickened and angered over the disturbing accusations of Weinstein's sexual predation and abuse of power, I'm happy—ecstatic even—that it has opened a dialogue around the continued sexual harassment, objectification and degradation of women," she stated. "To the women who have suffered any form of abuse of power, I stand beside you. To the women who have come forward against a system that is designed to keep you silent, I stand in awe of you and appreciate you and our fortitude."
As Nicki Swift previously reported, The New York Times published an investigative report about Weinstein, accusing him of sexually harassing multiple women in the entertainment industry, including Milano's former co-star McGowan, as well as actress Ashley Judd. Days later, The New Yorker released their own article, alleging that Weinstein had raped three women, including actress Asia Argento, and assaulted four others.
Weinstein's since been fired from his position at The Weinstein Company and has reportedly traveled to Europe for sex addiction rehab. Along with numerous other celebrities, his wife has spoken out against him, calling his actions "unforgivable" and announcing her decision to leave him.